By
Isabella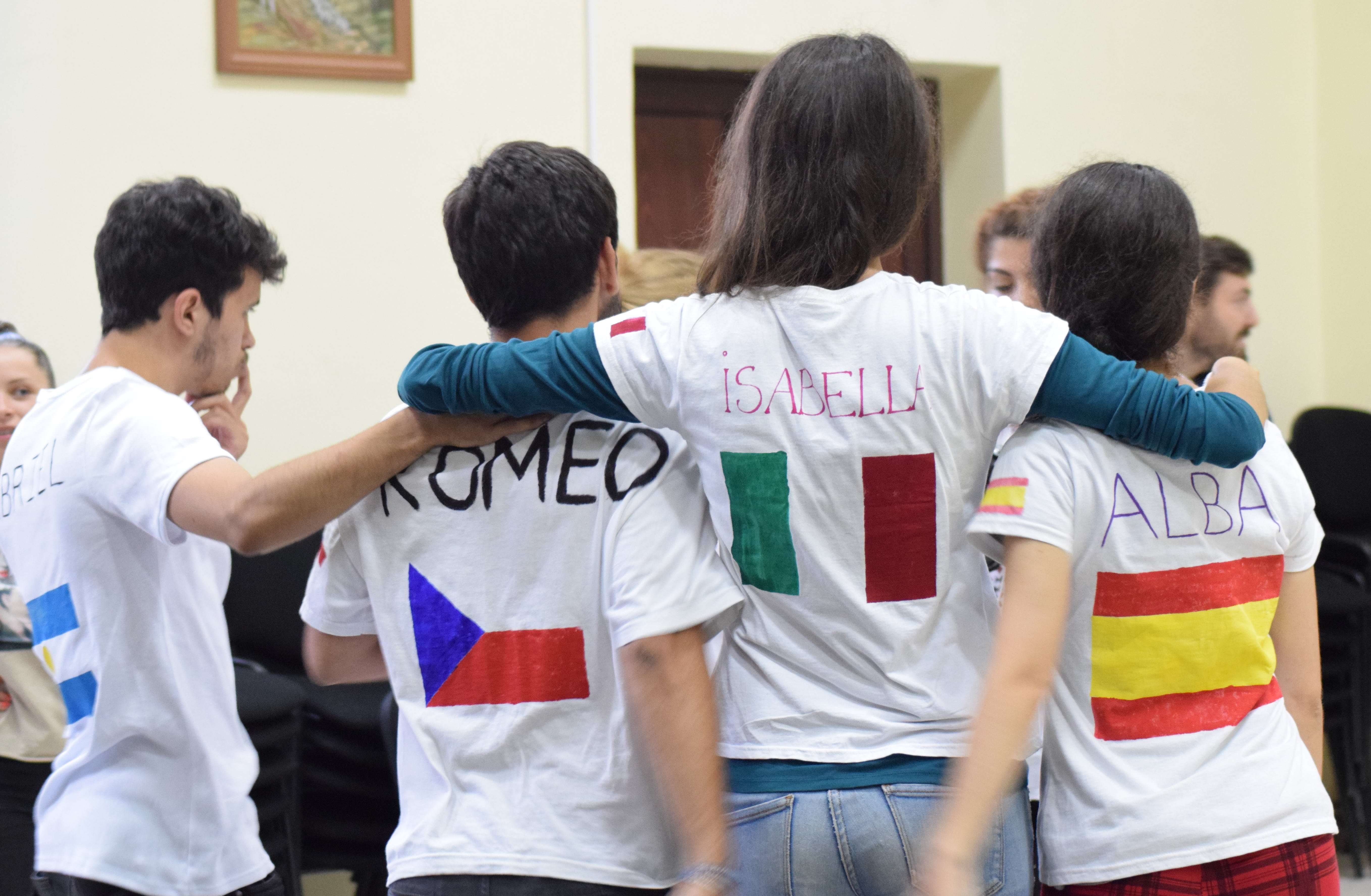 Apparently, my colleagues and I are finalists as Volunteers' Team of the Year. That's cool but I didn't need the Volunteers' Gala to tell me. I knew that already! I've been working and living in Schiuleşti with these guys for 6 months, so I know what I'm talking about.
If life were like the starting menu of a videogame, they would be the characters I would pick to build my perfect team. What's amazing is that I didn't choose any of them, I just happened to find them in my house.
Se pare că eu și colegii mei suntem finaliști la categoria Echipa de Voluntari a Anului, la Gala Natională a Voluntarilor. Ceea ce e super mișto, doar că nu aveam nevoie de Gală ca să îmi spună asta. Știam deja! Lucrez și locuiesc în Schiulești cu acești oameni de șase luni deja, așa că știu despre ce vorbesc.
Dacă ei ar fi parte dintr-un meniu de start al unui joc video, ei ar fi personajele pe care le-aș alege pentru a construi echipa perfectă. Ceea ce e mai minunat e că nu i-am ales, ci s-a întâmplat să îi găsesc în casă.
Ingredientele echipei perfecte:
Here are the ingredients for the Perfect Team:
Estelle, "Everyone's Mom"
She is the one who makes sure everything is in order. Did you get out the trash? Did we unplug the boiler? Who has the keys of the house? We would be lost without her and she makes the house feel like we are one family.
Time management ★
Responsibility ★★★★★
Smile ★★★★
Estelle "Mama tuturor"
Ea este cea care se asigură că totul este în ordine. Ați scos gunoiul? Ați scos boilerul din priză? LA cine sunt cheile casei? Am fi pierduți fără ea și reușește cumva să facă întreaga casă să se simtă ca o mare familie.
Managementul timpului ★
Responsibilitate ★★★★★
Zâmbet ★★★★
Gabriel, "The Spoiled Kid"
He needs a lot of attention and sometimes screams just to remind everyone that he is in the house. Can dance better than anyone else in Schiulesti but don't say that it's because he's from Argentina because that's stereotyping.
Energy ★★★★★
Sarcasm ★★★★
Patience ★★
Gabriel, "Copilul răsfățat"
Are nevoie de multă atenție și câteodată țipă doar ca să ne reamintească că este în casă. Poate dansa mai bine decât oricine din Schiulești, dar să nu ziceți nimic despre asta, că el este din Argentina și e ca și cum ai aplica stereotipuri.
Energie ★★★★★
Sarcasm ★★★★
Răbdare ★★
Roman, "The Czech Guy"
He wants to be called Romeo but we don't really know why and we're not sure we want to know at this point. We love making fun of him, maybe a little too much. He's extremely popular with old ladies and shopkeepers.
Fire powers ★★★★★
Math ★
Rock'n Roll ★★★★
Roman, "Tipul din Cehia"
Vrea să îl strigăm Romeo dar nu pre știm de ce și nu prea vrem să știm. Ne place să facem glume pe seama lui, poate un pic cam prea mult. Reușește să se înețeleagă bine cu doamnele mai în vârstă și cu vânzătoarele.
Putere de foc ★★★★★
Matematică ★
Rock'n Roll ★★★★
Alba, "The Cat Lady"
Alba just wants you to give her a break and let her live her life and pet some cats. Even better, all of the cats. Don't be fooled, she might look small and nice but she could probably break your neck and steal all of your secrets. Also, never talk to her about Spain.
Intelligence ★★★★★
Agility ★★★★
Cooking ★
Alba, "Doamna cu pisici"
Alba vrea să o lăsăm să îți trăiască viața mângâind niște pisici. Ba chair toate pisicile dacă se poate. Nu vă lăsați păcăliți, poate părea ea mică și drăguță dar ar putea să vă rupă gâturile și să vă afle toate secretele. De asemenea să nu vorbiți cu ea despre Spania.
Inteligență ★★★★★
Agilitate ★★★★
Gătit ★
…and then there's me!
Isabella, "The House Dictionary"
They say I am peaceful and smart and I just want everyone to be friends and not fight about stupid things. I know a lot of words in English and can translate for everyone.
Languages ★★★★★
Energy ★★
Love for my housemates ★★★★★★★★★
…și mai sunt eu!
Isabella, "Dicționarul casei"
Ei zic că sunt liniștită și isteață și că vreau ca toți să fie prieteni și să nu se certe de la lucruri prostești. Știu o multitudine de cuvinte în engleză și traduc pentru toată lumea .
Limbi străine ★★★★★
Energie ★★
Dragoste pentru colegii de casă ★★★★★★★★★
Working in a team is hard and I feel extremely lucky to have these guys with me. My advice to make it work is to learn to accept that nothing is ever going to be as you imagined it in your head. As Roman would say: "Open your mind, open your heart, just be happy!" and things will turn out okay.
Să lucrezi într-o echipă e greu și mă simt foarte norocoasă să am acești oameni alături de mine. Sfatul meu pentru a face ca totul să funcționeze e să accepți că nu totul va fi vreodată exact așa cum îți imaginezi. După cum Roman ar spune: "Deschide-ți mintea, deschideși sufletul, fii fericit!" și lucrurile vor merge bine.
---
Isabella este în România pentru o perioadă de 12 luni, din iunie 2017 până în mai 2018, în cadrul proiectului  Izvoarele Unveiled [2016-3-RO01-KA105-035584] proiect co-finanțat de Uniunea Europeană prin Programul Erasmus+ și implementat în România de către Curba de Cultură.