By
admin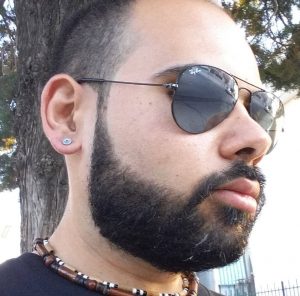 I consider myself a friendly guy, I am very open-minded and living with a disability since childhood and this has given me the strength of will, determination and a bit of stubbornness, so if I get a target, I must get it. Beside this I like to joke, I try to see life with optimism and I believe in values like love, friendship and respect.
I believe that the EVS projects are a great opportunity. I am participating in this one hosted by Curba de Cultură because I want to broaden my horizons, to learn about a new culture and also because I firmly believe that an experience like this is a learning experience for personal growth, a step forward to feel citizen of the World.
Personally I am fascinated by the idea of working with young people because they are often the ones who need a person to talk or with whom to meet. So from this experience I expect to increase my cultural and personal baggage, to live and to confront new educational experiences with other volunteers with different backgrounds than mine. I think this will not be a common experience but I will take the best from it.
Mă consider un tip prietenos, deschis la minte și deși am o ușoară dizabilitate încă din copilărie asta mi-a dat putere, determinare și un pic de încăpățânare, prin urmare dacă am o țintă, trebuie să ajung la ea. Pe lângă asta îmi place să glumesc, să văd viața într-o notă optimistă și cred în valori precum iubire, prietenie și respect.
Consider că proiectele EVS sunt oportunități minunate. Particip în acesta, găzduit de Curba de Cultură deoarece vreau să îmi lărgesc orizonturile, să descopăr o nouă cultură și cred cu tărie că o experiență ca asta este o experiență de învățare, de dezvoltare personală, un pas în față în a deveni un cetățean al Lumii.
Personal sunt fascinat de ideea de a lucra cu tineri, deoarece adesea ei sunt cei care au nevoie de cineva cu care să vorbească ori cu cine să se întâlnească. Din acest stagiu mă aștept să să îmi cresc bagajul cultural și personal, să trăiesc și să experiementez o nouă experiență educațională împreună cu voluntari provenind din alte medii decât al meu. Aceasta nu va fi o experiență obișnuită, dar voi lua ce e mai bun din ea.
---
Alessio se află în România pentru o perioadă de 6 luni, din august 2016 până în ianuarie 2017 în cadrul proiectului Building Youth Supportive Communities 2 (ref nr 2016-1-Ro01-KA105-024246), proiect co-finanțat de Uniunea Europeană prin Programul Erasmus+ și implementat în România de Asociația Curba de Cultură.