By
Estelle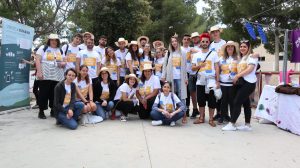 Have you ever thought about participating in a project that involves self development and discovering different people and their cultures?
That's what we did last week and we would like to tell you more about this awesome experience!
Five different teams, from Bulgaria, Italy, Spain, Portugal and including our team from Romania, gathered in Alicante (Spain) for one week.
This experience was a youth exchange, an activity from the Erasmus+ program, during which we focused on empathy and other soft skills, such as teamwork, teambuilding, communication, social interactions as well as others.
Each of us got new skills and competences, as well as improved those we already had, based on activities using non-formal methods.
We developed our language skills by spending our time with 25 other people from different backgrounds and countries and by sharing our experiences with others.
For some of us, like Cătălin and Alex, this was the first time going in a mobility project, and so far it turned out to be a very empowering experience.
Cătălin: "It was awesome! Just the idea that you get in touch with a lot of people from different countries and get to work together on projects was for me an impulse. You begin to know each other very well and of course to know yourself and to develop skills that maybe were not that improved. "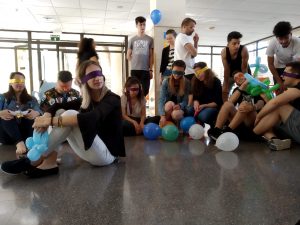 Alex:" We had the opportunity to improve the knowledge of English on a safe environment, and to met new people with different cultures and language so we learned how to work with them and how to have fun with them. We had an amazing week because it was all a new experience and because we saw some amazing places like Alicante and Barcelona and this was like a dream."
And even if this project wasn't the first for three participants of our national team, the general feeling is positive and let good results behind it.
Oana: "I for one really enjoyed one of the last activities we had – which was volunteering at a festival here in Alicante for a few hours. I've always enjoyed volunteering and I do it a lot in Romania, but doing it abroad felt particularly stimulating and fun. It was a really great experience to feel as part of the community even while being in another country, which further deepened my belief that we are all similar and we can always come together even while being so diverse or sometimes not even speaking the same language. "
Estelle: "This week was a great opportunity to get new communication skills and to emphasize the empathy notion which is important in everyday life and working with young people. Even if it's not my first experience, it's always a strong and awesome opportunity to meet and discover new cultures, and also to create new connexions."
Going in this kind of project is not only about learning about a topic you might be interested in, but also about having the opportunity to go abroad and discover new places while spending time with other people and having fun.
Our common advice would be: try to go out of your comfort zone and you would be more than grateful to be a participant of this kind of experience!
---
Te-ai gândit vreodată la cum ar fi să participi într-un proiect care implică dezvoltare personală și descoperirea a diferiți oameni și a culturii acestora?
Asta e ceea ce am făcut noi săptămâna trecută și am vrea să îți spunem mai multe despre această super experiență!
Pentru o săptămână, cinci echipe din diferite tari ale Europei (Bulgaria, Italia, Spania, Portugalia si România) s-au adunat în Alicante, Spania, cu scopul de a se cunoaste si relationa.
Experiența se numeste oficial "youth exchange" (schimb de tineri) si este o activitate a programului Erasmus+, în cadrul căreia ne-am concentrat pe empatie și alte "soft skills", precum lucrul în echipă, teambuilding, comunicare si interacțiune socială.
Fiecare dintre noi a dezvoltat noi abilități și competențe, de asemenea, imbunatatind pe cele deja existente, sesiunile de invatare fiind bazate pe metode de educație non-formală.
Ne-am dezvoltate atat abilitățile lingvistice, prin prisma faptului ca ne-am petrecut timpul alaturi de alti 25 de oameni din țări cu istorie si traditii diferite, cat și abilitatile de relatioare si accceptare a diferentelor culturale, împărtășind experiențele personale cu ceilalti participanti.
Pentru unii dintre noi, precum Cătălin și Alex, aceasta a fost prima experienta de acest gen, într-un proiect de mobilitate, acesta dovedindu-se una de benefica si de neuitat.
Cătălin: "A fost super! Doar ideea că intri în contact cu o grămadă de oameni din țări diferite și ajungeți să lucrați împreună la proiecte a fost pentru mine un imbold in a-mi dori sa calatoresc cat mai mult. Începeți să vă cunoașteți foarte bine între voi și, desigur, să vă cunoașteți pe voi Înșivă. La finalul proiectului, mi-am dat seama, fara sa vreau, ca am mi-am imbunatatit abilitatile de comunicare, non-verbala, dar si in limba engleza, care poate nu erau atat de bine dezvoltate."
Alex:" Am avut oportunitatea să ne îmbunătățim cunoștințele de limba engleză întru-un mediu unde ne simțeam în siguranță, și să cunoaștem oameni noi cu limbi și culturi diferite, așa că am învățat cum să lucrăm cu ei și cum să ne distrăm alaturi de ei. Am avut o săptămână minunată pentru că totul timpul nostru a fost presarat cu experiențe noi, dar si pentru ca am văzut locuri minunate precum Alicante și Barcelona. A fost ca un vis devenit realitate."
Chiar dacă acest proiect nu a fost primul pentru trei dintre participanții echipei noastre naționale, sentimentul general e pozitiv și a lăsat în urmă rezultate bune.
Oana: "Mie personal cel mai mult mi-a plăcut una dintre ultimele activități pe care le-am avut – care a constat în a face voluntariat la un festival aici în Alicante pentru câteva ore. Întotdeauna mi-a plăcut să fiu voluntar și fac asta mult în România, dar să o fac înafara țării s-a simțit deosebit de stimulant și distractiv. A fost o experiență foarte plăcută să mă simt ca parte din comunitate chiar și aflându-mă în altă țară, ceea ce mi-a adâncit mai tare credința că suntem cu toții diferiti, dar similari in acelasi timp. Putem oricând să ne ajutăm unii pe altii, chiar daca locuim la mii de kilometrii departare, sau vorbim limbi diferite."
Estelle: "Această săptămână a fost o oportunitate grozavă de a obține noi abilități de comunicare și de a pune accent pe noțiunea de empatie, ea fiind importantă în viața de zi cu zi precum și în lucrul cu tinerii. Chiar dacă nu e prima mea experiență, este întotdeauna o oportunitate minunată și puternică de a cunoaște și descoperi culturi noi, și de asemenea de a crea noi conexiuni."
Participarea într-un astfel de proiect nu este numai despre a învața despre un subiect de care ai putea fi interesat, ci și despre a profita de oportunitatea de a calatori în străinătate și de a descoperi locuri noi, în timp ce petreci timp cu alte persoane și te distrezi.
Sfatul nostru comun ar fi: încearcă să ieși din zonă ta de confort și vei fi mai mult decât recunoscător să fii parte intr-un asemenea proiect!