By
Ana Gomez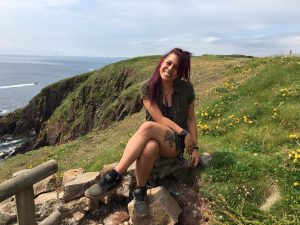 [En]
HOLA! My name is Ana and I come from Andalucia, a beautiful land in España. I like to say the name of my region because for me it is one of the better places in the world to enjoy the life (even knowing how big is the world haha).
I came to the Izvoarele Commune to enjoy the experience with Curba de Cultura during 10 months and to know better how is the charming life in the Carpathian Montains.
I studied Social Work and Social Education, and also a Master Degree in Psychology for Communitarian Intervention. It's a field to work which I really enjoy and I really think I have skill to develop it. However, I've been a bit disconnected of this job during a while because I was discovering the wonderful Wales, in the UK, where I also improved the English language. So now, it's a really good opportunity for me to reconnect not only with my professional side but also with the non formal education.
I like writing, handcrafts and sewing. And I also love history and politics and being deep on the wise of the local culture wherever I place myself. One of my favorite things is to enjoy the little things of the life in all the senses.
If you have something that I can learn from you and I have something that I can teach you, let's exchange our time!!
NOS VEMOS PRONTO! 😀
[Ro]
Salut! Sunt Ana și provin din Andalucia, o regiune minunată din Spania. Îmi place să spun de unde vin, deoarece pentru mine este unul dintre cele mai bune locuri din lume în care să mă bucur de viață (și chiar știu cât e de mare lumea).
Am venit în Izvoarele pentru a mă bucura de experiență alături de Curba de Cultură în următoarele 10 luni și de asemena pentru a vedea mai bine cum decurge viața in Munții Carpați.
Am studiat Asistență Socială și Sociologie si am un grad de master în Psihologie pentru Intervenție Comunitară. Este un domeniu de lucru care îmi place foarte mult și cred ca am abilitățile necesare pentru a progresa. Cu toate acestea, am luat o pauză de la acest job și am vizitat și descoperit Wales, din Marea Britanie, unde mi-am și perfecționat limba engleză. Acum am oportunitatea perfectă pentru a reveni la munca pentru care sunt calificată dar și la educația nonformală.
Îmi place să scriu, meșteșugurile, să cos. De asemenea îmi plac istoria și politica precum și să descopăr profunzimea și înțelepciunea în culturile locale, oriunde m-aș afla. Unul din lucrurile mele preferate este să mă bucur de lucrurile mici în viață, în toate sensurile.
Dacă vrei să mă înveți ceva și crezi că și eu te pot învața ceva pe tine, hai sa ne petrecem ceva timp împreună.
NE VEDEM CURĂND! 😀