By
Alba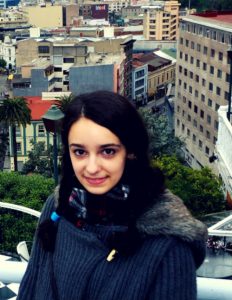 I am Alba and I come from the capital of Spain. For the next period I will be doing a monograph of the commune of Izvoarele, an amazing new project organized by Curba de Cultura. The first time I saw the project I knew that I should be part of it because you do not always find an anthropological EVS project that gives you the opportunity to study in deep the culture and society of their area.
I have studied Social and Cultural Anthropology, so definitely I wanted to prove that the humanities and social sciences can help in many ways to our present and future society. Also, before coming here I worked as a steward for a Spanish football club, but I quit my job to do this EVS.
Of course, I love to do other things. I really enjoy traveling around different countries to know a bit more about their society and culture. Also, I like hiking and discover new places; doing almost any kind of physical activity; reading, listening to music and cinema. And last but not least, it is exciting to experience new things, so we will see what happens when someone who comes from a big city goes to a rural area (✿◠‿◠).
Eu sunt Alba și vin chiar din capitala Spaniei. Pentru următoarea perioadă voi lucra la o monografie a comunei Izvoarele, un proiect minunat organizat de Curba de Cultură. Când am văzut proiectul pentru prima data am știu că trebuie să fac parte din el, pentru că nu întotdeauna găsești un SEV pe teme de antropologie care să îți dea ocazia de a studia în detaliu cultura și societatea din regiunea respectivă.
Am studiat Antropologie Socială și Culturală și prin urmare doresc să dovedesc că științele umane și cele sociale pot ajuta în diferite moduri societatea contemporană și chiar viitoare. În plus, înainte de a veni aici am lucrat ca intendent la un club de fotbal spaniol, dar am renunțat la locul de muncă pentru acest proiect.
Bineînțeles că îmi mai plac și altele, ca de exemplu să călătoresc și să descopăr societăți și culturi. Îmi place să mă plimb și să descopăr locuri noi, să fac activități fizice, dar și să citesc, ascult muzică și să vizionez filme.Nu în ultimul rând sunt foarte încântată să experimentez lucruri noi așadar vom vedea ce se va întâmpla când cineva dintr-un oraș mare vine la sat.
---
Alba este în România pentru o perioadă de 12 luni, din iunie până în mai 2018, în cadrul proiectului  Izvoarele Unveiled [2016-3-RO01-KA105-035584] proiect co-finanțat de Uniunea Europeană prin Programul Erasmus+ și implementat în România de către Curba de Cultură.