By
admin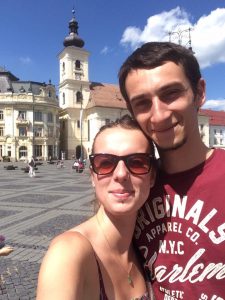 The day when you are in the middle of your project comes and you want to take some holidays. Yes, you want to take it, because you are in a country that you like, and you want to discover more. I am quite lucky, to organize the trip I had the help of Cosmin the president of Curba, who made a travel map for me with all the interesting things that I could see. So I went on an adventure with my boyfriend Renan, who came to visit me.
In the first day we left Izvoarele towards Sibiu. We passed by Brasov but without stopping. When we arrived in Sibiu we made a little visit of the city and enjoyed the sun there. For the night we found the "Ananas camping" wich I recommend you if you want to camp near Sibiu. It's a little place full of nature, near the mountains, and far from all the tourists. Little cute familial camping, and also quite cheap.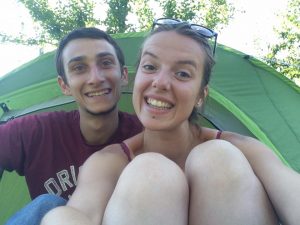 Ziua în care ești la mijlocul proiectului vine și parcă îți dorești o vacanță. Da, deoarece îți place țara în care ești și vrei să descoperi mai mult. Am fost norocoasă, pentru că am avut parte de ajutorul lui Cosmin, președintele CdC, în organizarea excursiei. El mi-a făcut un traseu cu locuri interesante de vizitat. Astfel am plecat într-o aventură cu iubitul meu Renan, care a venit să mă vadă.
În prima zi am plecat din Izvoarele spre Sibiu. Am trecut de Brașov fără să oprim. Când am ajuns în Sibiu, am vizit orașul și ne-am bucurat de soare. Peste noapte am găsit "Ananas Camping", un loc pe care vi-l recomand dacă doriți să campați în apropierea Sibiului. E un loc în plină natură, în apropierea munților și departe de turiști, potrivit pentru familii și destul de ieftin.
The second day, we went to visit Hunedoara Castle, who is really huge, and also beautiful. As a student its really cheap to visit the castle. You will spend good time there 😉 . It's a pity that castles is so close to the city that the landscape around is not that great. After Hunedoara, we' seen Densuș church which is the oldest church in Romania. It's really cool and beautiful. In the end we wanted to check the National Park of Cheile Nerei, but we got lost and we didn't find what we wanted, and tired at the end of the day we went to Moldova Noua.
În cea de-a doua zi, am mers să vizităm Castelul Hunedoara, care este imens și foarte frumos. Ca și student e chiar ieftin să vizitez castelul și vei petrece un timp minunat acolo. E păcat că acest castel e foarte aproape de oraș și asta face ca peisajul dimprejur să nu fie atât de minunat. După Huneadoara am vizitat biserica in Densuș, care e cea mai veche biserică din România. E chiar un loc cool. La final am dorit să vedem Parcul național Cheile Nerei, dar ne-am rătăcit cumva și obosiți cum eram ne-am îndreptat spre Moldova Nouă.
After a night in a "pensiune" we took the road to Targu Jiu following Danube. It was just AMAZING! So we had to make a little boat trip on Danube. Later, in Targu Jiu we did not have a place to sleep. We were searching for a camping site (the hostel is too expensive for us). We went to a park and asked a policeman if he could help us. Firstly he suggested us to camp in a park, but moments later he told us "it is a bad idea because it will rain", so he called Adi, a friend. Then Adi came and told us that we are welcomed in his house. We arrived and we've been welcomed by Dana, his wife and Sebi and Cristi (their two little boys).
We spent an AMAZING evening, full of awesome homemade cherry liqueur, palinca and delicious meals. We also learned a lot about Romanian homemade stuff! Thank you for that! And for the salt mines you took us to visit!
For the way back we took Transfăgărășan direction. Everybody needs to go there it's AMAAAAAZING!!! And this is how we ended our holidays. Romania is a beautiful country full of amazing helpful people, you really should come here 😉
După o noapte într-o pensiune am luat-o spre Târgu Jiu, urmând Dunărea. A fost atât de minunat căci a trebuit să facem un mic tur cu barca pe Dunăre. Mai târziu în Târgu Jiu nu aveam loc de cazare. Am căut un loc pentru camping (hosteluruile sunt prea scumpe pentru noi) și ne-am îndreptat spre parc un de am cerut ajutorul unui polițist. Întâi ne-a sugerat să campăm în parc, dar câteva momente mai târziu ne-a zis că nu e o idee prea bună căci va ploua. Prin urmare l-a contactat pe Adi, un prieten de-al său. Apoi Adi a venit și ne-a spus că suntem bineveți la el acasă. Am sosit și am fost întâmpinați de Dana, soția sa și de Sebi și Cristi (cei doi fii ai lor).
Am petrecut o seară minunată cu vișinată, palincă și o mâncare delicioasă. De asemenea am și învățat multe despre produsele tradiționale românești. Mulțumim pentru asta! Și pentru salina pe care ne-ați dus să o vizităm.
La întoarcere am trecut pe Transfăgărășan. Toți ar trebui să vadă acest drum, e UIMITOR! Și astfel ne-am încheiat vacanța. România e o țară frumoasă, plină de oameni săritori, vă îndemnă să o vizitați. 
---
Margot se află în România pentru 5 luni în cadrul proiectului Intercult'rural (ref nr 2015-3-FR02-KA105-010806) co-finanțat de Comisia Europeană prin programul Erasmus+ și implementant în România de Asociația Curba de Cultură.