By
Gabriel Marimon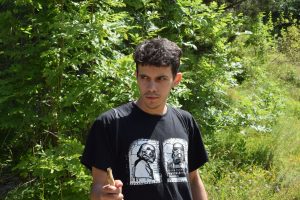 ¡Hola! My name is Gabriel, I'm from Argentina and I'm 21 years old. I've been living in Spain since 2007 and I'll be living in Romania for a year doing an EVS. I'm here to know as much as I can about the community of Izvoarele and share it with the World.
I love music, cinema and animation. I've studied art and last year I started a grade in Illustration but it wasn't what I was looking for so when Curba de Cultură contacted me I was pretty sure that this is what I want to do and Izvoarele is the right place for me right now.
Salut! Eu sunt Gabriel, sunt din Argentina și am 21 de ani. Locuiesc în Spania din 2007 și voi sta în România pentru un an în cadrul unui SEV. Mă aflu aici pentru a învăța cât mai multe despre comunitatea din Izvoarele și pentru a împărtăși totul cu întreaga lume.
Am studiat arte, muzică romantică, cinema și animație. În ultimul an am studiat ilustrație dar nu a fost ceea ce îmi doream, prin urmare atunci când Curba de Cultură m-a contactat am fost destul de sigur că asta e ceea ce vreau să fac, iar Izvoarele este locul potrivit pentru mine, acum.
I want to learn as much as I can from this place and this country, is not only about the culture, the traditions, etc… but about the people, their stories and their day to day lifes. I also love the architecture and everything I've seen in the six days I've been here.
See you in Curba de Cultură!
Îmi doresc să învăț cât mai mult din acest loc și din această țară, nu doar despre cultură și tradiții ci și despre oameni, povești și viața lor de zi cu zi. Ador arhitectura și tot ce am văzut până acum în cele șase zile de când sunt aici.
Ne vedem la Curba de Cultură!
---
Gabriel se află în România pentru o perioadă de 12 luni, din iulie 2017 până în iunie 2018 în cadrul proiectului Izvoarele Unveiled (ref nr 2016-3-RO01-KA105-035584), proiect co-finanțat de Uniunea Europeană prin Programul Erasmus+ și implementat în România de Asociația Curba de Cultură.