The last weekend I went to two nice destination. The first one was the wonderful Măneciu Lake from Friday afternoon to Saturday Midday. I went there with two nice Estonian people 🙂 One of them is Liina formerly volunteer at Curba de Cultură, and her friend Ragnar. We walked under the sun heat and when we arrived I had only one thing in my mind, to get into the water! Since I came to Romania and once the heat came I was dreaming of swimming somewhere. Later we set the tents and we spent the night there. Of course the next morning we took again a bath in Măneciu Lake.
The second destination was Ploieşti. I went there taking a last moment decision, by hitchhiking and the trip proved to be crazy. Why? Because I didn't know where I will sleep. I did some request on Couchsurfing but people didn't responded so quickly, I can say they didn't responded at all. I also did that on the last moment so it was not a surprise. Anyway, I'm not afraid of these kind situations.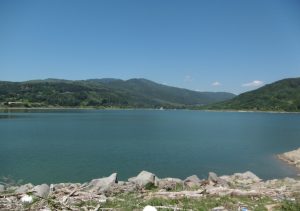 Next, when I arrived in Ploieşti, I didn't know this city, so I relied on what I knew when I went there once with Sorin. (our coordinator) So I saw some skateboarders on a nice little place and I decided to talk to them to get some more info about Ploieşti. Then I decided to skate for a while and it was a good idea. I had lots of fun with those guys who were really nice by the way. And finally the end of the day came, I tried to not sleep but I was too tired. (Sleeping on the public grass, it's ok 🙂 )
Next morning I returned to Schiuleşti by hitchhiking. So this is how a boring weekend can turn into a great one.
La sfârșitul săptămânii trecute am pornit spre două destinații interesante. Prima a fot minunatul lac de la Măneciu, unde am stat de vineri de la prânz până sâmbătă la prânz. Am mers acolo cu doi prieteni din Estonia 🙂 Unul dintre ei este Liina, fost voluntar la Curba de Cultură și prietenul ei Ragnar. Am mers pe jos sub soarele arzător iar când am ajuns am avut un singur lucru în minte, să ajung în apă. De când am ajuns în România și de când s-a încălzit vremea am visat la a înnota undeva. Mai târziu am pus corturile și am petrecut noaptea acolo. desigur, dimineața următoare am făcut din nou baie în lacul Măneciu.
Cea de-a doua destinație a fost Ploiești. am plecat într-acolo ca urmare a unei decizii de ultim moment, făcând autostopul, și călătoria s-a dovedit a fi una nebună. De ce? Pentru că nu știam unde voi dormi. Am făcut câteva cereri pe Couchsurfing, dar oamenii nu au răspuns rapid, aș putea spune că nu au răspuns deloc. Totodată am și solicitat cazare în ultimul moment, așa că nu sunt surprins. Oricum, nu mi-e teamă de astfel de situații.
Când am ajuns în Ploiești, nu cunoșteam orașul așa că m-am bazat pe ce am știut când am fost acolo o dată cu Sorin coordonatorul nostru). Am văzut niște skateri într-o zonă frumoasă și am decis să discut cu ei, să aflu mai multe informații despre Ploiești. Apoi am decis să mă dau cu skate-ul pentru o vreme și a fost o idee bună. M-am distrat cu tipii aceia, care au fost chiar amabili. Și în cele din urmă a venit sfârșitul zilei, am încercat să nu dorm, dar eram prea obosit. (Dormitul în parcul public e ok 🙂 )
În dimineața următoare m-am întors în Shiulești făcând din nou autostopul. Astfel un weekend plictisitor s-a transformat într-unul minunat.
Mael
from France
—————-
Mael se află în România pentru 5 luni în cadrul proiectului Intercult'rural (ref nr 2015-3-FR02-KA105-010806) co-finanțat de Uniunea Europeană prin programul Erasmus+ și implementant în România de Asociația Curba de Cultură.