By
Milena Waas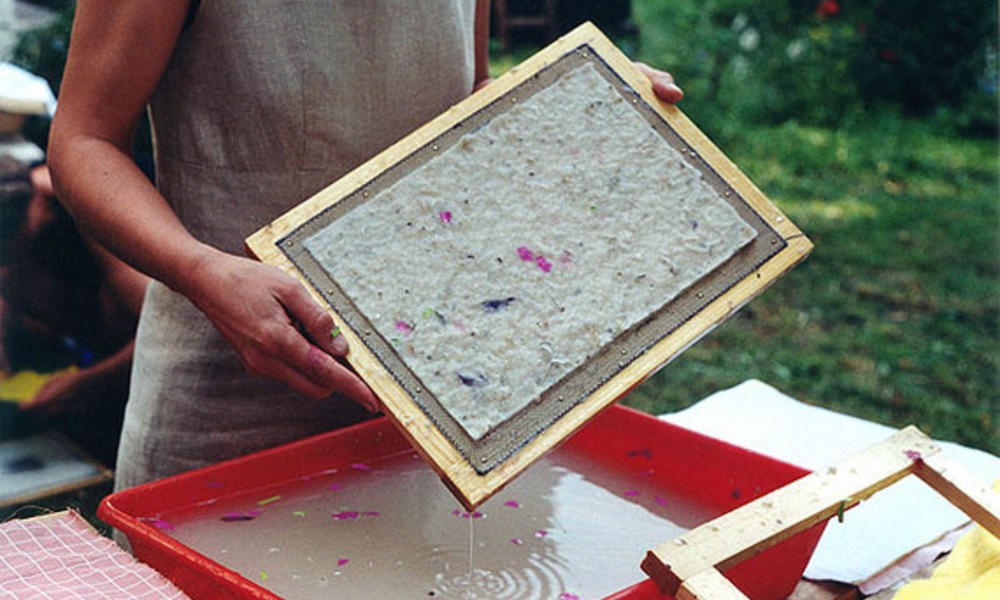 /EN/
Howdy!
Coming from Germany, I am very used to recycling, especially when it comes to paper. Germans recycle about 80% of all their paper, meanwhile the recycling of paper is nearly non-existent in Romania.
But why go though all the work of carefully selecting the paper and recycling it to new paper? Unlike plastic or metal products, paper is made out of wood which can easily be regrown.
One big reason would be in order to save water. The production of 40g new paper needs 2,8 L of water, compared to 0,2 L for recycling paper. It also becomes a lot more polluted in the process of producing new paper, than in the one for recycled paper. If you are interested in finding out why saving water is so important for the environment, read Robert's article about water, coming up in the next days.
Another point is, that the chemicals used in order to make paper out of wood are often very toxic and bad for the environment, unlike the ones used for the recycling process. This is especially true for the bleaching of newly made paper, which is either not done with recycling paper or done with non-toxic chemicals.
The recycling process for paper also needs 1/3 of the energy of producing newly made paper.
It also needs wood. While trees can be regrown, it takes years for them to do so and if we use up to much wood to regrow, the amount of forests in a country decrease and decrease, as is currently the case in Romania.
If you want to help the environment, try to sort paper and put it into the blue recycling bin, buy recycling paper instead of normal one and use both sides of paper.
And here is a little guide for recycling paper yourself:
Put small pieces of paper [tear them apart by hand] into a bucket of water and leave it alone for three days
Nail a fly screen onto a wooden frame (about the size of a piece of paper)
Blend the water-paper-mix with a blender. If the mass is to solid, add warm water.
Put the paper-mix into a big container, add water (About a quater of the paper mass). Take the frame from step 2 and pull it slowly though the water, till their is a small layer of paper on it.z
Tear the layer slowly from the frame and leave it to dry
---
/RO/
Servus!
Venind din Germania sunt obișnuită să reciclez, mai ales hârtie. Nemții reciclează în jur de 80% din hârtie, în timp ce reciclarea hârtiei în România e aproape inexistentă.
Dar de ce să trecem prin acest proces de selectare a hârtiei și reciclare? Spre deosebire de plastic și metal, hârtia e făcută din lemn, care poate fi înlocuit prin plantare.
Un motiv important pentru a recicla este pentru a economisi apă. Pentru a produce 40gr de hârtie nouă e nevoie de 2.8L apă, în timp ce pentru aceeași cantitate prin reciclare e nevoie de 0.2L. De asemenea apa devine mai poluată la finalul acestui proces, decât cea folosită la reciclare. Dacă vreți să aflați mai multe despre importanța apei pentru mediu, citiți articolul lui Robert (urmează în următoarele zile, fiți pe faza).
Un alt motiv ar fi chimicalele folosite pentru a crea hârtie, care sunt adesea toxice și nocive pentru mediu, spre deoasebire de cele pentru reciclare. Asta mai ales din cauza înălbitorilor folosiți pentru hârtie, care nu sunt folosiți la hârtia reciclată, ori sunt folosiți unii non-toxici.
În plus, procesul de reciclare a hârtiei are nevoie de doar o treime din energia folosită pentru hârtia nouă. Apoi mai are nevoie de lemn. Chiar dacă pădurile pot refăcute, durează ani de zile pentru acest lucru, iar dacă folosim pădurile prea mult, zonele împădurite scad vizibil, cum e cazul României.
Dacă vrei să ajuți mediul, încearcă să sortezi hârtia și pune-o în containerul albastru, cumpără hârtie reciclată în loc de cea obișnuită și mai ales folosește ambele părți ale hârtiei.
Aici aveți un mic ghid de reciclare a hârtiei:
Pune bucățele de hârtie (rupte cu mâna) într-o găleată cu apă și lasă-le trei zile.
Prinde o pânză de țânțari pe o ramă de lemn (de mărimea hârtiei pe care vei să o produci)
Amestecă compoziția de hârtie cu apă cu un blender. Dacă e prea tare, mai pune puțină apă caldă.
Transferă amestecul într-un vas mai mare și mai pune apă (un sfert din cantitatea de hârtie). Ia rama de la punctul 2 și trece-o ușor prin apă, până ai un mic strat de hârtie pe ea.
Desfă stratul ușor de pe ramă și lasă-l să se usuce.
---
Milena este în România pentru o perioadă de cinci luni, din iulie 2018 până în noiembrie 2018, în cadrul proiectului Building Youth supportive Communities – Environment [2017-2-RO01-KA105-037748] proiect cofinanțat de Uniunea Europeană prin Programul Erasmus+ și implementat în România de către Curba de Cultură.