By
Anna
Traveling… Another trip. Yeap, that´s me, I need to visit nice places to learn nice things. I need to experience a lot to remember a lot. This time I ended up at Saint Ana´s Lake. As you see, it was not my lake, but it belongs to some other Ana with only one n.
Călătorind… Încă o excursie. Dap asta-s eu, trebuie să vizitez locuri pentru a învăța lucruri. am nevoie să experimentez multe pentru a reține multe. De această dată am ajuns la lacul Sfânta Ana. După cum vedeți, nu e lacul meu, ci al unei alte Ana cu un singur n.
Well, it started with bad luck. We (yeap, I was not alone this time, my dearest was with me) learnt that the hardest hitchhiking is in a small village. After an hour of walk through nothing we managed to get our first car. Not the last one. In the end of the day we were behind Brasov. This was good. But then… another bad luck. There is no forest to sleep in! Nothing but rain, mud and empty branches above us. We spent the first night among bare trees, wet leaves and upset dogs on the edge of the city. My shoes were still doing the squelching noise, when I took my thumb out of the warmness of my sleeve to catch some kind soul behind a wheel. This day was better, from one car to another and tadaaa, we are walking the hill to an old, old volcano. In the middle of forest, in the middle of wood where is every single colour you can imagine, but not the touristic one. It simply disappeared.
Ei bine a început cam ghinionist. Am descoperit (nu am fost singură de data asta, iubitul meu a fost cu mine) că autostopul e cel mai greu în sate mici. După o oră de mers am reușit să prindem o mașină. Nu singura. La final de zi eram aproape de Brașov. Asta a fost bine. Apoi… alt ghinion. Nu era nici o pădure în care să putem dormi! Nimic înafară de ploaie, noroi și crengi goale deasupra noastră. Am petrecut prima noapte printre copaci golași, frunze ude și auzind câinii de la marginea orașului. Încălțămintea mea încă lipăia în momentul în care mi-am scos degetul mare din căldura mânecii pentru a îndupleca vreun suflet blând din spatele volanului. Ziua aceasta a fost mai bună, de la o mașină la alta și tadaaa mergeam la deal spre un vechi vulcan. În mijlocul pădurii am găsit fiecare culoare pe care ne-am fi putut-o imagina mai puțin pe cea turistică. A dispărut pur și simplu.
In the end of October you just hope, that if y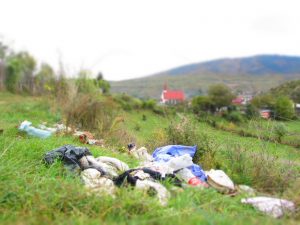 ou are breaking wind after eating a lot of beechnuts, AND the bear is breaking wind after eating a lot of beechnuts, well, you hope you will not meet each other during this process.
We did not, yet we found so many bear´s poops I quit counting them when I was at number twelve. There was first snow of this year, colours on trees and under our feet, and wind and drizzle around. Weather with sense of humor, indeed. Where are we supposed to sleep, he? Under the bear´s fur? There it would be so, so warm. Inside of his belly.
We are making fire in the edge of the lake, enjoying our freezing fingers and drying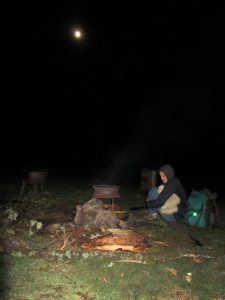 clothes, fear of animals and presence of each other. But we can not stay, it is too dangerous. On our way again, in the middle of the night. Singing songs to keep the fear in bay and bears far away from this horrible noise. This time we managed to find a nice three beech trees in a corner of a small park or what ever it was. Hidden from the worst wind and the most curious eyes, we have slept in the end of a camping place.
La sfârșitul lui octombrie poți doar spera că dacă tragi vânturi după ce mănînci jir, și ursul trage de asemenea vânturi după ce mănâncă jir, nu poți spera decât să nu vă întâlniți în timpul acestui proces. Noi nu ne-am întâlnit, dar am găsit fecale de urs suficiente cât să mă opresc din numărat. A căzut și prima zăpadă din acest an, copacii sunt încă colorați, la fel și solul iar vântul și burnița ne înconjoară. Vremea chiar are simțul umorului. Iar noi unde vom dormi? Poate sub blana ursului? Acolo ar fi foarte cald, în stomacul lui, mai ales.
Am făcut focul la marginea lacului bucurându-ne de dezghețarea degetelor, uscarea hainelor, teama de animale și de prezența celuilalt. Dar nu putem sta, e prea periculos. La miezul nopții am luat-o din nou la pas. Cântam cântece să ținem teama-n frâu și urșii la distanță de acest sune oribil. Și am găsit un fag frumos în colțul unui parc, sau ce-o fi fost ăla. Ascuns din calea celui mai rău vânt și cu cei mai curioși ochi, am dormit la marginea unui camping.
Another day, another long, long walk. Mud was everywhere, but where is our yellow touristic mark? Ehm, vanished four or five trees ago. Only our sense of direction led us to a road, yet it was nowhere to be found. For those kind of situation I have my phone and my phone has.. GPS! The road was there, just behind a hill. And another hill, and another. Then there was a muddy meadow, long muddy field and… long, frequented road. What does it mean? It means fast way back home! Even though we had to spent another night outside, because it was not as fast as expected. Walking through a small village, again somewhere behind Brasov, surrounded with rain, wind and barking dogs. Suddenly a door opened. Well, I helped them. Old, reconstructed cow house gave us the roof and safety, and what more, even comfort. It was full of corn, a soft and funny bed for us.
The lesson from this trip: Do not underestimate the weather. But what is more important: If you ever have the opportunity, try to make a race across a hill of corn while wrapped inside of your sleeping bag. It is… unbelievable funny.
Încă o zi, încă o plimbare lungă-lungă. Noroiul e peste tot, dar unde este marcajul turistic galben? Ehm, a dispărut cu vreo patru-cinci copaci în urmă. Doar simțul nostru de orientare ne mai putea conduce către cale, dar nu era nici o cale. Pentru astfel de situații am telefon și telefonul are … GPS! Drumul era chiar acolo peste deal. Peste încă unul și peste încă unul. Apoi era o câmpie noroioasă, un câmp lung și plin de noroi și … un drum lung dar circulat. Ce înseamnă asta? Înseamnă o cale rapidă către casă. Totuși a trebuit să mai petrecem o noapte afară, deoarece nu a fost atât de rapid pe cât ne-am așteptat. Am străbătut un mic sat, din nou undeva pe lângă Brașov, înconjurați de ploaie, vânt și câini care latră. Deodată o ușă s-a deschis. Am ajutat-o defapt. Un hambar vechi dar reconstruit ne oferit acoperiș și siguranță și chiar mai mult, confort. Era un hambar plin cu porumb, un pat moale și amuzant.
Lecția acestei călătorii: nu subestimați vremea. Dar ce e mai important: dacă ai vreodată șansa, fă o cursă pe o grămadă de purumb înfășurat într-un sac de dormit. E incredibil de amuzant!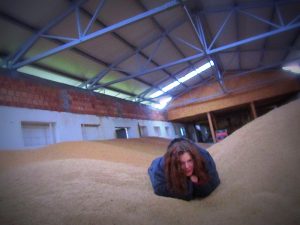 ---
Anna se află în România pentru o perioadă de 6 luni, din august 2016 până în ianuarie 2017 în cadrul proiectului Building Youth Supportive Communities 2 (ref nr 2016-1-RO01-KA105-024246), proiect co-finanțat de Uniunea Europeană prin Programul Erasmus+ și implementat în România de  Curba de Cultură.