By
Alba
Mâncarea aici e minunată! Cumva, reușesc să mânânc continuu de când am venit în România. Desigur, am luat în greutate, dar merită. Locuitorii comunei Izvoarele, în mod special tănticile pe care le-am vizitat, sunt generoase și ne invită constant pe noi voluntarii SEV la masă ori să încercăm câte o rețetă mai specială. Din când în când am mers la Clubul Seniorilor, iar acolo ori de câte ori este o zi de naștere a vreunui membru, fac petrecere și asta înseamnă că va fi mâncare.
Câteodată mă simt ca un musafir, dar alte dăți mă simt ca o nepoată străină ori ca o tanti mai tânără! De când sunt aici am încercat multe feluri de mâncăruri, dar favoritele mele sunt sarmale cu mămăliguță și zacusca.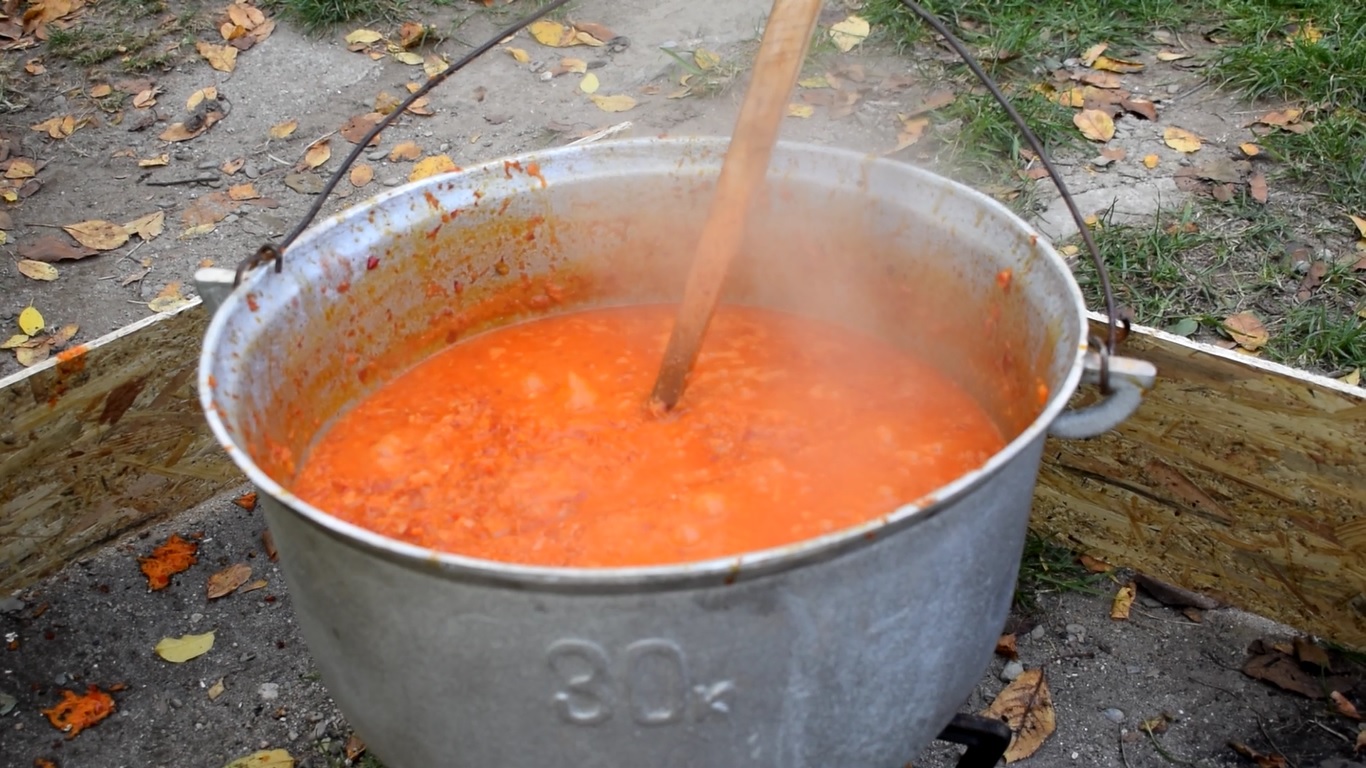 The food here is great! Somehow, I am managing to eat all the time since I came to Romania. Obviously, I gained some weight, but it is totally worth it. The inhabitants of Izvoarele, especially our "tantis", are generous and they keep inviting us, the EVSs, to eat with them in their homes and to try their recipes. Also, from time to time, I attend the Clubul Seniorilor (Seniors Club), so whenever there is a birthday of one of the members, they celebrate a party, and that means that there will be plenty of food.
Sometimes I feel like "musafir" (guest), but other times I feel like I am their foreign granddaughter or that even I am a younger "tanti"! Since I came here, I tried a lot of food, but my favorites are sarmale cu mamaliguța and zacuscă.
Sarmalele sunt făcute din carne de porc, ceapă, orez, varză, supă și condimente (și arată ca niște pachețele de primăvară); și sunt acompaniate de mămăligă, care e făcută din făină. Ador gustul acestei mâncări și odată am reușit să mânânc 7 sarmale odată.
The sarmale cu mamaliguța is made of pork meat, onions, rice, cabbage, broth and spices (and it looks like a spring roll); and accompanied with mamaliga, that is made out of corn. I really love the taste of this dish, and once I even managed to eat 7 sarmale rolls.
Cealaltă mâncare este zacuscă. Sunt numeroase feluri de a o face, dar favorita mea este cu vinete. Ingredientele principale sunt vinetele, ceapa, roșii, morcovi, ardei roșii și condimente. E foarte ușor să mănânci zacuscă zilnic, doar întinde-o pe pâine și mănâncă-o.
The other traditional dish is the zacuscă. There are several ways of making it, but my favorite is the one made of eggplants. The main ingredients are eggplants, onions, tomatoes, carrots, red peppers, and spices. It is really easy to eat zacuscă all day, just spread it on bread and eat it!
---
Alba este în România pentru o perioadă de 12 luni, din iunie 2017 până în mai 2018, în cadrul proiectului  Izvoarele Unveiled [2016-3-RO01-KA105-035584] proiect co-finanțat de Uniunea Europeană prin Programul Erasmus+ și implementat în România de către Curba de Cultură.