By
admin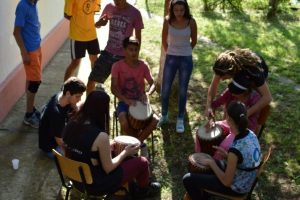 În cadrul proiectului Intercult'rural cei doi voluntari francezi, Margot și Mael, găzduiți de Curba de Cultură au organizat două evenimente cu tematică muzicală. Primul a fost pe data de 30 iunie la Școala Gimnazială Traian Săvulescu în Izvoarele, iar cel de-al doilea pe 25 iulie la Școala Gimnazială Homorâciu. Dar mai multe detalii vă dă Margot în testimonialul ei.
In the Intercult'rural project the two French volunteers hosted by Curba de Cultura organised two musical events. The first one was on 30th June in Școala Gimnazială Traian Săvulescu in Izvoarele and the second one on 25th July at Școala Gimnazială Homorâciu. But more details you can find from Margot's testimonials.
I organized my first event in the 30 June. It was a musical event with percussion, piano and voice workshops and a handicraft workshop. We organized preparation meetings  but it was really hard at the beginning to keep the people attentive during all the meetings. All the local volunteers helped me, it was a group work. The problem was the promotion which was not done properly and lead to a poor attendance.  This was a lesson learnt and for next time we know what to do better. We learnt how to work together and how to assign tasks so in a way it was still a success.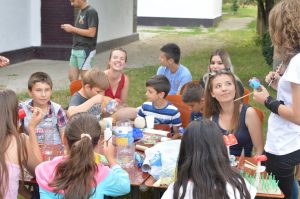 Am organizat primul eveniment pe 30 iunie. Evenimentul a cuprins ateliere de percuție, piano și voce precum și un atelier de lucru manual. Am organizat întâlniri preparatorii, dar mi-a fost greu la început să mențin atenția trează a celor ce participau. Toți voluntarii locali m-au ajutat, a fost muncă în echipă. Problema a fost însă partea de promovare, care nu a fost făcută adecvat ceea ce a dus la o slabă prezență la eveniment. A fost o lecție învățată, iar data viitoare, știm ce trebuie îmbunătățit. Am învățat însă cum să lucrăm în echipă și cum să împărțim sarcinile, așadar din punctul ăsta de vedere a fost un succes.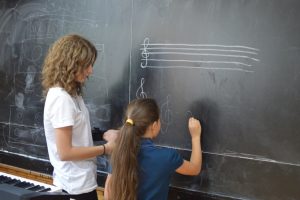 For the 25th July I organized a second musical event. I wanted to do better than the first one, so with the help of the local volunteers, we did it. We worked more on promotion, we did posters, and Mael with some helpful guys and girls walked on the streets of the village, made noise with djembe and told to people what is going on and when it will happen. The event itself went in a better way. This time we had percussion, piano and guitar workshops and handicraft from recycled materials workshop. We had lots of children coming and even some adults passed by to see the event. Everyone had lots of fun and I think they were very happy. In the end I was really happy to see smiles on everyone's faces.
Pentru data de 25 iulie am organizat cel de-al doilea eveniment. Mi-am dorit să iasă mai bine și cu ajutorul voluntarilor locali a ieșit. Am muncit mai mult la partea de promovare, am făcut afișe, iar Mael împreună cu câțiva băieți și fete am colindat ulițele satului, au bătut în tobe, au făcut zgomot și au spus oamenilor ce și când urmează să se întâmple. Întregul eveniment a mers mai bine. de această dată am avut atelier de percuție, pian și chitară și lucru manual din materiale reciclate. Mulți copii au participat și chiar adulți au trecut pe acolo pentru a vedea ce se întâmplă. Toți s-au distrat și cred că erau fericiți. La final m-am bucurat să văd zâmbete pe fețele tuturor.
Margot, volunteer from France.
---
Margot se află în România pentru 5 luni în cadrul proiectului Intercult'rural (ref nr 2015-3-FR02-KA105-010806) co-finanțat de Uniunea Europeană prin programul Erasmus+ și implementant în România de Asociația Curba de Cultură.