By
Margot Mosse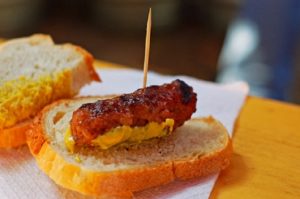 Are you hungry and in Romania? Let's taste mici!!!
You travel or maybe just go on a open air market in Romania, and of course arrive the moment where you are hungry… If you can see some smoke and grill you are maybe in the right place to eat mici. And what's mici? Let's take a look in the deepest secret of Romanian's cuisine.
Actually mici are like sausages, but of course they are not because they're mici. It's made of ground beef, meat mixed with spices, garlic and beef broth. You can find them everywhere, like in market and maybe even in some restaurants. They are usually served with bread and mustard. You can also ask for some chips to eat with. You can find them in different sizes, usually they are like 8-10cm or you can find big ones like 15 cm (and those one you can eat just one, because after you are just completely …. FULL). The great thing it's that you can find them everywhere in Romania, in all the regions. And if you are lucky, you can meet some local people who can invite you to eat a barbecue in their house and for sure you will find some mici. It happened once for me, a neighbor of Curba de Cultura just invited me with one the local volunteer, and we had the luck to eat mici.
I really like this meat, it's really tasty, you can eat them at which hour you want, even the morning! I had lots of occasions to eat them, and every time I enjoyed them.
So, if I have an advice to give you, I just tell you: Eat mici!
Ți-e foame și ești în România? Gustă niște mici!
Fie că doar călătorești prin România ori ești printr-o piață în aer liber vine un moment în care ți se face foame… Uită-te după fum și grătar, cel mai probabil acolo vei găsi mici.
Ce sunt micii? Haideți să aruncăm o privire către cele mai ascunse secrete ale bucătăriei românești. Într-un fel micii sunt precum cârnații, dar nu sunt, pentru că ei sunt mici. Au în compoziție carne de vită, condimente, usturoi și supă de carne. Îi găsești aproape oriunde, în piețe și în restaurante de asemenea și sunt cel mai adesea serviți cu pâine și muștar. Poți cere și cartofi prăjiți lângă ei. Se găsesc la diferite dimensiuni, cel mai adesea la 8-10 cm cei mai mari find de 15 cm (iar cu aceia te saturi chiar și numai cu unul). Cel mai tare e faptul că îi găsești peste tot în România, în toate regiunile. Și dacă ai noroc poți întâlni oameni care să te invite la un grătar la ei acasă și cu siguranță vor avea și mici. Mi s-a întâmplat odată ca un vecin al Curbei de Cultură să mă invite pe mine și pe un alt voluntar local și am fost suficient de norocoși să primim mici.
Chiar îmi place acest fel de mâncare, e foarte gustos și poate fi mâncat la orice oră vrei, chiar și dimineața! Am avut o mulâime de ocazii de a mânca mici și mi-a făcut plăcere de fiecare dată.
Un sfat pentru voi: mâncați mici!
---
Margot se află în România pentru 5 luni în cadrul proiectului Intercult'rural (ref nr 2015-3-FR02-KA105-010806) co-finanțat de Uniunea Europeană prin programul Erasmus+ și implementant în România de Asociația Curba de Cultură.