By
admin
In the first month, after we arrived to Romania, we had the on arrival training. It lasted for a week, and it gathers all the volunteers that arrived in the last month in Romania for an EVS stage. The main goal of the training is to ease the process of living and working in a different country that your home country.
This week of the training was really cool, I met new people, I discover a lot of new things about myself in relation with the host country and the others. There is a main topic each day and almost every situation that might occur during the stage is foreseen and covered. I discovered new things about EVS, how to manage when there is a conflict, with the organization or the others volunteers with who you live, and how to make the best of my time spent here. I learned a lot.
It was a beautiful meeting with lots of fun and with discovery of a new city.
A piece of advice: Don't stay in your room during this week, party, enjoy !!!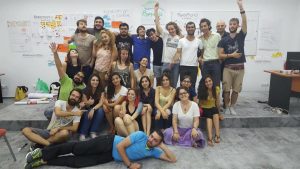 În prima lună, după ce am ajuns în România, am avut parte de On Arrival Training. A durat o săptămână și a adunat toți voluntarii SEV sosiți în România în ultima perioadă. Scopul principal al trainingului este de a ușura procesul de adaptare la o nouă țară, care e mai mult sau mai puțin diferită de cea de rezidență.
Această săptămână de training a fost 'mișto' am întâlnit alți voluntari, am descoperit lucruri despre mine în legătură cu țara gazdă și cu ceilalți. Fiecare zi a avut un subiect principal și aproape orice situație ar apărea a fost prevăzută și discutată. Am aflat niște noutăți despre EVS, cum să mă descurc în situații conflictuale atât cu organizația cât și cu ceilalți voluntari și cum să profit la maxim de timpul petrecut aici. Am învățat multe.
A fost o întâlnire nemaipomenită cu multă distracție și cu descoperirea unui nou oraș.
Sfat: Nu stați în cameră în această săptămână, petreceți, distrați-vă!
Margot, volunteer from France.
---
Margot se află în România pentru 5 luni în cadrul proiectului Intercult'rural (ref nr 2015-3-FR02-KA105-010806) co-finanțat de Uniunea Europeană prin programul Erasmus+ și implementant în România de Asociația Curba de Cultură.