By
Anna
You know these events you need to prepare for long time in advance? This was one of them. I got the idea, we got the plans. Well, we were trying to make the plans, at least. Hi hi! And we got it, we made it! In some way it was a big, amazing success, in some way it wasss… the exact opposite.
I did this kind of event a few times before with various results, everytime with the thought in my head:
"OK, no more. If I am going to repeat this, I have to do it totally differently."
With all the lessons from previous mistakes and with a small team, where everybody is experienced, useful and working – what could possibly go wrong?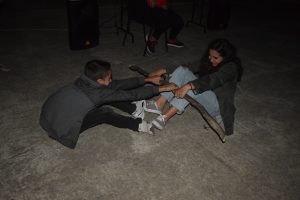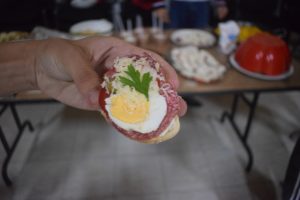 Something did, I did. We did. Though the event did not! Fortunately it was only us, the inside people, who could see what went wrong, how large are the gaps in my organizational skills. But, in the end everything was on its place and ready to start the show. Our audience could just enjoy all what we offered to see, to hear, to dance and to eat. And we ate. A lot. And danced a lot. Talked a lot. Played. Saw. Tables were overflowed with pancakes from France, though made here in Romania by Maël and Margot; with Estonian potato salad by Eleny; sgagliozze (fried polenta), calzone di cipolla (onion cake) and frittelle (inexplicable, simple and delicious) by Italian Alessio; and Czech small cakes and "sandwiches".

Stop me, if I want to organize something bigger ever again, stop me and say:
"Anna, push harder, make your team more motivated and PREPARE UNFORGETTABLY DELICIOUS FOOD as you did last time!"
The lesson for next time: The FOOD can SAVE anything and EVERYTHING! 🙂
Howgh.
Știți tipul ăla de evenimente în care trebuie totul pregătit cu ceva timp înainte? Acesta a fost unul dintre ele. Eu am avut ideea și am făcut cu toții planuri. Sau cel puțin am încercat. Hi hi! Și ne-a ieșit, am reușit! Pe de o parte a fost un mare și uimitor succes, pe de altă parte a fost… exact opusul.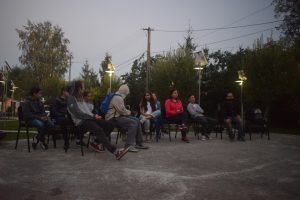 Am mai făcut genul ăsta de evenimente înainte și am avut diferite rezultate, de fiecare dată mi-am spus: "Gata, ajunge. Dacă e să repet asta atunci va trebui să o fac într-un mod complet diferit."
Cu toate învățămintele trase din greșelile anterioare și cu o echipă mică unde toți sunt experimentați, utili și muncitori – ce ar fi putut merge prost? Ceva a mers prost totuși, eu, noi, dar nu evenimentul în sine. din fericire doar noi, cei din interior am putut observa ce nu a mers, cât de mari au fost lipsurile în abilitățile mele de organizare. În cele din urmă totul a fost în ordine și am fost gata pentru a începe spectacolul.
Spectatorii noștri s-au bucurat de ceea ce le-am oferit să vadă, audă, să danseze ori să mănânce. Și chiar am mâncat. Mult. Și am dansat mult. Am vorbit mult. Ne-am jucat. Am văzut. Mesele au fost supraîncărcate cu clătite franțuzești, deși făcute în România de către Mael și Margot; cu salată de cartofi estoniană făcută de către Eleny, cu sgagliozze (bucați de mămăligă prăjite), calzone di cipolla (plăcintă cu ceapă) și frittelle (niște chestii inexplicabile dar delicioase) făcute de către Alessio, precum și cu prăjituri cehe și sendvișuri.
Data viitoare când vreau să mai organizez așa ceva opriți-mă și spuneți-mi: Anna străduiește-te mai mult, motivează-ți echipa și GĂTEȘTE MÂNCARE DELICIOASĂ DE NEUITAT precum data trecută!
Lecție pentru data viitoare: mâncarea salvează orice și TOTUL!
Howgh!
---
Anna se află în România pentru o perioadă de 6 luni, din august 2016 până în ianuarie 2017 în cadrul proiectului Building Youth Supportive Communities 2 (ref nr 2016-1-RO01-KA105-024246), proiect co-finanțat de Uniunea Europeană prin Programul Erasmus+ și implementat în România de către Curba de Cultură.