By
admin
 Thursday evening, Dodo and Kristi came by hitchhike from Râmincu Sărat to pick me up from Schiulești. We enjoyed our evening together, and Friday we left at 10:00 am. First direction: Râmnicu Sărat.
So we walked, and we met, at the end of the village, a girl who told us that a friend of her goes to Ploiești (the middle of our way to Râmincu Sărat). We waited for him,  and he came! We left Schiulești and he brought us to Ploiești. There he didn't want us to continue hitchhiking he wanted us to take a bus. He dropped us to the bus station, and he also gave us 50 lei for tickets! It was crazy! I never saw this before! We had to wait 45 min in Ploiești before the bus departure, so we went in restaurant, but when we came back… there was NO BUS anymore. Shit… we had to take a cab to go out of the city to hitchhike!
Two cars picked us up and we arrived in Râmnicu Sărat. There we joined the other friends. We were 6 in total therefore we divided ourselves in two groups and the adventure started!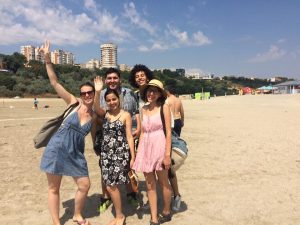 It was a mess at the beginning, two cars took us, but we were still in Râmnicu Sărat. Finally a car brought us on the way to Constanța…
And there was a problem: there were not too many cars using the road.  So we were waiting in a gas station, we didn't have sign, so a guy took us to the closest city (Crazy Romanian peoples are so helpful !!!). After a long wait another guy took us to a crossing in our way. We were in a Roma village, so EVERYONE was looking at us, it was a little bit scary… Luckily 3 minutes later 2 guys, electricians, really cool guys picked us up! They brought us a bit closer to our destination. There we were waiting aaaaaaaand waaaaaaaiting for someone, when finally a young guy with his van stopped. Bad luck, he had just 2 seats in front and we were 3.  After negotiating among us, 2 of us went in the front and one in the back! Nordine was the first in the back! After that me and later Yasmine! And what else do you think it was travelling with us? A baby cat! This way 2 hours and half past with his van! It was really cool!
Finally we arrived to Constanța where we met our host from coachsurfing. Dan with his wife Maria. They were amazing! Now it came the time to enjoy the sea and the city and the holidays !!!
The way back was by hitchhiking as well.  This time we were two, Nordine and me! We waited 5 minutes and a couple took us until Bucharest ! Surprisingly they spoke really good French! They also ask us if we wanted to take the bus, they proposed to pay for us (crazy this Romanian, too helpful!!!). We refused of course. The trip continued with McDonalds breaks and with another couple driving us. They stopped in a gas station and bought us water! Later they dropped us in Ploiești! The last car taking us was an English car! With again a really cool guy!
Result of this weekend: I realized that I have never met people so Friendly and Helpful before!
Margot
volunteer from France
---
Margot se află în România pentru 5 luni în cadrul proiectului Intercult'rural (ref nr 2015-3-FR02-KA105-010806) co-finanțat de Uniunea Europeană prin programul Erasmus+ și implementant în România de Asociația Curba de Cultură.