By
admin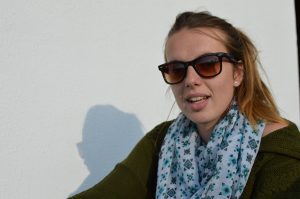 I have always wanted to work within the social community. Helping and giving my best for others is one of my principles for my professional and private life. This EVS in Romania can make this objective come true. Beside this learning how to be more organised and traveling are essential things for my future life.
The project in Romania attracted me even more, because it is in a rural area and this somehow brought back memories to me, memories from the time I used to live in Jura, a rural area in east of France. After that I moved to a deprived neighborhood in Marseille and here I had to adapt as well, so I got pretty good integration skills, which I would be glad to use and transfer during this project.
Another area in which I have experience is theatre. I collaborated with a theatre company for five years. I contributed in lots of events, performances, meetings and cultural shows. The experience raised my deep wish to work in foreign countries.
All these experiences made me what I am today and I have no doubt that they will be very useful for the mission I have in Romania.
Mi-am dorit dintotdeauna să lucrez în domeniul social. Să ajut și să dau ce am mai bun pentru alții e unul din principiile vieții mele personale și profesionale. Acest SEV în România poate face ca acest obiectiv să se îndeplinească. Pe lână asta să învăț să fiu mai organizată precum și călătoritul sunt lucruri esențiale pentru viitorul meu.
Acest proiect în România m-a atras chiar mai mult datorită faptului că e localizat într-o zonă rurală și mi-a reimprospătat amintiri, amintiri din perioada când locuiam în Jura, o zonă rurală din estul Franței. După aceea m-am mutat într-un cartier mai sărăcăcios al Marsiliei, iar aici a trebuit să mă adaptez de asemenea. Așa se face că am dobândit niște abilități de integrare destul de bune, abilități pe care sunt încântată să le pot folosi dar mai ales transfera.
Un alt domeniu în care am experiență este teatrul. Am colaborat cu o companie de teatru pentru o perioadă de cinci ani. Am contribuit la o mulțime de evenimente, spectacole, întâlniri sau shouri culturale. Experiența dobândită mi-a determinat o creștere a interesului pentru munca în străinătate.
Toate aceste experiențe m-au făcut cine sunt și sunt sigură că ele vor fi foarte utile pentru misiunea mea în România.
——–
Margot se află în România pentru 5 luni în cadrul proiectului Intercult'rural (ref nr 2015-3-FR02-KA105-010806) co-finanțat de Uniunea Europeană prin programul Erasmus+ și implementant în România de Asociația Curba de Cultură.