By
admin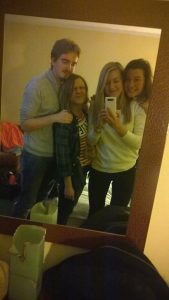 I was on MidTerm Evaluation for 4 days. First of all, I must say that my last day was so crazy that I actually lost all my ideas and words that I was going to say about the entire Mid-term. Today I am a mess and probably my post will not be long and so understandable at some point. Plus I will not talk about the sessions that we had inside the training room from 10 to 19, because it will be boring to read it.
For people who don't know about this mid term – basically, Mid-Term Evaluation brings together a lot of EVS volunteers who are somewhere in the middle of their projects. The days consist of sessions with different topics. For example:
Youthpass-what it exactly is and how to fill it.
Me in my project. Creating an EVS graph with all the ups and downs that have either brought my mood up or have brought it down nearly close to zero.
Life after EVS.
A tool fair, where people could share their teaching methods that they use in their projects, so other volunteers could get some ideas to use in their activities.
And so on and so on.
And I have to mention that I finally met my first Estonian in Romania. The meeting took place in Busteni, and it is located in really amazing place. Every time when I got out from our hotel with Ania or Sophie, both of them had to listen to me "WOW"-ing for many times. Probably they finally got sick of it.
Right behind the hotel I could see huge mountains that most of the time were literally in the middle of the clouds. I told my friends that I found my place and thats it, I will stay there.
All the people in the MT (at least the ones who I communicated with) were so super friendly and fun. And actually I even met a guy who probably has the same craziness level as I have. And can you imagine, there really exists someone who seemed to be surprised in a good way that I am a huge fan of hobbit and LOTR.
Being there was juuuussst great.On the first day of MT I went just for a walk with some people during the lunch break and I ended up rolling around in the snow, making snow angels and having a snowball fight (which, by the way, I believe that girls won). And by the way- it felt freaking good to act like a kid for an hour.
The same evening I thought how awesome would it be to go hiking in the mountains that are behind my hotel. Or at least go and see the waterfall that I have heard about. But the problem was that I only had enough free time during the evening, when it was obviously too dark to hike in the forest. SO I planned (yes, you read it correctly, i really PLANNED) something cool for the next morning. Luckily, someone decided to join me –  so I had a super good motivation to get out of bed so early. We left the hotel at 8 and just hiked up up up, through the forest, until the waterfall. I surprised myself, because I have NEVER been a morning person, when people talk too much with me after I have just woken up, I have this killer-look for a long time. I have never woken up early in the morning because of something like this. And well, lets say that actually it was not only about hiking.
After our small walk I felt really good and I was even more motivated to go hiking the next morning, that time even higher, as far as the time allows me to go. Because why not? I don't come to Busteni often and I don't have a lot of people with who I could take some long ways up to the mountains and have fun conversations. I had a plan that I will leave even earlier to have more time for hiking. BUT, like always when I make plans, then the plans change. Something happened, which kept me awake all night, my sleepiness was gone very quickly. Basically I spent all my night sitting in the lobby, sitting on the stairs, sitting on the floor, sitting sitting sitting everywhere and talking. In the morning I felt like a zombie so I decided not to go hiking. WHICH MEANS that I will go back to Busteni as soon as possible and do what I didn't do.
Something from someone: Time flies fu*king fast when you are doing something that you enjoy. So make the most of your EVS, because it will end. And believe me, it will end quickly. 1 month feels sometimes like 2 weeks in my case.
Liina,
Estonian volunteer in Romania