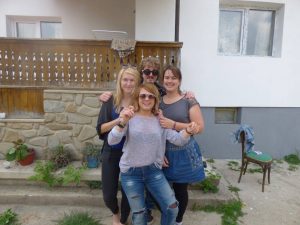 Apropiindu-se de finalul stagiilor SEV cei patru voluntari cu ajutorul mentorului lor au început să își facă planuri de viitor, să caute variante de urmat.
Sophie – odată ce se va întoarce în Franța va lucra pentru MRJC – o organizație neguvernamentală franceză care implementează proiecte în domeniul tineretului. Acolo se va ocupa de unul din proiectele lor, un schimb de tineri pentru care Curba de Cultură este partener.
Ania – își dorește să continue studiile dar totodată vrea să folosească toată această experiență acumulată. Până se va decide însă exact ce va face, își va lua o slujbă de vară în Italia, una din țările pe care le adoră.
Liina – are planuri de întoarcere în România, în luna iunie va lua parte la un Schimb de Tineri implementat în partea de nord a țării, în Poiana Negrii. Apoi va lucra o perioadă la un hostel în Brașov. Își dorește foarte mult să rămână în România, căci e o țară de care s-a îndrăgostit.
Franck –  va munci alături de Sophie în schimbul de tineri din luna august. Mai apoi speră să poată face și el parte din echipa MRJC și poate să își continue studiile.
Cam acestea sunt planurile celor patru voluntari cu o lună înainte de întoarcerea în țările natale.
Getting closer to the end of their EVS stages the fourth volunteers with their mentor's help started to make some future plans, to look for options to follow. Let's see one by one:
Sophie – once back in France she is going to work for MRJC – a french NGO in the youth sector. There she is going to take care of one of their projects, a Youth Exchange, for which Curba de Cultură is partner.
Ania – wants to finish her studies but as well she wishes to use all the skills gained. until she is sure of what she will do she got a summer job in Italy, a country that she loves.
Liina – has plans to return to Romania. In June she will participate in a Youth Exchange in the North part of Romania, Poiana Negrii. Afer that she will work for a while in a hostel in Brasov. She wishes to stay in Romania, because she fell in love with it.
Franck – is going to help Sohie with the Youth Exchange in August. After that he hope to become part of the MRJC team, and maybe to continue his studies.
For now, a month before departure these are their plans.