By
Tim Clasing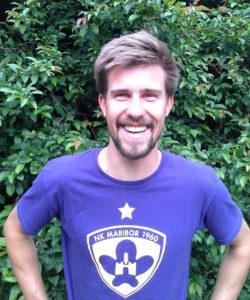 Boas! I'm 24 years old, I'm from the lovely Portuguese coastal city of Aveiro, and my name is Tim. You may think that this is not a very Portuguese name, and well, you're right: my parents immigrated from Germany almost 30 years ago. Besides some travelling and a year of Erasmus exchange in Slovenia, I spent all my life in Portugal. There, I studied chemical engineering, finishing my master degree last year and working (very briefly) as a production engineer.
But something was missing.
I felt the weight of not having a concrete aim after leaving the university, and I was unable to build up enough motivation to work in a factory, producing some random goods that neither make people happier nor turn the world into a better place.
So, when the opportunity arose to be part of an environmental education project at Curba de Cultură, it didn't take me long to pack my stuff and move further east than I've ever been before.
Besides some reforestation journeys back home, I have never really volunteered, and the only work with children I have done so far were some gymnastics lessons. So yes, I'm pretty much out of my comfort zone. And that's great. It means that there is a lot for me to learn.
I love sports of almost any kind, and I already had the chance to practice a bunch of them, my latest passion being tennis. I'm also fond of everything that involves nature and being outdoor, such as hiking, cycling and gardening.
Sal'tare! Am 24 de ani, vin din adorabilul oraș Aveiro de pe coasta Portugaliei și mă numesc Tim. Probabil credeți că ăsta nu e un nume foarte portughez, ei bine, aveți dreptate: părinții mei au emigrat din Germania cu 30 de ani în urmă. Înafară de câteva călătorii și un an de studii Erasmus în Slovenia, mi-am petrecut restul vieții în Portugalia. Acolo am studiat Chimie Industrială, am terminat masteratul anul trecut și am lucrat (puțin) ca inginer de producție.
Dar ceva lipsea.
Am simțit apăsarea faptului că nu aveam un scop precis după terminarea facultății și nu eram capabil să mă motivez suficient cât să lucrez într-o fabrică, făcând niște obiecte care nu fac oamenii fericiți și nici nu fac lumea mai bună.
Prin urmare când a apărut ocazia de a deveni parte a unui proiect de educație pentru mediu la Curba de Cultură, nu mi-a luat mult să îmi împachetez lucrurile și să mă mut mai la est decât am fost vreodată.
Înafară de câteva acțiuni de împădurire, nu am făcut voluntariat, și singura muncă pe care am făcut-o cu copii au fost orele de gimnastică. Da, sunt înafara zonei mele de confort și asta e minunat. Și mai înseamnă că există multe pe care pot să le învăț.
Iubesc sporturile de orice fel și am avut șansa să practic câteva dintre ele, dar cea mai recentă pasiune a mea este tenisul. De asemenea orice implică natura și statul afară mă încântă, precum drumețiile, ciclismul și grădinăritul.
---
Tim este în România pentru o perioadă de șapte luni, din mai 2018 până în noiembrie 2018, în cadrul proiectului Building Youth supportive Communities – Environment [2017-2-RO01-KA105-037748] proiect co-finanțat de Uniunea Europeană prin Programul Erasmus+ și implementat în România de către Curba de Cultură.