By
Mael Bou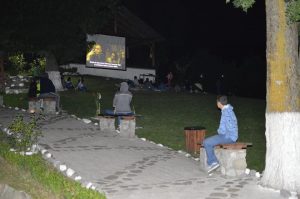 Cinema night is not just about watching a simple movie, it's a special occasion to regroup with friends, to have a good time, to laugh.
Every time for cinema evenings we start by creating posters and sharing the event on Facebook. On the D-day we are filling up the car with materials and getting ready for the people to come. We set the equipment and slowly people are coming: kids, teenagers, volunteers and sometimes even adults.
Serile de film nu sunt doar despre vizionarea unui film, ele reprezintă o ocazie specială de a te aduna împreună cu prietenii, de a petrece timp împreună, de a râde, de a te simți bine.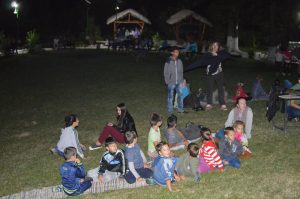 Fiecare seară de film începe prin crearea de afișe și postarea evenimentului pe Facebook. În ziua filmului, punem toate lucrurile în mașină și pregătim totul pentru oamenii ce urmează să vină. Aranjăm echipamentul și încet-încet spectatorii apar: copii, tineri, voluntari și uneori chiar adulți.
Then, we start the movie, people have food and drinks, everything what they might need. They enjoy the time spent together. Sometimes they talk and laugh, sometimes they move around or even leave in the middle. Anyhow cinema nights are a great. They bring a change, they bring something different in the life of the community and this is really nice for the youngsters and children living here.
Apoi începem filmul, oamenii au gustări, băuturi, tot ce au nevoie. Și se bucură de timpul petrecut împreună. Uneori vorbesc și râd, alteori se plimbă ori chiar pleacă pe la jumătatea filmului. Oricum ar fi serile de film sunt minunate. Ele aduc o schimbare, aduc, ceva diferit în viața comunității și e foarte plăcut pentru copii și tinerii care locuiesc aici.
Mael – volunteer from France
---
Mael se află în România pentru 5 luni în cadrul proiectului Intercult'rural (ref nr 2015-3-FR02-KA105-010806) co-finanțat de Uniunea Europeană prin programul Erasmus+ și implementant în România de Asociația Curba de Cultură.