By
Anna Seweryn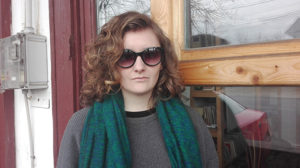 My name is Anna, I'm 28 years old and I come from Poland. For long time after I graduated from University ( pedagogy, social rehabilitation) I have worked with youth and children from dysfunctional families. I have also been a volunteer and coordinator in many projects in polish drug rehabilitation centres, which was a great practice for me. After years living in Poland I was tired and bored of the reality, so I decided to do something different. And that is how I ended up in EVS in Romania. I didn't know much about this country, but I was very hungry for knowledge and new experiences. My first associations with Romania? Dracula (!), Transylvania and…Cristian Mungiu. The more I started to read  about this country, the more I realized how fascinating this place is and how rich is a culture and the nature of Romania. I hope I will explore as much as it is possible. I also hope to improve my English, learn a little bit of Romanian and least, but not last to gain new professional experience, working with teenagers from different nationality than my own.
Privately I am very open-minded person, I love to meet new people, travel and discover beauty in every, even not so obvious places. I also love to read books, going to the cinema and especially to the theatre, which  is my new passion. I would like to see some plays here also.  I will do everything I can to spend an inspiring and productive time here. And come back with thousand of great memories and photos.
Numele meu este Anna, am 28 de ani și vin din Polonia. Pentru o bună bucată de vreme, după ce am terminat facultatea (pedagogie, reabilitare socială) am lucrat cu tineri și copii care proveneau din familii disfuncționale. Am fost voluntar și coordonator în proiecte desfășurate de centre de reabilitare poloneze, lucru care a constituit o bună practică. După atâția ani de trăit în Polonia am obosit și m-am plictisit de cotidian, prin urmare am decis să fac ceva diferit. Și așa am ajuns în acest SEV în România. Nu știam prea multe despre țara asta, dar sunt dornică de noi cunopștințe și experiențe. Ce îmi vine în minte legat de România? Dracula (!) Transilvania și… Cristian Mungiu. Cu cât citesc mai mult despre țara asta, cu atât mai mult descopăr căt de fascinant e acest loc și ce cultură și natură bigată are România. Sper să pot explora cât mai mult. De asemenea sper să îmi îmbunătățesc engleza, să învăț ceva română și nu în ultimul rând să acumulez experiență profesională muncind cu tineri de o altă naționalitate decât a mea.
Înafară de asta sunt o persoană deschisă, îmi place să întâlnesc noi oameni, să călătoresc și să descopăr frumusețe orice locuri, chiar și în cele mai puțin evidente. De asemenea iubesc să citesc, să merg la film și teatru, astea sunt pasiunile mele. Mi-ar place să văd niște piese și aici. Voi face tot posibilul sp am parte de un timp productiv și inspirațional. Și să mă întorc cu mii de amintiri și fotografii.
---
Anna este în România pentru o perioadă de șase luni, din martie 2018 până în august 2018, în cadrul proiectului Active Youth in Rural Settings [2017-1-PL01-KA105-035693] proiect co-finanțat de Uniunea Europeană prin Programul Erasmus+ și implementat în România de către Curba de Cultură.