By
Adrianna Michalska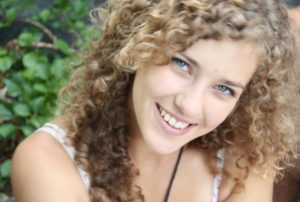 Salut! I'm Adrianna and I'm 24 years old. I come from Poland but for the past 6 years I've been living in all kinds of different parts of the world. Throughout my nomad life I went to American High School, studied in the UK, did courses and internships in Vienna, Singapore, London, and Edinburgh, and most recently spent 3 months volunteering in Ghana. So of course I love travelling, learning about different cultures and ways of living, and getting to know people. But my main interest is in dance – I have a Bachelor's degree in Dance and Culture and I've explored many different forms of movement – contemporary dance, contact improvisation, African contemporary, Kathak (traditional Indian dance), yoga, and others. I'm passionate about exploring how movement reflects on the culture, dancing with people, and being creative whilst moving. I have other passions too – reading books, going on nature trails, trying new food (!), listening to good music, and engaging in all kinds of story telling and discussions,
Saying that, my experience is a wild mix of different adventures – I have worked as assistant producer, choreographed my own pieces, co-directed a student dance company, danced with mixed-ability youth, and co-led scout troupe in Poland and teams of volunteers in Singapore and Ghana.
Now EVS in Curba de Cultura is my next adventure. I'm looking forward to learning about the Romanian culture, getting to know people, and exploring the beauty of this country (I've done some hikes already so I know that it is very beautiful here!). I'll be looking out for opportunities to share and exchange ideas, movements and be creative together.
Salut! Eu sunt Adrianna, am 24 de ani și sunt din Polonia, dar în ultimii 6 ani am locuit în diferite părți ale lumii. În viața asta nomadă a mea am fost la liceu în America, am studiat în Regatul Unit, am urmat diferite cursuri în Viena, Singapore, Londra și Edinburgh, iar recent am făcut 3 luni de voluntariat in Ghana. Prin urmare iubesc să călătoresc, să învăț despre alte culturi și alte moduri de viață și să cunoasc oameni. Dar principalul meu interes este dansul – am o licență în Dans și Cultură și am explorat diferite tipuri de mișcare, de la dans contemporan, improvization contact, dans african contemporan, Kathak (dans tradițional indian), yoga și multe altele. Îmi place să explorez modul în care mișcarea reflectă cultura, modul în care oamenii dansează și cum să fii creativ în timp ce te miști. De asemenea sunt pasionată de lectură, plimbări în natură, să încerc noi feluri de mâncare, să ascult muzică bună și să mă implic în discuții și povești.
Prin urmare experiența mea este un amestec de aventuri – am lucrat ca asistent producător, mi-am coregrafiat propriile piese, am co-regizat un grup de dans studențesc, am dansat cu tineri cu diferite abilități și am condus un grup de cercetași în Polonia și o echipă de voluntari în Singapore și Ghana.
Acum un stagiu SEV la Curba de Cultură este noua mea aventură. Sunt curioasă să aflu mai multe despre cultura românească, să cunosc oameni și să explorez această țară frumoasă (am făcut deja scurte drumeții și știu că e frumos aici). De asemenea voi profita de șansele care apar pentru a împărtăși și schimba idei de mișcare și pentru a fi creativi împreună.
---
Adrianna este în România pentru o perioadă de șase luni, din martie 2018 până în august 2018, în cadrul proiectului Active Youth in Rural Settings [2017-1-PL01-KA105-035693] proiect co-finanțat de Uniunea Europeană prin Programul Erasmus+ și implementat în România de către Curba de Cultură.