By
Anna
If you want to read cheerful and funny post, skip to some other one. This is about Romanian approach to nature and life generally. 
Dacă doriți să citiți un post amuzant și încurajator, vă rog să săriți peste acesta. Acesta este despre abordarea românească când vine vorba de natură în general.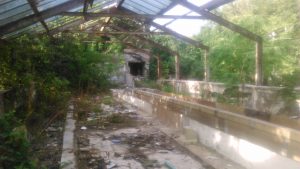 Starting from the beginning: Bucharest. Weather welcomed me with temperatures around 35°C and Sorin, a cute, helpful employer from Curba de Cultura, with a broken van (the trunk was not opening). He he heee… To get luggage into a trunk was the very first little challenge. Definitely not the last one.
Începând cu începutul: București. Vremea m-a întâmpinat cu temperaturi de 35°C și Sorin un angajat drăguți și săritor de la Curba de Cultură cu o dubiță puțin defectă (nu se deschidea portbagajul). He he heee… Să punem bagajul în portbagaj a fost o primă mică provocare. Și nu ultima, cu siguranță.
I have already written something about me, you can read about my first expressions and experiences, and also about what happens in Romania when you go for a hike without a proper map. But what you do not know is that I have been in Romania before. Last year I spent a week in the west part around Caransebes. I tasted amazing goat and sheep cheeses while drinking fresh milk and then enjoying the softness of cake made from urda. But I also saw how many things might be improved here, and how much the country is trying to do something about it, too. Those little notions I would like to talk about a bit more, because they are one of many reasons why I decided to do my EVS here.
Am scris deja câte ceva despre mine, și puteți afla despre primele mele expresii și experiențe și despre ce se poate întâmpla când pleci în drumeție fără a avea o hartă potrivită. Ceea ce nu știți e că eu am mai fost în România înainte. Anul trecut am petrecut o săptămână în partea de vest a țării, în regiunea Caransebeșului. Am gustat brânzeturi de capră și oaie și am băut lapte proaspăt iar apoi am savurat prospețimea unei prăjituri cu urdă. Dar am văzut de asemenea cum multe lucruri pot fi îmbunătățite aici și cât de mult țara încearcă să facă ceva în privința asta. Despre aceste mici chestiuni aș dori să vorbesc mai mult, deoarece ele reprezintă unul din multele motive pentru care am decis să fac SEV-ul aici.
The nature is not immortal, we, humans, are not immortal. And we, humans, are not helpless or powerless. It has been just one month since I had arrived, yet I have met tens of people involved in the process of change. There are associations convincing Romanians to spay dogs instead of making new stray dogs, to sort waste instead of burning it, and there are other working with young people and whole communities. Because it is family and youngster where we need to start, if we want to make (and see) the difference.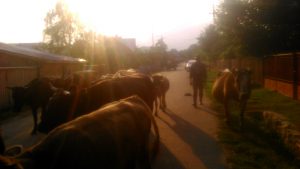 Natura nu e nemuritoare, noi, oamenii, nu suntem nemuritori. Și noi oamenii nu suntem neajutorați sau lipsiți de putere. A trecut o lună de când am ajuns și am întâlnit zeci de oameni implicați în aceste schimbări. Există asociații care conving românii să-și sterilizeze câinii în loc să îi lase să facă alți câini vagabonzi, să-și soteze gunoiul în loc să îl ardă și există alții care lucrează cu tinerii și comunitățile. Deoarece trebuie să începem cu tinerii și familiile acestora dacă vrem să facem și să vedem o schimbare.
May be I am too keen of neatness, but really, is it such a big problem to finish what you started? Is it so hard not to beat your horse, not to throw puppies over your fence out to the street, to give your rubbish into a bin instead of burning it on side of the road or just… smile at a customer in a shop? The answer is NO. It is very easy, and fortunately there are people who are trying to do something about it. So, the real challenge is not about getting used to these, but to be truly helpful for those who want to change their homeland.
Try to broaden youth's horizons so they can have wider purposes, it is what we are doing here. It is knowledge and experience what make us better, stronger, and more useful. It might be written differently in the official papers, but for me it is like that – Curba de Cultura helps to improve Romanian social environment through giving the opportunity to grow, know and undergo to youngsters.
Poate sunt eu prea dornică de acuratețe, dar pe bune acum, e chiar așa greu să termini ce ai început? E așa greu să nu îți bați calul, să nu arunci cățeii peste gard, să pui gunoiul în tomberon în loc să îl arzi pe marginea drumului ori… să zâmbești unui client în magazin? Raspunsul e NU. E chiar ușor și din fericire există oameni care încearcă să facă ceva în privința asta. Așadar adevărata provocare nu e să te obișnuiești cu aceste lucruri ci să fii cu adevărat util celor ce vor să schimbe ceva în țara lor natală.
Ceea ce facem noi aici este să încercăm să extindem orizonturile tinerilor astfel încât ei să aibă scopuri mai largi. Cunoștințele și experiența ne fac mai buni, mai puternici și mai utili. S-ar putea să fie scris diferit în hârtii dar pentru mine Curba de Cultură ajută la îmbunătățirea mediului social românesc prin facilitaterea de oportunități de a crește, cunoaște și experimenta.
---
Anna se află în România pentru o perioadă de 6 luni, din august 2016 până în ianuarie 2017 în cadrul proiectului Building Youth Supportive Communities 2 (ref nr 2016-1-RO01-KA105-024246), proiect co-finanțat de Uniunea Europeană prin Programul Erasmus+ și implementat în România de Asociația Curba de Cultură.