By
admin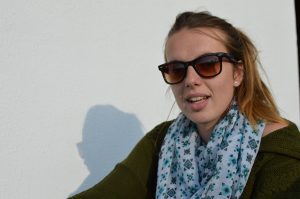 About two weeks ago we said See you next time to three of our four volunteers, we wished them luck with their plans and we hope we could also continue make changes in the community happen. Of course we are not left alone, we still have Franck until the end of June and we already have a new member in our team of volunteers. So here I present you Margot, our French volunteer. She is going to spend with us five months, from beginning of May till beginning of October, five months which we hope to be greater than ever for all of us.
Margot Mosse is a 19 years old French, coming from Marseille. She is interested in theatre, photography and African dances. She like trying new things and getting challenged but she is also skilled in organizing workshops and events.
"I have always wanted to work within the social community. Helping and giving my best for others is one of my principles for my professional and private life. This journey in Romania could make this objective come true"
Acum mai bine de două săptămâni am spus La revedere unui număr de trei, din cei patru voluntari pe care i-am găzduit. Le urăm mult noroc în îndeplinirea planurilor pe care și le-au făcut și sperăm ca noi să putem de asemenea continua a face schimbări benefice pentru comunitate. Desigur nu am rămas singuri, Franck este în continuare cu noi, până la finalul lunii iunie și avem deja un nou membru în echipa de voluntari. Aceasta este Margot și vine, tot din Franța. O găzduim pentru cinci luni, de la începutul lunii mai până la începutul lunii octombrie, cinci luni care sperăm să fie minunate pentru toți.
Margot Mosse are 19 ani, e franțuzoaică și vine din Marsilia. Pasiunile ei sunt teatrul, fotografia și dansurile africane. Îi place să experimenteze lucruri noi și să fie provocată, dar este de asemenea și pricepută la organizat ateliere și evenimente.
"Dintotdeauna mi-am dorit să muncesc în mijlocul comunității. Să îi ajut pe ceilalți și să dau ce am mai bun e unul din principiile vieții mele profesionale și personale. Această călătorie în România ar putea duce la îndeplinirea acestui obiectiv"