By
admin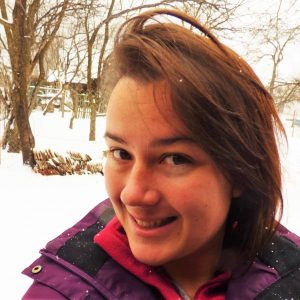 I am very attached to rural areas I also come from this kind of area and I think encouraging them to invest in their people is what they need to continue living. I want to share my various experience and skills I gained in the animation field and I think that through it I can contribute to the social economy and the sustainable development of the community. I wish to offer to youngsters a safe environment where they can express themselves, dream, play, meet, accept differences, share opinions and take responsibilities and all these outside school.
Beside the above mentioned things I am also good at organizing events, trips, vacations and moreover trainings for personal development of children and youngsters. So yeah, this is me, Sophie, I am French, I am 24 and I am doing my EVS in Romania, here with Curba de Cultură.
Sunt foarte atașată de mediul rural, chiar provin dintr-o astfel de zonă și consider că a încuraja comunitățile rurale să investească în proprii oameni este ceea ce au ei nevoie pentru a asigura existența comunității. Doresc să împărtășesc experiența pe care o am și abilitățile pe care le dețin în domeniul animației. Cred cu tărie că prin acestea pot contribui la economia socială și dezvoltarea sustenabilă a comunității. Vreau să ofer tinerilor un mediu sigur în care să se poată exprima, să poată visa, să se poată juca, să se poată întâlni, să învețe să accepte differențele, să împărtășească opinii și să își asume responsabilități, și toate înafara școlii.
Pe lângă toate cele menționate mai sus, pot spune că sunt pricepută la a organiza evenimente, drumeții, vacanțe și chiar mai mult, traininguri pentru dezvoltare personală pentru copii și tineri. Dap, asta sunt eu, Sophie, sunt franțuzoaică, am 24 de ani și îmi fac SEV-ul în România la Curba de Cultură.