By
admin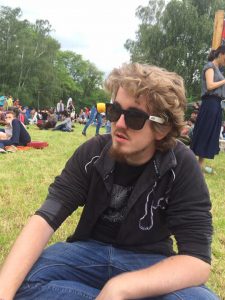 I have chosen Curba de Cultura, because I think that the association principles are close to mine. I admire the work done to develop rural areas with local events and to increase the quality of the educational process by nonformal education, especially when it comes to the youth's entrepreneurship. The mission of bringing cultural interest to youngsters by nonformal education activities and organizing events that will make the communities more lively it seems to be something easy and maybe not interesting but it is actually a hard but rewarding job.
I also reckon that working with Curba de Cultură brings me professional experience abroad and I'd like to learn your vision of nonformal education and new ways to broadcast culture. I'm really enthusiastic about discovering a new culture, improving my English and finding goals for my life. And by the way, I am Franck, I am 22 and I am coming from the North part of France.
Am ales Curba de Cultură deoarece cred că principiile după care se ghidează asociația mi se potrivesc și mie. Admir munca depusă pentru dezvoltarea zonelor rurale prin evenimente locale și creșterea calității procesului educațional prin educație non-formală, în mod special când vine vorba de cel antreprenoriat. misiunea de a aduce interes cultural prin intermediul educației non-formale și organizarea de evenimente care vor da viață comunității pare a fi ceva ușor și neinteresant dar este de fapt o treabă grea și plină de satisfacții.
De asemenea socotesc că colaborând cu Curba de Cultură îmi va aduce experiență pe plan profesional, și mi-ar plăcea să învăț mai multe despre viziunea asociației asupra educației non-formale precum și noi căi de a difuza cultură. Sunt foarte entuziasmat să descopăr o nouă cultură, să îmi îmbunătățesc limba Engleză și să descopăr noi obiective în viață. Și apropo, numele meu e Franck, am 22 de ani și vin din partea de nord a Franței.