By
admin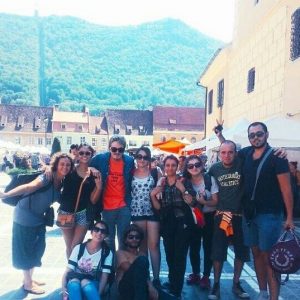 When you are an EVS volunteer, you have an On Arrival Training with other volunteers in your hosting country. The goal of it is to learn more about the country and to become prepared for the rest of your volunteering period.
My training took place last week in a beautiful town in the mountains, in the middle of Romania, called Predeal. I won't speak about the training itself but about EVS and how is to be a volunteer.
I came with my colleagues there on the Sunday evening and we were welcome by one of the trainers who showed us the rooms. I shared it with a guy from my project, that I already knew, and with two Turkish boys. Then I came to the restaurant to eat, and I discovered a lot of  young people from different countries – Turkey, Uruguay, Poland, United Kingdom, Germany, Estonia, Macedonia, Spain, Italy, Bulgaria and one other French guy. All of them were speaking and laughing together. At this moment I thought "Ok, it's the place where I want to be, let's go !". This moment me and my friends from the same project split up to sit in random places and started to speak with the others.
We all met a lot of new volunteers and joined to new groups of friends!  It was so easy to speak with others because we were all in the similar situation – Every one of us came to Romania from our home countries to meet other people, to share with them new experiences and to have fun together. During one week we were making a lot of jokes, comparing our countries and cultures, having discussions how is it for us in Romania, with our projects and what we have done till now…
Every night we were staying together till the midnight, listening to music from all around the world and playing the guitar. We had also an international night where we were in groups by country and we had to present funny animation connected with our traditions and culture. Now I know how to dance Turkish dance, play Polish games, sing German songs or drink Spanish sangria… We were all very glad to share something about our countries with the others and happy to discover some parts of their cultures.
At the end of the week I couldn't imagine that it's over. I decided to spend more time with my new friends and we went together to explore another Romanian city – Brașov.  After having a lot of fun during the day, it turned out that it's not enough for us … so the decision what to do next came very quickly – we took the train to go to the capital! I spent the night in the place of my new friend which I met just five days earlier. I couldn't see myself making such spontaneous decision ever before.
For me, this story explains how it is to be an EVS volunteer – it means meeting people, travelling, discovering a country, deciding in the last minute to go there or here because you have the opportunity to do that, don't really have plan, just follow what life proposes to you. I know that I will definitely see the others. I can go to their cities in Romania or maybe even visit them in their home countries! I am definitely ready to go everywhere I can during my free time and have experiences that I have never had before and maybe that I will never have again.
Franck,
French Volunteer in Romania