By
Tim Clasing
Once this August, there was "practica", a two-week long joint project between six EVS volunteers engaged in environmental projects and four anthropology students from Bucureşti. Practica was a field research focussed on getting information about the waste management behaviour of the commune's inhabitants. For that, we were listing and mapping trash bins and illegal trash dumps, interviewing people in the commune and observing the trash collection system.
So, on a certain Monday I was allocated to a group with Zenaida, Robert, Oana and Kristīne. The task for this day was to finish the mapping of bins and dumps that was started on the previous day, and my group was assigned to go around Schiuleşti in the morning.
We parked the car in front of the school and started to explore the lower part of the village. Soon, at the end of a small path, we found a hidden creek that was filled with all sorts of trash, ranging from plastics to textiles, together with some kilograms of rotten tomatoes.
Heading towards the bridge over Crasna river, we found a place above a steep slope with a very beautiful view over the valley, but leaning over to look down the abysm we encountered yet another place where the villagers secretly threw their garbage. Between plastic bottles, bags and rotting jeans, there were pumpkins blossoming as if somebody mistook trash for compost to grow their vegetables. In an attempt of admiring the view over the valley, on the other side of the river we could see a bright blue spot, whose rather unnatural colour suggested the presence of yet another trash hole.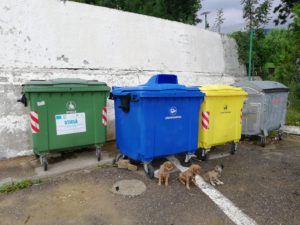 On the return to the village a cute lonely black-and-beige-spotted puppy joined our group and made it a bit less sad to picture and map all the trashed places we encountered. After some time, we decided to head back to the village per se. Compared to the surroundings, the central streets of the village were rather clean when ignoring the desolate state of the pavement. We made our way up the dusty main road and headed to the park, where we left our new friend with a group of puppies that lives under the park's recycling bins. A sudden rainstorm made us seek for shelter in Schiuleşti's volunteers house, and as it continued raining for the rest of the morning we decided to return to the basecamp.
In the afternoon, the weather was good enough to continue the mapping, this time walking around Homorâciu. Again, a dog chose to accompany us along our way through the village. He looked battered, was limping and missing half of his tail. Probably he figured out that a group of friendly people would be the safest place to be.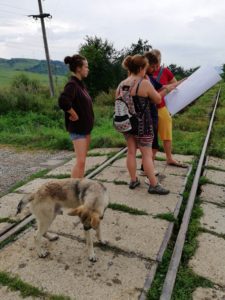 At a crossing close to our house, we sensed a strong smell and found a place that looked like a deposit for trash that has been cleared shortly before. We chose to follow a road which was running parallel to a small creek. At some point, the asphalt ended and the road and the creek merged, leaving us all with wet feet. On the way down the creek/road we found two more places were trash was randomly dumped in the nature, but to our left we had a beautiful view over green and untrashed fields and hills, so that our martyrium was not in vain. The creek led us to Malu Vânăt, leaving us with a rather uneventful return up the main street and by the train station.
Arriving in Curba, a surprise was awaiting us: the screening of a documentary was planned as after dinner entertainment and to wrap up another eventful day.
Cândva în acest august, a fost "practica", un proiect cooperativ pe o durată de două săptămâni între șase voluntari SEV implicați în proiecte de mediu, și patru studenți la antropologie din București. Practica a fost o cercetare de teren axată pe obținerea de informații despre comportamentul de management al deșeurilor ai locuitorilor comunei. Pentru asta, listam și cartografiam coșuri de gunoi și locuri unde se depozitează gunoi în mod illegal, intervievam oameni din comună și observam sistemul de colectare al gunoiului.
Astfel, într-o anumită luni am fost alocat unui grup cu Zenaida, Robert, Oana și Kristīne. Sarcina pentru această zi a fost să terminăm cartografiatul coșurilor și spațiilor care a fost începută ziua trecută, și grupul meu a fost repartizat să se ducă prin Schiuleşti de dimineață.
Am parcat mașina în fața școlii și am început să explorăm părțile de jos ale satului. Curând, la sfârșitul unei mici cărări, am găsit o albie de râu ascunsă care era plină cu tot felul de gunoaie, variind de la plastic la textile, împreună cu niște kilograme de roșii putrezite.
Îndreptându-ne  spre podul de deasuprea râului Crasna, am găsit un loc deasupra unei pante abrupte cu o vedere foarte frumoasă asupra văii, dar aplecându-ne să ne uităm în josul prăpastiei am dat de încă unul din locurile unde sătenii își aruncau gunoiul în secret. Printre sticle de plastic, pungi și blugi putreziți, erau dovleci înflorind de parcă cineva a confundat gunoiul cu compostul pentru a își crește legumele. Într-o încercare de a admira priveliștea de peste vale, pe cealaltă parte a râului am putut vedea un punct albastru și strălucitor, a cărui culoare  nenaturală sugerează prezența încă unei gropi de gunoi.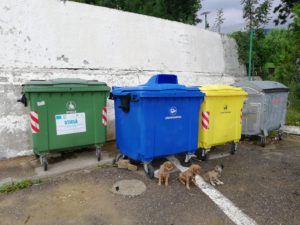 La întoarcerea în sat, un cățeluș drăguț, singuratic, pestriț-cu-negru-și-bej, s-a alăturat grupului nostru și a facut să fie puțin mai puțin trist să facem poze și să cartografiem toate locurile pline de gunoi pe care le-am întâlnit. După un timp, am decis să ne întoarcem în sat în adevăratul sens al cuvântului. În comparație cu împrejurimile, străzile centrale ale satului erau destul de curate când ignorai starea neglijată a pavajului. Ne-am îndreptat către strada principală cea prăfuită și spre parc, unde l-am lăsat pe noul nostru prieten cu un grup de cățeluși care locuiesc sub coșurile de reciclare ale parcului.  O ploaie bruscă ne-a făcut să căutăm adăpost în casa voluntarilor din Schiuleşti, și cum a continuat să plouă pentru restul dimineții am decis să ne întoarcem la tabăra de bază.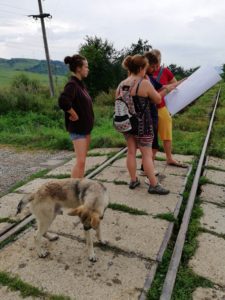 După-amiază, vremea a fost destul de bună încât să continuăm maparea, de data asta mergând prin Homorâciu. Din nou, un câine a ales să ne acompanieze de-a lungul drumului nostru prin sat. Arăta ponosit, schiopăta și îi lipsea jumate din coadă. Probabil s-a gândit că lângă un grup de oameni prietenoși ar fi cel mai în siguranță loc în care să fie.
La o intersecție aproape de casa noastră, am simțit un miros puternic și am găsit un loc care arăta ca un depozit pentru gunoi care a fost curățat de scurtă vreme. Am ales să urmărim un drum care mergea paralel cu un mic pârâu. La un moment dat, asfaltul s-a terminat, drumul și pârâul s-au unit, lăsându-ne pe toți cu picioarele ude. Pe drum în josul pârâului/drumului am mai găsit două locuri unde gunoiul a fost aruncat la întâmplare în natură, dar în stânga noastră aveam o frumoasă vedere asupra verzilor și nepangăritelor de gunoi câmpuri și dealuri, așa că martiriul nostru nu a fost în van. Pârâul ne-a condus la Malu Vânăt, lăsându-ne cu o întoarcere destul de monotonă pe strada principală și pe lângă gară.
Ajungând la Curbă, o surpriză ne aștepta: proiecția unui documentar plănuit ca divertisment de după cină și pentru a încheia încă o zi bogată în evenimente.
---
Tim este în România pentru o perioadă de șapte luni, din mai 2018 până în noiembrie 2018, în cadrul proiectului Building Youth supportive Communities – Environment [2017-2-RO01-KA105-037748] proiect co-finanțat de Uniunea Europeană prin Programul Erasmus+ și implementat în România de către Curba de Cultură.