By
Danelle Sciberras
[En]
Hi, My name is Danelle Sciberras. I am 19 years old. I am from a small island in the Mediterranean sea called Malta. I am from a town called Kalkara but I live in Żabbar. I like to travel, exploring new cultures and languages and also their food. I love nature and all its beauty she has to offer. I like to watch movies and reading books as well. I love all kinds of animals especially cats and dogs. I grew up with old Maltese traditions which nowadays they are not so common anymore. I studied a course in college called Health and Social care for 2 years and I passed and I could've worked as a social support worker. I wanted to continue studying so I went on to a Bachelor degree course but I didn't feel comfortable studying management. I am more of a hands on person and this course was mostly about writing and implementing policies. I was unhappy so I left and went to work. I volunteered a lot when I was younger and recently volunteered with amazing kids. For a couple of years I have been interested in doing an EVS and finally I found one that I like and interests me. I am looking forward to everything in these 10 months.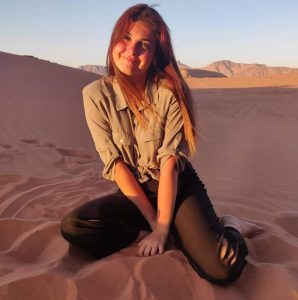 [Ro]
Bună, mă numesc Danelle Sciberras.
Eu am 19 ani. Sunt dintr-o insulă mică din Marea Mediterană numită Malta. Sunt dintr-un oraș numit Kalkara, dar locuiesc în Żabbar. Îmi place să călătoresc, să explorez culturi și limbi noi și, de asemenea, mâncarea lor. Îmi place natura și toată frumusețea pe care o are de oferit. Îmi place să vizionez filme și să citesc. Ador toate animalele, în special pisicile și câinii. Am crescut cu vechi tradiții malteze care în zilele noastre nu mai sunt atât de comune. Am studiat un curs în colegiu numit Sănătate și Îngrijire Socială timp de 2 ani putând să lucrez ca și asistent social.
Am vrut să continui studiile, așa că am continuat un curs de licență, dar nu m-am simțit confortabil studiind managementul. Sunt o persoană consecventă, iar acest curs a fost în mare parte despre scrierea și implementarea politicilor. Am fost nefericită așa că am plecat și am început să lucrez. Am făcut voluntariat foarte mult când eram mai tânără și recent am desfășurat activități de voluntariat cu o serie de copii uimitori. De câțiva ani mă interesează un proiect în cadrul EVS și în cele din urmă am găsit unul care îmi place și care mă interesează. Astept cu nerăbdare aceste 10 luni.