By
Jan Christensen
[En]
Hi my name is Jan Henri Christensen and this is my second EVS project within the European Solidarity Corps, I am 20 years old and love making a change no matter how small or big it is.
My origin is from Norway but my blood is 50% Turkish, I have a strong love for my family that has supported this decision in my life.
I am a person that loves people and strives in making others around me happy as I view their happiness as my own happiness.
I love making food, especially cakes (might need the recipe though) and I have a somewhat growing fascination for technological development too.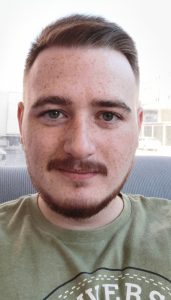 [Ro]
Bună, mă numesc Jan Henri Christensen și acesta este pentru mine al doilea proiect EVS din cadrul Corpului European de Solidaritate, am 20 de ani și îmi place să schimb lucrurile în jurul meu, indiferent cât de mici sunt acestea.
La origine sunt norvegian dar am 50% origini turcești, îmi iubesc foarte mult familia, care m-a susținut să iau această decizie.
Sunt o persoană care iubește oamenii și mă straduiesc mereu să-i fac pe cei din jurul meu fericiți, astfel devenind si eu fericit.
Îmi place să gătesc, mai ales prăjituri (deși am nevoie de rețetă) și deasemea mă fascinează progresul tehnologic.