By
Stefanie Kindle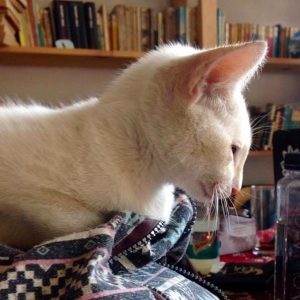 Once upon a time, there was a white blue-eyed cat called Octopus Peña Sweetiepie, who also answered to the lovely name of Mutz. On the 7th of September of the year 2017, she was found homeless, hungry and desperate on the dirty streets of Schiulești. After a long and tiring journey with Gabriel Marimon, the kind hearted young man who rescued her from her misery, she arrived safe and sound in Curba de Cultura as a birthday present for Melanie. The moment she entered through the door of Curba, she lit up the library and everybody was enchanted by her beauty. But this wasn't the end of her voyage, and after a wild car ride in which Octopus Peña Sweetiepie nearly killed Martina, she finally arrived in outlandish Homorâciu.
A fost o dată ca niciodată o pisică albă cu ochi albaștri numită Octopus Peña Sweetiepie, dar care răspundea și la numele de Muț. Pe 7 septembrie 2017 a fost găsită fără adăpost, înfometată și disperată pe ulițele murdare ale Schiuleștiului. După o lungă și obositoare călătorie împreună cu Gabriel Marimon, tânărul bun la suflet care a salvat-o din traiul mizer, a ajuns în siguranță la Curba de Cultură, drept cadou pentru ziua de naștere a Melaniei. În momentul în care ea a intrat pe ușă, încăperea s-a luminat parcă și toată lumea a fost fermecată de frumusețea ei. Dar ăsta nu era finalul călătoriei ei; și după o tură cu mașina în care Octopus Peña Sweetiepie aproape a ucis-o pe Martina, a ajuns în cele din urmă în îndepărtatul Homorâciu.
Mutz lived the life of a queen, she got delicious food, a carefully crafted toy and a warm place in my bed. At one moment, however, she felt so confortable that she pooped in the biblical bed. But we still loved her, even though she was suspected to have brought fleas in Homorâciu House. Due to this, she was brought to the vet to check if she did have flees and to give her a vaccine. Coincidentally, the vet found out that the she was actually a he. We didn't mind and not only us but also a local cat-girl, who shall remain anonymous, was entranced by Octopus Peña Sweetiepie. Cat-girl observed Mutz in her royal territory and sometimes appeared all of a sudden, running fanatically after her and trying to drown her in the water bowl.
Muț a dus o viață de regină, a primit mâncare delicioasă, jucării prelucrate cu grijă și un loc cald în patul meu. La un moment dat, s-a simțit stât de confortabil încât chiar s-a ușurat în pat. Dar am iubit-o în continuare, chiar dacă a fost suspectată că a adus purici în casa din Homorâciu. Din acest motiv a fost dusă la veterinar la control și pentru a fi vaccinată. Așa am aflat că ea era de fapt un el. Nu ne-am întristat și nu doar noi dar și o pisică din vecini, a cărei identitate va rămâne anonimă, a fost fermecată de Octopus Peña Sweetiepie. Pisica a observat-o pe Muț în teritoriul ei regal și din când în când apărea subit alergând după ea și încerând s-o înnece în vasul cu apă.
When we left to Bucharest and came back one week after, Octopus Peña Sweetiepie was gone. It's suspicious that since then we haven't seen either Gabriel Marimon or cat-girl. Either she left with her saviour Gabriel Marimon to Spain and lived happily ever after or was stolen by naughty cat-girl and lived miserably ever after.
Când am plecat la București și ne-am întors după o săptămână, Octopus Peña Sweetiepie dispăruse. E suspicios faptul că de atunci nu l-am mai văzut nici pe Gabriel Marimon și nici pisica. Ori ea a plecat cu salvatorul ei, Gabriel MArimon în Spania și au trăit fericiți până la adânci bătrâneți ori a fost răpită de pisica răutăcioasă și au trăit mizerabil până la adânci bătrâneți.
Note: această poveste scrisă de Stefanie este un pamflet bazat pe viața de voluntar SEV într-o zonă rurală și trebuie tratată ca atare.
---
Stefanie se află în România pentru o perioadă de 9 luni, din septembrie 2017 până în mai 2018 în cadrul proiectului Volunteer for Rural Communities (ref nr 2017-2-LI02-KA105-000049), proiect co-finanțat de Uniunea Europeană prin Programul Erasmus+ și implementat în România de Asociația Curba de Cultură.