By
Eleny
Coming to Romania was really quick decision in my life. I knew only one word "noroc" and I said to myself…. you are ready to go, because one word it is already a success 🙂
Arrived to Romania, hear the Romanian language… that just blow my mind, because I didn't understand anything. Not even a word. How can you speak this language??
For Estonians, like me, Romanian it's really hard language because there is no similarity with Estonian. Yes, I could know Italian or Spanish languages which are similar, but I know German and Russian and that is not helping me. At all. But there is also some similarity with Estonian and Romanian language… they are both just unbelievably hard to learn.
Venirea în România a fost o decizie extrem de rapidă. Știam doar un cuvânt noroc și mi-am zis.. ești pregătită de plecare, deoarece un cuvând e deja un succes 🙂
Sosită în România, am auzit limba română… și asta a fost șocant, căci nu înțelegeam nimic. Nici măcar un cuvânt. Cum să vorbesc o asemenea limbă?
Pentru estonieni, ca mine, româna e o limbă foarte grea deoarece nu se aseamănă cu estona. Dacă aș fi știut italiană ori spaniolă care sunt asemănătoare, dar eu știu germană și rusă și asta nu mă ajută. Deloc. Există o singură asemănare cu limba estonă și română… ambele sunt foarte greu de învățat.
I started Romanian from core.
My first word what I learned in Romania was "gata". That word is just magnificent. Everybody understood that when its "gata" it is "gata". Now I'm just using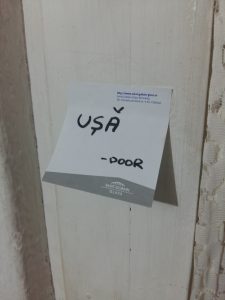 that word all the time. And you know… I'm taking that word with me in Estonia and then everybody is getting to know the power of the word "GATA". Other sentence what everybody said that I have to know was "Sunt voluntar, nu am bani". Easy to remember… but in the beginning it was incredibly Chinese for me.
Day by day I started to learn more and more this language, because I had my Romanian lesson each week. Huh… I would say. Now our volunteers house is full on signs which are teaching us words and that's how we learn. Also I'm learning a lot thanks to my mobile applications. This is really useful and handy for learning that hard Romanian language.
Am început cu româna din miezul ei.
Primul cuvânt învățat a fost gata. Cuvântul ăsta e magnific. Toată lumea înțelege că atunci când e gata e gata. Acum folosesc cuvântul ăsta tot timpul. Și știi ce… Voi lua acest cuvânt cu mine în Estonia și atunci toată lumea va cunoaștea puterea cuvântului gata. O altă propoziție pe care toată lumea a zis că ar trebui să o știu a fot Sunt voluntar, nu am bani. Ușor de reținut… dar la început era chineză pentru mine. Zi de zi am învățat tot mai mult, deoarece aveam lecții de omână în fiecare săptămână. Huh… aș zice. Acum casa noastră de voluntari este plină de semne care ne învață cuvinte și cum să învățăm. De asemenea învăț mult și cu ajutorul aplicațiilor mobile. Acestea sunt foarte utile și folositoare pentru a învăța această limbă română, grea.
So where I'm trying to speak my really bad Romanian — everywhere… but more in the schools, if I'm hitchhiking or in the shop. Basic words and talking with your hands always helps… But people still understand you and they teach you even more Romanian – so I would say talking is good, because you learn a lot.
Sooo… every day is a new day and every day you can learn new word. My last word what I learned was "iepure". But there is sooooo many words I can learn!
So lets learn more Romanian 🙂 I'm always ready!
Prin urmare, unde încerc să vorbesc limba română… peste tot… dar cel mai adesea în școli, dacă fac autostopul sau la magazin. Cuvinte de bază, precum și vorbitul cu mâinile ajută întotdeauna… Oamenii te înțeleg și te învață chiar mai multă română – vorbitul e bun, căci înveți mai mult. Deci… fiecare zi e o noua zi și în fiecare zi poți învăța un cuvânt nou. Cel mai recent cuvânt pe care l-am învățat a fost iepure. Dar sunt atât de multe cuvinte pe care le pot învăța!
Așadar să învățăm română 🙂 Sunt întotdeauan pregătită!
---
Eleny se află în România pentru o perioadă de 5 luni, din septembrie 2016 până în ianuarie 2017 în cadrul proiectului Building Youth Supportive Communities 2 (ref nr 2016-1-RO01-KA105-024246), proiect co-finanțat de Uniunea Europeană prin Programul Erasmus+ și implementat în România de către Curba de Cultură.