By
Eleny
Bye, bye Estonia! 31 of September was the time to flight to Romania. Before that I was totally struggling because of packing. In my mind entire time there was one question – How do you pack your 5 months things into one bag? Surprise, surprise I managed to do that just before going to sleep in day before leaving. Success 🙂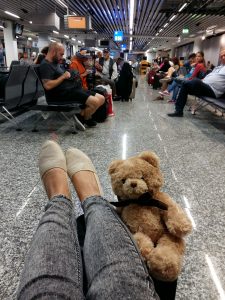 In that night I slept only 3 hours because I had to leave at 4 in the morning already and I didn't have a good sleep. Luckily my mother was so kind that she dropped me off to the airport in the early morning. When we arrived to the airport it was madness over there, because many flights where at the same time and that didn't happen very often when I had flights. Next, I had to drop off my bag, my big heavy bag. I was nervous because I didn't know how much weight it is. Luckily everything was okay and I had the chance to start my trip without any problems.
After security check, after explosions check, after showing my bag I was thinking… well there were my problems and let the adventure begin.
Surprisingly I saw one of my friends in the airport, not knowing that before. Yes, Estonia is small, but meeting in airports doesn't happen. After talking a lot and taking pictures, it was the time to go.
First stop Frankfurt.
In Frankfurt I was waiting about an hour with my bear, I didn't have any problems luckily but had many conversation with strangers and all the time telling them that what I am going to do in Romania. It was tiring but at the same time exciting to here the stories.
I was flying with Lufthansa and it was really pleasant stay in both flights because I had the same seat on both flights and I got food and drinks. I really recommend having same seats, because it is just easier if you are tired J And of course I had lot of thinking what am I doing right know, how is it possible that I'm going to Romania, why am I doing it. I am just CRAZY!!
At last I arrived to Romania. Firstly I just wanted to receive my bag. It was my first aim in Romania. After long wait I saw my luggage. I have never been so happy to see my big heavy bag.
But there I was, exhausted, exited, scared and waiting my new life to start. Helllooo Romania!
Eleny
volunteer from Estonia
---
Eleny se află în România pentru o perioadă de 5 luni, din septembrie 2016 până în ianuarie 2017 în cadrul proiectului Building Youth Supportive Communities 2 (ref nr 2016-1-RO01-KA105-024246), proiect co-finanțat de Uniunea Europeană prin Programul Erasmus+ și implementat în România de Asociația Curba de Cultură.