By
Clémentine Buisine
Au trecut aproape 5 luni de când am părăsit micul meu cocon francez și iată-mă aici, în România, mai exact în Prahova, în satele Schiulești și Izvoaerele.
Pe 11 octombrie 2021 (ziua plecării mele), mi-am luat cu mine pașaportul, hainele, calculatorul, dar și prejudecățile, întrebările și așteptările legate de această țară străină.
În acest articol veți descoperi prejudecățile care m-au animat, dacă s-au adeverit sau nu, și ce surprize îi aduce România unei franțuzoaice în drum spre o misiune a Corpului European de Solidaritate.
În vara anului 2021, am primit propunerea de a desfășura o misiune de voluntariat în Curba de Cultură într-un sat numit Izvoaerle din România. În descriere, în această misiune era scris să creez activități pentru tineri (între 13 și 17 ani) într-un centru de tineret, dar și în școli.
Am avut o mare pasiune pentru acest lucru, dar din păcate nu și pentru țară, pentru care aveam o mulțime de prejudecăți pe care le veți descoperi chiar acum.
România este o țară acoperită de câmpii, fără orașe mari
Ei bine, poți să o spui, m-am înșelat complet….
Chiar dacă România nu este o țară despre care să știm prea multe în Franța, nu este o țară ce are doar câmpuri… Într-adevăr, există câteva orașe mari, precum Brașov, Sibiu, Timișoara, care sunt pur și simplu frumoase, pline de culoare și cu un farmec de necontestat, care sunt un "must do". Există, de asemenea, ca în orice țară, sate ceva mai retrase, cum ar fi Izvoaerle, dar care sunt la fel de frumoase datorită panoramei asupra munților, a animalelor și a plimbărilor lungi în legătură cu natura pe care le poți face în zonă.
Nu uitați să vă luați un aparat foto și pantofi buni de mers pe jos pentru a vă bucura de împrejurimi!
2. Românii sunt romii
În Franța, mulți oameni îi confundă pe români cu romii.
În România, romii reprezintă doar o minoritate etnică de aproximativ 2 milioane de persoane.
Românii sunt oameni foarte drăguți și mai ales curioși să cunoască străini. Ei vor fi foarte bucuroși să vorbească cu dumneavoastră și dacă veți încerca să vorbiți limba lor, chiar dacă nu o cunoașteți perfect.
3. Mâncarea pe care o voi mânca va fi doar tradițională
Această prejudecată a fost cea în care am crezut cel mai mult înainte de a ajunge aici.
Într-adevăr, înainte de a pleca m-am bucurat de prăjituri, burgeri, cartofi prăjiți și restaurante, deoarece eram sigură că nu voi găsi nimic aici.
Am fost profund uimită când am văzut toate prăjiturile mele preferate pe rafturile supermarketurilor, dar și restaurante cu mâncare occidentală.
Dar, de când am sosit, mă bucur mai mult de mâncarea tipică decât cea cu care sunt obișnuită în Franța.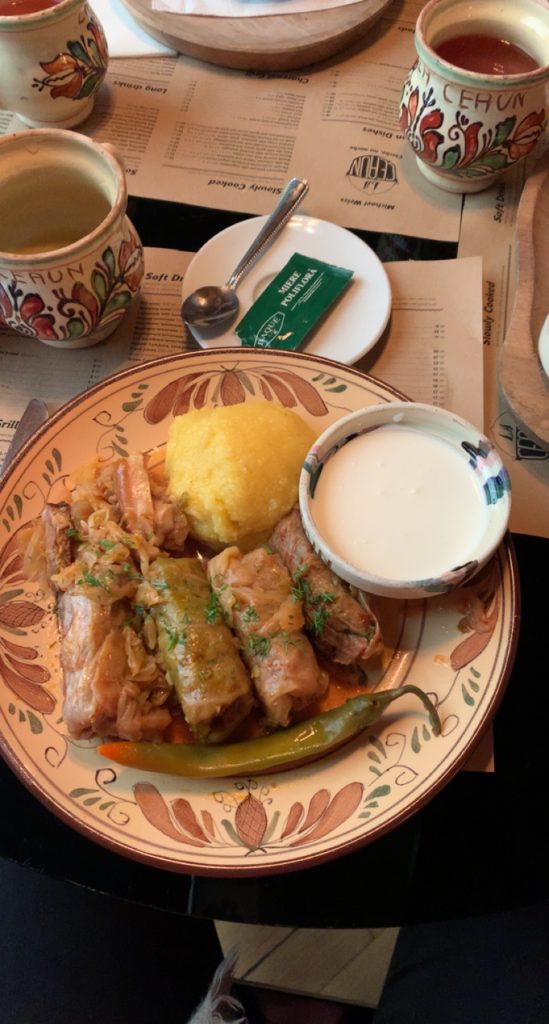 4. Temperaturile de iarnă vor fi aproximativ la fel ca în Franța
Locuind în Lille, un oraș situat în nordul Franței, unde ploaia este aproape prezentă, iar iarna temperaturile sunt scăzute, am crezut că sunt pregătită să fac față vremii din România, care, pentru mine, ar fi fost similară.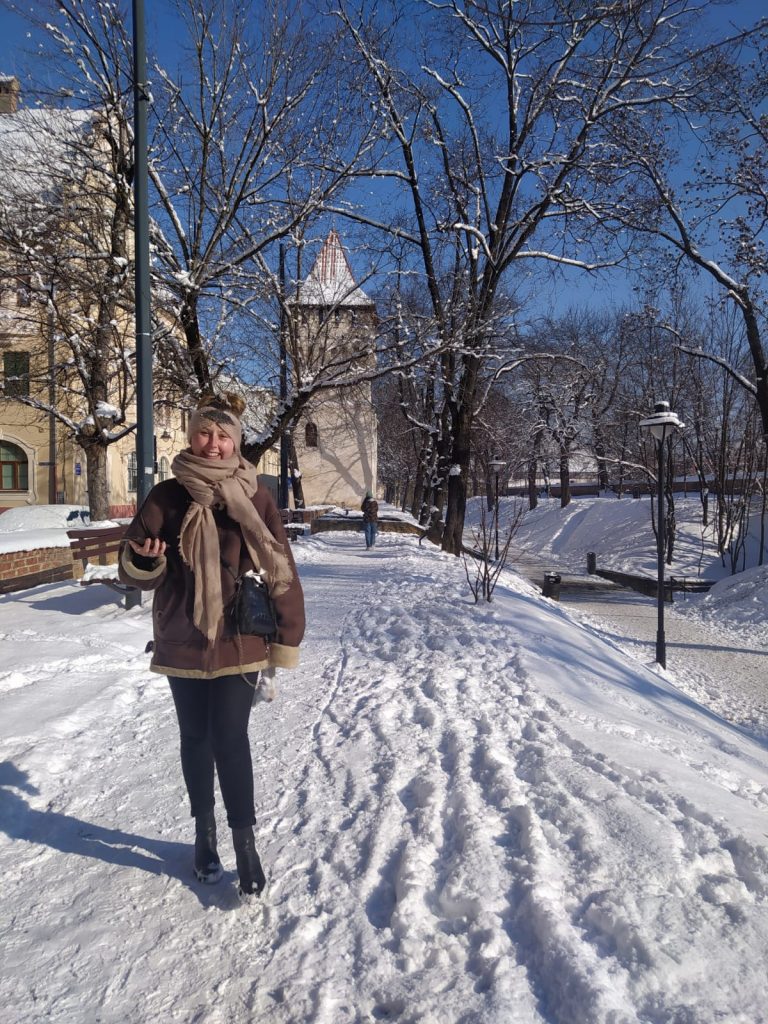 Acum pot spune că nu, iarna din Lille și iarna din România nu seamănă… Evitați să procedați ca mine, cu pulovere drăguțe, șosete drăguțe și blugi la întâmplare, dar pariați mai mult pe haine termice, un lot mare de șosete călduroase și o pălărie drăguță.
În concluzie, aceste prejudecăți nu mai sunt, desigur, în mintea mea, iar în momentul de față mi-e puțin rușine că am crezut vreodată aceste lucruri… Faptul că trăiesc în România, și mai ales la țară, îmi permite să învăț și să descopăr lucruri pe care nu le poți găsi în Franța.
Experiența mea de voluntariat este super îmbogățitoare și, fiind abia la jumătatea ei, sunt sigură că România are în continuare nenumărate secrete de dezvăluit.
———————————————————————————————————-
It's been almost 5 months since I left my little French cocoon and that I am here, in Romania, more precisely in the Prahova region, in the villages of Schiulesti and Izvoaerele. 
On October 11, 2021 (the day of my departure), I took with me my passport, my clothes, my computer but also prejudices, questions and expectations about this foreign country.
In this article you will discover the prejudices that animated me, whether they have come true or not, and what kind of surprises Romania brings to a French woman on her way to a European Solidarity Corps mission.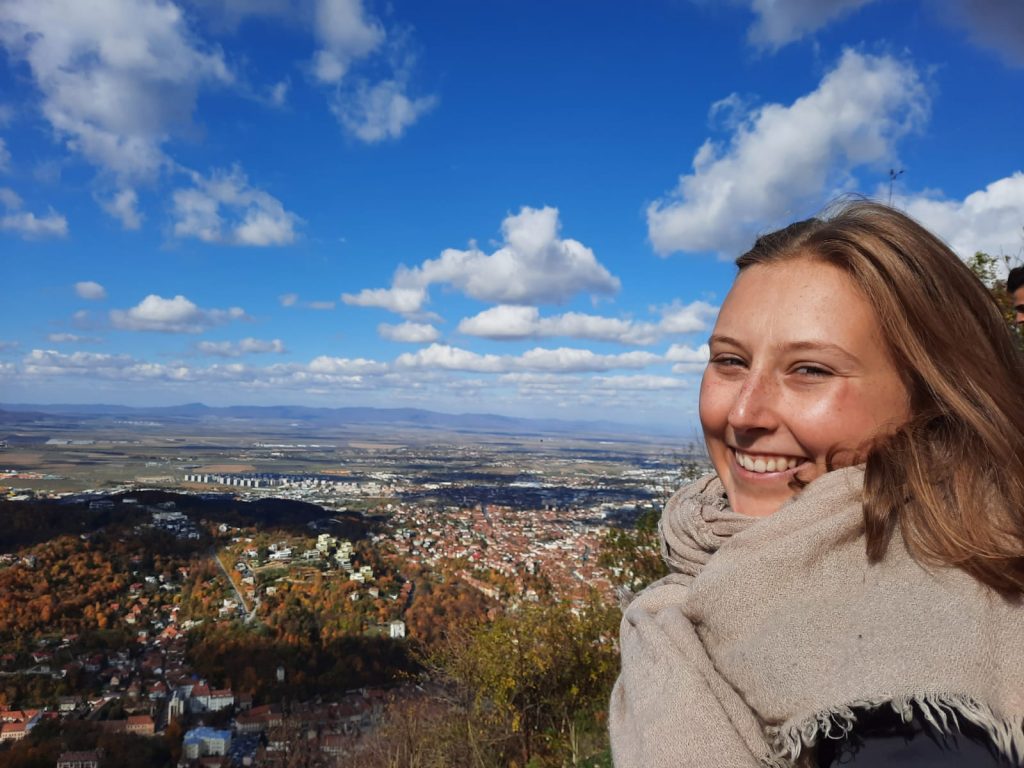 In the summer of 2021, I received the proposal to carry out a volunteering mission in Curba de Cultura in a village called Izvoaerle in Romania. In the description, this mission was written to create activities for young people (between 13 and 17 years old) in a youth centre but also in schools.
I had a huge crush on the mission but unfortunately not on the country, for which I had a lot of prejudices that you will discover right now.null
1.Romania is a country covered with fields, without big cities
Well, you can say it, I was completely wrong….
Even if Romania is not a country we know much about in France, it is not a country with only fields… Indeed, there are several big cities like Brasov, Sibiu, Timisoara which are just beautiful, with colour and an undeniable charm that are a "must do". There are also, as in any country, villages that are a bit more secluded, like Izvoaerle, but which are just as beautiful thanks to their panorama on the mountains, the animals and the long walks in connection with the nature that you can do on the area.
Don't forget to take a camera and good walking shoes to enjoy the surroundings!
2. The Romanians are the Roma
In France, many people confuse the Romanians with the Roma.
In Romania, the Roma are only an ethnic minority of about 2 million people.
Romanians are very nice people and especially curious to meet foreigners. They will be very happy to talk to you, and if you try to speak their language even if you don't know it perfectly well.
3. The food I will eat will only be traditional
This prejudice was the one I believed in the most before I arrived.
Indeed, before I left I enjoyed cookies, burgers, fries and restaurants as I was sure I would not find any here.
What was my amazement when I saw all my favorite cakes in the supermarket shelves, but also restaurants with occidental food.
But since my arrival, I enjoy more typical food than the food I am used to in France
4. Winter temperatures will be about the same as in France
Living in Lille, a city located in the north of France where the rain is almost present and the temperatures are low in winter, I thought I was ready to face the Romanian weather which, for me, would be similar.
I can say now that, no, winter in Lille and winter in Romania are not similar… Avoid like me to take nice little jumpers, nice little socks and random jeans but bet more on thermal clothes, a big batch of warm socks and a nice little hat.
To conclude, these prejudices are of course no longer in my mind, and at the moment I am a bit ashamed of having ever thought that… Living in Romania, and more particularly in a countryside, allows me to learn and discover things that one cannot find in France.
My volunteering experience is super enriching, and being only half way through it, I am sure that Romania has not yet finished giving me all its secrets.