By
Sorin Berbecar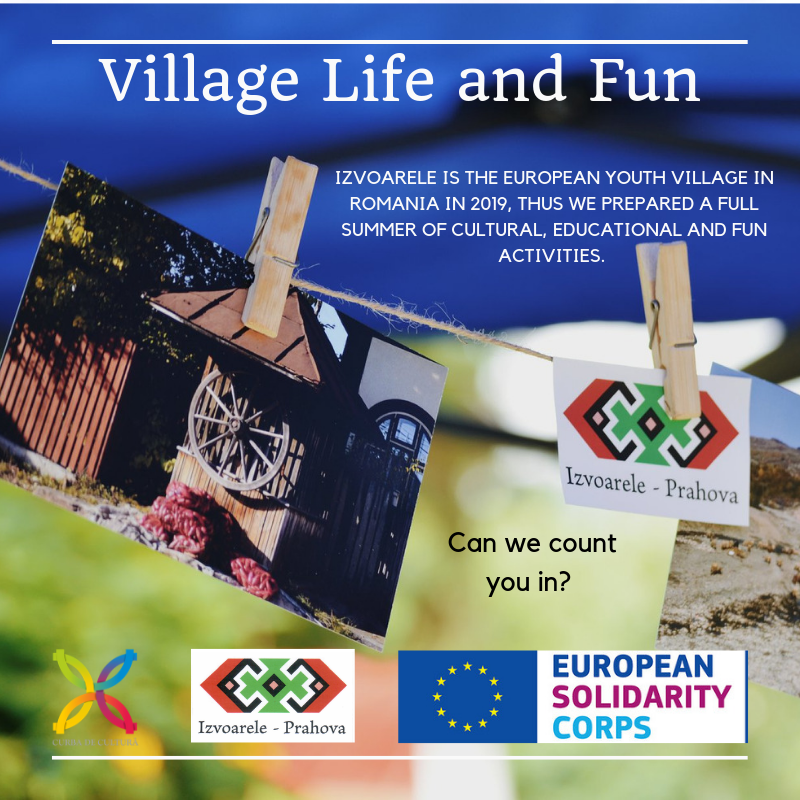 Izvoarele village holds the title of European Youth Village in 2019! What does this mean?
That this summer Izvoarele (Romania) is the place to be and it is going to be the coolest summer ever.
Why? Because Curba de Cultură prepared a series of cultural, educational, fun and youthful activities.
Can we count you in to bring an international perspective to all these?
We are looking for 20 volunteers from all over European Union to join the team for 7 weeks from 1st July to 20th August 2019!
If you have:
age between 18-30
motivation to live and work in rural area for 7 weeks
motivation to work with and for youngsters
motivation to do international volunteering
basic knowledge of English both in writing and speaking
interest in learning a different European language
The activities you would do, as part of the team, are:
interactive activities, presentations, simulation games, role-plays with  youngsters in the area
organizing treasure hunts and other intercultural events
organizing outdoor cinema nights
creating promotional materials and making promotion on the big summer events (Ruralympics, International Youth Day)
creating a brochure of the project
attending trainings (nonformal education methods, event management, communication)
planning, implementing, reporting and evaluating activities
preparing a dissemination event to be done after return to home country
Being an European Solidarity Corps project the volunteers receive:
accommodation in a traditional Romanian house
pocket money and budget for food
phone sim cards and monthly credit for it
international travel costs reimbursed in the end of the stay
Romanian language classes
mentor support for personal development and personal learning plans
coordinator support for implementing activities
medical insurance through Cigna Insurrance Plan
Youthpass certificate
internal trainings on nonformal education methods, event management, communication, etc
smiles and hugs 😉
Other details about the project:
Name: Village Life and Fun [2019-1-RO01-ESC11-062938]
Length: 7 weeks (50 days) July-August 2019
Location: Izvoarele, Prahova County, Romania (the historical region of Walachia)
Hosting/ Coordinating Organization: Curba de Cultură
If we caught your attention send us a CV and motivation letter by 07.06.19 at sorin@curbadecultura.ro
Also if you want to know more do not hesitate to ask using the same e-mail.
Curba de Cultură focuses on teenagers and youth development. Our mission is to use non-formal education as a complementary method to the formal educational system for young people. We want to create the premises for a better development of the young people and their more suited integration within their respective communities. We want to make young people aware that they actively belong to their local and national culture.
P.S. Explore this webpage to find out more about the community, the work and the volunteers we host.