By
Kristina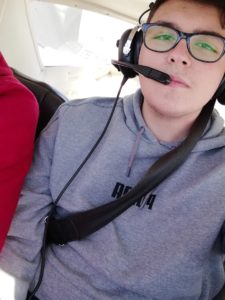 Hello everyone, my name is Vítor or Simão as most people call me. I am 19 years old and I came from a town called Ermesinde in Porto.
I finished high school and before I moved on with my studies I wanted to gain some work experience so I went to work but I wasn't happy with that and felt really frustrated with my work and myself so a few months later a friend of mine which did EVS in Bulgaria told me about it and I wanted to experience it.
I saw this Romanian project in Curba da Cultura and immediately I knew that I wanted to go to Romania, I love nature I love camping, hike and many other activities regarding nature mainly GeoCaching.  So I came, I'm in Romania for three days and I'm absolutely loving it, for a Portuguese guy the snow is a new for me I only have seen it once when I was 8 so it was a long time ago. I'm currently living in Homorâciu a very rural village where life is simple and it's really different for me because I'm a city boy but I just created two different hobby that are crack wood and start fire.
I love travel, meet cultures and learn new languages so I hope that at the end of my EVS I will be able to speak a little bit of Romanian because it sounds really interesting. I will try to learn everything I can from the Romanian culture and bring that to my country as well as leave a little bit of Portugal in Romania.
The plan after my EVS is to start my airline transport pilot licence(ATPL) which basically means that I want to become ani airline pilot. I have to thank everyone in Curba for being so kind to me and the rest of the volunteers as well.
Bună tuturor, numele meu este Vítor, sau Simão cum îmi spun majoritatea persoanelor. Am 19 ani și am venit dintr-un oraș numit Ermesinde din Porto.
Am terminat liceul și înainte de a merge mai departe cu studiile mele am vrut să câștig niște experiență de muncă, așa că am mers să lucrez dar nu am fost fericit cu asta și m-am simțit foarte frustrat cu munca mea și cu mine pentru câteva luni. Mai târziu, un prieten al meu care a făcut SEV în Bulgaria mi-a spus despre asta și am vrut să experimentez și eu.
Am văzut proiectul acesta românesc în Curba de Cultură și am știut imediat că am vrut să merg în România. Iubesc natura, iubesc excursiile cu cortul, drumețiile și multe alte activități legate de natură, în special  GeoCaching-ul.  Așa că am venit, sunt în România de trei zile și o absolut iubesc. Penteu un tip portughez zăpada este nouă pentru mine, am văzut-o doar o dată când aveam 8 ani deci a fost cu mult timp în urmă.  Momentan locuiesc în Homorâciu, un sat foarte rural unde viața e simplă și e foarte diferit pentru mine penteu că sunt un băiat de oraș dar tocmai am creat două hobby-uri noi care sunt tăiatul de lemne și făcutul focului.
Iubesc călătoritul, să cunosc culturi și să învăț limbi noi așa că sper că la sfârșitul SEV-ului meu voi putea să vorbesc puțină română deoarece sună foarte interesant. Voi încerca să învăț tot ceea ce pot de la cultura românească și să aduc asta în țăra mea, precum și să las un pic de Portugalia în România.
Planul de după proiectul meu SEV este să îmi  încep licența de pilot de transport aerian (ATPL) ceea ce practic înseamnă că vreau să devin pilot aerian. Am de mulțumit tuturor celor din Curba pentru că au fost așa de buni cu mine și celorlalți voluntari de asemenea.
---
Vitor este în România pentru o perioadă de opt luni, din ianuarie 2019 până în septembrie 2019, în cadrul proiectului Building Youth Supportive Communities – Environment [2017-2-RO01-KA105-037748] proiect co-finanțat de Uniunea Europeană prin Programul Erasmus+ și implementat în România de către Curba de Cultură.