By
Stefanie Kindle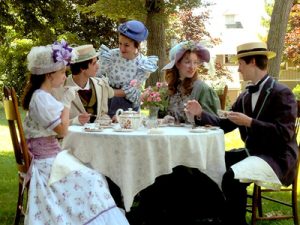 Once upon a time, five of the nine EVS-Curba de Cultură-Volunteers decided to take a trip to Oraș Valenii and discover it's wild night life. So we packed our belongings and jumped in the red limousine. As we arrived there, we enjoyed our time in the vehicle, had some serious discussions about our investment collapses, drank apple juice and listened to classical music. We were in the parking space of the famous and well-known "Illusion", a place where you can discuss politics, business and family life. After having finished our drinks and listened to the Sonata of Beethoven – of course the 5th, not the 9th, because it's too wild – we decided that it was the proper timing to enter this wonderful place.
This place was exactly what we were looking for, so we made our way to one of the sitting couches. Besides this, we went to the bar to order peppermint tea with a pinch of honey but we also tried the black tea with cream, which was fabulous. After we finished our drinks, we decided to have a little bit of "fun". We arranged ourselves in a pentagon and started, accompanied by the finest tunes of classical music, waltzing through the space. It was a marvelous but exhausting experience so we took a revivifying breath of fresh air. After this, we went inside to join our other company but then we noticed that one person was missing. A little bit confused and shocked we turned to the security, as we were afraid something had happened to our compañero. One of us was extremely under pressure, so he raised his voice and called the security: "You damned and luxurious mountain goat!" The security guard was not amused, so he roared in his deep voice: "Depart at once, all of you!"
Outside, we decided not to let our good humors to be tamed and went to the horse auction to rate our feelings on a scale from 1 to 10. After this, we were completely famished and went for a little gourmet trip to an oriental palace. When we arrived there, we took "tavuk sis", a traditional Turkish dish, as nourishment full of rich vegetables, spices and gold. After this wonderful meal, we went back to our automobile and spent some more time there. "Growing up in Belgium, half Polish half German"-Melanie felt a little bit seasick, so she proceeded to regurgitate. "Kind hearted young savior of Octopus Peña Sweetiepie"-Gabriel Marimon decided to go for a night walk to the fountain and thus, came back with 5 liters of water. "Rock'n'Roll"-Roman took a beauty sleep to relax from quarreling with the security. My lovely "but sharing your room with unknown people is a little bit different"-roommate Martina just wondered, how she encountered such extravagant people. I went back to Illusion, to find something to light a scented candle. After this eventful night, we went back home to quiet and peaceful Sat Homorâciu and lived happily ever after.
Odată, nu foarte demult, cinci dintre cei nouă voluntari SEV găzduiți de Curba de Cultură au decis să călătorească spre orașul Vălenii de Munte și să îi descopere viața de noapte. Așadar ne-am împachetat câte ceva și am sărit în limuzina roșie. Când am ajuns, am mai petrecut puțin timp în vehicul, am discutat destul de serios despre investițiile la bursă, am savurat un suc de mere și am ascultat muzică clasică. Eram în parcarea faimosului și binecunoscutului "Illusion", un loc unde poți discuta politică, afaceri și viață de familie. După ce ne-am terminat băuturile și am ascultat o sonată de Beethoven – desigur că a 5-a, e 9-a e mult prea sălbatică – am decis că e vremea să intrăm în acest loc minunat.
Localul era exact ceea ce căutam, prin urmare ne-am îndreptat spre canapele. După ce ne-am luat de la bar ceai de mentă cu un strop de miere și am încercat și ceaiul negru cu frișcă, care a fost fabulos. După ce ne-am terminat băuturile am decis să ne distrăm puțin. Ne-am aranjat în formă de pentagon și am început acompaniați fiind de cele mai fine acorduri muzicale, valsând prin încăpere. A fost o experiență uimitoare dar și foarte obositoare și a fost nevoie să ieșim la aer. Odată reîntorși înauntru am observat că unul dintre noi lipsea. Puțin confuzi și șocați ne-am adresat pazei localului deoarece ne temeam că s-a întâmplat ceva companionului nostru. Datorită presiunii evenimentului, unul dintre noi a cedat și a ridicat vocea la pază: "Capră de munte blestemată!" Paza nu a fost încântată și a mugit într-o voce joasă: "Dispăreți de aici, cu toții!"
Odată afară am decis să nu lăsăm să ne fie stricată bună dispoziție și am mers la o licitație de cai ca să ne mai binedispunem. După toate astea foamea și-a spus cuvântul și ne-am îndreptat spre un local oriental. Acolo am servit "tavuk sis", un fel tradițional turk foarte hrănitor datorită amestecului de legume, condimente și aur. După această masă minunată ne-am reîntors la automobil și am mai petrecut ceva timp. Melanie "cea crescută în Belgia dar jumate poloneză-jumate nemțoaică" s-a simțit puțin rău și a fost nevoită să regurgiteze. "Blândul tânăr salvator al lui Octopus Peña Sweetiepie" – Gabriel a decis să facă o plimbare nocturnă la fântână și s-a întors cu cinci litri de apă. "Rock'n'Roll" – Roman și-a făcut somnul de frumusețe pentru a se relaxa după interacțiunea cu forțele de ordine. Draga mea "să împart camera cu cineva necunoscut e puțin ciudat" Martina a început să se întrebe cum se face că îți petrece timpul cu oameni așa extravaganți. Eu m-am întors la Illusion să găsesc ceva de aprins o lumânare parfumată. După această noapte plină de evenimente ne-am întors acasă în satul nostru liniștit, Homorâciu, și am trăit fericiți până la adânci bătrâneți.
Note: această poveste scrisă de Stefanie este un pamflet bazat pe viața de voluntar SEV într-o zonă rurală și trebuie tratată ca atare.
---
Stefanie se află în România pentru o perioadă de 9 luni, din septembrie 2017 până în mai 2018 în cadrul proiectului Volunteer for Rural Communities (ref nr 2017-2-LI02-KA105-000049), proiect co-finanțat de Uniunea Europeană prin Programul Erasmus+ și implementat în România de Asociația Curba de Cultură.