By
Martina Petrusic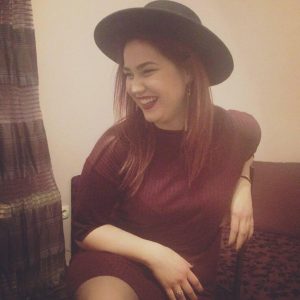 Hi, my name is Martina, I'm 22 years old and I came from Croatia.  I studied political science in Bosnia and Herzegovina. I came here because I took a pause between bachelor and master degree, and wanted to go somewhere at that time, so I saw the project and applied. I really liked the project and I was so happy when they accepted me.
Bună, eu sunt Martina, am 22 de ani și vin din Croația. Am studiat Științe Politice în Bosnia și Herțegovina. Am venit aici pentru că am luat o pauză între licență și masterat și voiam să merg undeva în perioada asta, prin urmare am văzut proiectul și am aplicat. Chiar îmi place proiectul și am fost foarte fericită când am fost acceptată.
I can't wait to start to work and meet you all! Romanian people are so nice, and the language is super interesting so I want to learn it so I can hang out with you and is always good to know more languages. I stay in Romania for an half of year, and I'm excited to explore Romania.
De abia aștept să încep activitățile și să vă întâlnesc pe toți! Românii sunt amabili, iar limba este super interesantă, deci vreau să o învăț ca să pot petrece cât mai mult timp cu voi. În plus nu strică niciodată să știi mai multe limbi. Voi sta în România pentru o jumătate de an și sunt foarte dioarnică să explorez România.
---
Martina se află în România pentru o perioadă de 6 luni, din septembrie 2017 până în februarie 2018 în cadrul proiectului Volunteer to Grow (ref nr 2017-1-HR01-KA105-035157), proiect co-finanțat de Uniunea Europeană prin Programul Erasmus+ și implementat în România de Asociația Curba de Cultură.