By
Estelle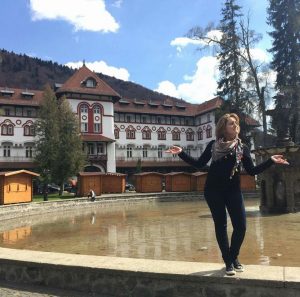 Before this week of On Arrival Training, I didn't expect that I can discover so many things in a such short time. The OAT took place in Sinaia, not far from Izvoarele, so I was lucky; some of volunteers had about 10 hours by train! This town is very peaceful, with a different architecture than I've seen before, between abandoned and fantasy, in the middle of the mountains. We are accommodated in a hotel in the center of Sinaia where each of us had a room for himself. I imagined that it will be very nice to relax and enjoy the swimming pool and sauna for a week. The reality was different!
Înainte de săptămâna cu trainingul la sosire nu credeam că pot descoperi atât de multe lucruri într-un timp atât de scurt. Trainingul s-a desfășurat la Sinaia, nu departe de Izvoarele, deci am avut noroc; unii voluntari au călătorit zece ore cu trenul! Orășelul e foarte liniștit, cu o arhitectură diferită decât ce am văzut până acum, între abandonat și fantasy, în mijlocul munților. Am fost cazați la un hotel în centrul Sinaiei unde fiecare a avut o cameră pentru sine. Mi-am imaginat că va fi foarte relaxant ca pentru o săptămână să mă bucur de piscină și saună. Realitatea a fost cu totul alta!
Each volunteer wanted to learn more about the others and to get most of this training, so we used the rooms just for sleep. The rest of the time was for discussions or walks in the town. The relaxation schedule didn't match with the training… But I earned more to spend time with others volunteers 😉
In few days I met almost 50 volunteers from 13 different cultures. It's so amazing! Each volunteer who was there had the same state of mind for the training and EVS. So we had a friendly atmosphere and relationship between each of us. At the end of the week, it was so difficult to leave them. A lot of emotions invaded us in the last day and the last evening was a little sad. So, we planned all places we can visit, and it was very nice.
Fiecare voluntar și-a dorit să afle mai multe despre ceilalți și să profite cât mai mult de acest training, prin urmare ne întorceam în camere doar când ne răpunea oboseala. Restul timpului a fost pentru discuții și plimbări în oraș. Orarul de relaxare nu prea s-a potrivit cu trainingul… Dar am avut mai mult timp să petrec cu alți voluntari 😉
În doar câteva zile am întâlnit 50 de voluntari parte a 13 culturi diferite. A fost uimitor! Fiecare voluntar care a fost acolo a fost în același spirit pentru training și SEV. Prin urmare am avut o atmosferă prietenoasă și relații bune între noi. Iar la final de săptămână a fost așa greu să ne despărțim. O multitudine de emoții ne-au invadat în ultima zi, iar seara a fost choar tristă puțin. Ca să ne înveselim puțin ne-am făcut planuri să ne vizităm unii pe alții.
I had two great trainers, Sonia and Andreea, whom organized a lot of interesting sessions with happiness and humor but also with professionalism. During this week, they gave me several information and advice about my role, challenges and objectives of the EVS, the life in Romania, the way to manage the activities, the role of the mentor, the goal of the Youthpass, the insurance etc. Moreover we had sessions on conflict management, teambuilding, interculturality and culture shock workshops on art & crafts, origami, dance, tourism, history & culture and how to survive Romania. At the end of the week, I had the impression that they succeeded to touch the needs of each volunteer even though we were quite different. This helped to feel good, to regain my confidence and abilities.
Am avut doi trainer minunați, Sonia și Andreea, care au organizat numeroase sesiuni interesante cu multă veselie și umor dar și cu profesionalism. Pe durata acestei săptămâni, m-au ajutat cu informații și sfaturi legate de rolul meu, de provocările și obiectivele SEV, traiul în România, cum să-mi organizez activitățile, rolul mentorului, scopul Youthpass-ului, asigurarea medicală etc. În plus am avut sesiuni despre managerierea conflictelor, lucru în echipă, interculturalitate și șoc cultural, atelier de lucru manual, origami, dans, turism, istorie și cultură și cum să supraviețuiești în România. La finalul săptămânii cred că au reușit să atingă nevoile fiecărui voluntar, chiar dacă suntem cu toții destul de diferiți. Asat m-a ajutat să mă simt bine, să îmi recapăt încrederea și abilitățile.
After this week, I feel different. It's easier to speak English and I feel less alone in this country. The fact that I know people in lots of places in this country means that I can move when I want to discover it.
The week of On Arrival Training is very important for a volunteer, even necessary. Enjoy this week and the days after, till the end of the EVS.
După această săptămână mă simt diferit. Îmi e mai ușor să vorbesc engleză și mă simt mai puțin singură în această țară. Iar faptul că cunosc oameni aici înseamnă că pot să mișc mai ușor când vreau să o descopăr.
Săptămâna de training la sosire e foarte importantă pentru voluntari, chiar necesară. Bucurați-vă de această săptămână și de zilele de după, până la finalul SEV-ului.
---
Estelle este în România pentru o perioadă de nouă luni, din aprilie până în decembrie 2017, în cadrul proiectului EVS20: Let's Move and Change [2016-3-FR02-KA105-012345] proiect co-finanțat de Uniunea Europeană prin Programul Erasmus+ și implementat în România de către Curba de Cultură.