By
Sara
Hi, my name is Sara Lil-Jane Pedersen. I am 19 years old, and from the northern part of Denmark. This is my first time being a part of a European Solidarity Corps project, and I am very excited. I love travelling so that I can explore new cultures and meet new people.
I have always wanted to do volunteer work in another country, and this year I planned to have a gap year, so when I got the mail from the ESC to go 10 months to Romania, I of course accepted it.
In my free time I love to listen to music, photography and exploring the nature around me. Nature has always been a part of me. Back home in Denmark I grew up on a small farm, and I have been a scout for 11 years, which have given me some experience in making activities for young people.
That's why I'm very excited to start creating activities for the youngsters in the area and learning the language.
Can't wait to meet all of you.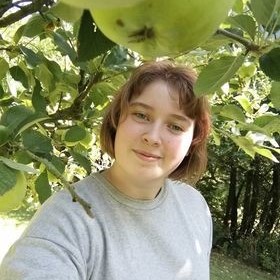 Bună, mă numesc Sara Lil-Jane Pederson. Am 19 ani și sunt din partea din nord din Danemarca. Este prima dată când particip la un proiect prin Corpul European de Solidaritate și sunt foarte entuziasmată. Îmi place foarte mult să călătoresc pentru a explora noi culturi și să întâlnesc oameni noi.
Mereu mi-am dorit sa fac voluntariat într-o altă țară decât a mea și anul acesta mi-am propus fac o pauză de la activitățile mele așa că atunci când am primit un email de la Corpul European de Solidaritate să vin în România pentru 10 luni, bineînțeles că am acceptat.
În timpul liber îmi place să ascult muzică, să fac poze și să explorez natura din jurul meu. Natura a fost mereu o parte importantă a vieții mele. Acasă, în Danemarca, am crescut la o fermă și am fost la cercetași timp de 11 ani, ceea ce mi-a oferit experiența de a face activități pentru tineri.
De aceea sunt foarte entuziasmată de a crea activități pentru tinerii și copii din zonă și să învăț limba romană.
Abia aștept să vă cunosc.