By
Lucia Wijbenga
At the moment of writing, Maria and I have been volunteering with Curba de Cultură for almost two months. During this time, we have been researching multiple subjects for our project 'Youth Hosteling for Local Development'. One of the goals of our project will be to promote the future Teişani Youth Hostel, which is located in Olteni. The plan is to open the building for tourists later this year. The hostel will be one out of many youth hostels in the world, but the first in this area of Romania. Therefore, I would like to tell you something more about the concept of hosteling in general.
It all started in 1907, when a German teacher called Richard Schirrmann came up with the idea of creating a youth hostel. During an excursion with his class that involved camping, they were caught by a thunderstorm. Instead of having to stay outside, they were allowed to take shelter in a school building. After this experience, he decided to open his own school for all young hikers that came to the area. However, this was only possible during the summer holidays, since the building was still used as a school for the rest of the year. In order to accommodate travelers all year long, he opened the first official youth hostel of the world five years later. This was located in a castle in his German town Altena
Basically, a youth hostel is a supervised, inexpensive accommodation where travelers can rent a bed in a dormitory for one or more nights. People can come alone or in a group. In a hostel, all spaces are shared. This means that for example you can sleep in a dormitory with Italian travelers, brush your teeth in the bathroom next to an Indian guest, play Uno in the living room with a Spanish girl and cook your dinner in the same kitchen as a student from Poland. Because you have no private place, you will meet a lot of other travelers. They can tell you about their countries and cultures and share their experiences with you.

As you already might have noticed, the concept of hostels is different from the concept of hotels. In a hotel, guests book a full room which includes a bathroom. In hostels, guests don't need to book a full room but can just rent a bed. This means that they don't have the same amount of privacy that people have in hotels, since all spaces in hostels are shared. On the other hand, this gives the guests more opportunities to meet other travelers. Furthermore, in most hotels it is not allowed to bring your own food. In hostels, however, guests can bring, prepare and store their own food without any problem. And last but not least, hostels are usually cheaper than hotels.

Schirrmann originally created his concept for young people, so he called the place a 'youth hostel'. Similar accommodations took on to that name as well. In the beginning, hostels were indeed only used by young people. This has changed over time, because nowadays travelers from all ages can stay in youth hostels. The majority of hostels welcome people from all different ages, cultures and genders. Some youth hostels have a minimum age policy for young solo travelers, but often children are welcome when their parents come with them and book a private room.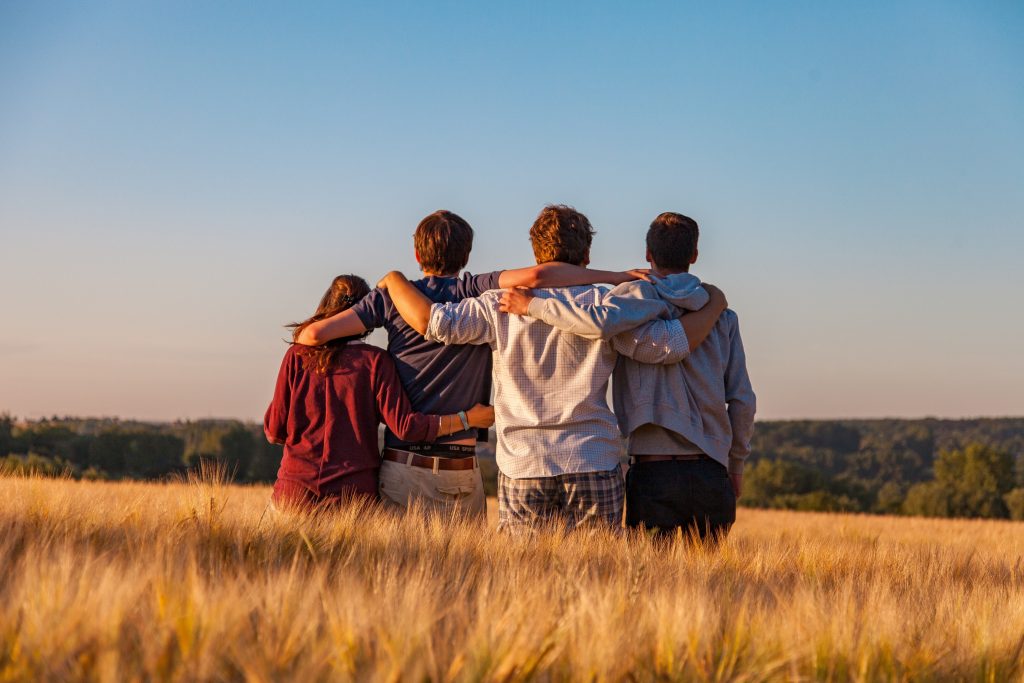 Usually, a lot of things are possible in hostels, and staff members are usually willing to help you with all kinds of things. Most hostels have a good and close relationship with the local community and environment. For example, the hostel can have employees that grew up in the area or employees that have a lot of experience with traveling know the area well. These staff members can advise the guests on things to do and places where they can go. This way, they can also promote local producers, institutions and businesses.

The total number of Romanian hostels is not very large yet, but more hostels are opening here every year. Almost all of them are located in cities, for example in Bucharest, Cluj-Napoca, Braşov and Timişoara. However, as long as people go out and explore, outside of the cities are many things to see and do as well. Like Schirrmann himself once said: "It is impossible to squeeze the limitless world into a crowded classroom." (or in this case, a couple of cities) "So the school must go out into the world." And using hostels is just one way to do that…
În momentul scrierii acestui articol, Maria și cu mine suntem voluntari la Curba de Cultură de aproape două luni. În acest timp, am cercetat mai multe subiecte pentru proiectul nostru "Youth Hosteling for Local Development". Unul dintre scopurile proiectului nostru va fi promovarea viitorului hostel pentru tineret din comuna Teişani, care se află în Olteni. Planul este de a deschide clădirea pentru turiști la sfârșitul acestui an. Hostelul va fi unul dintre multele hosteluri de tineret din lume, dar primul din această zonă a României. Prin urmare, aș dori să vă spun ceva mai multe despre conceptul de hosteling în general.

Totul a început în 1907, când un profesor de germană pe nume Richard Schirrmann a venit cu ideea de a crea un hostel pentru tineret. În timpul unei excursii cu clasa sa, care implica camping, au fost prinși de o furtună. În loc să fie nevoiți să rămână afară, li s-a permis să se adăpostească într-o clădire din școală. După această experiență, a decis să-și deschidă propria școală pentru toți tinerii drumeți veniți în zonă. Totuși, acest lucru a fost posibil doar în timpul vacanței de vară, deoarece clădirea a fost încă folosită ca școală pentru restul anului. Pentru a găzdui călătorii pe tot parcursul anului, cinci ani mai târziu a deschis primul hostel pentru tineret oficial din lume. Acesta a fost situat într-un castel din orașul său german Altena.

Practic, un hostel pentru tineret este o cazare supravegheată, ieftină, unde călătorii pot închiria un pat într-un cămin pentru una sau mai multe nopți. Oamenii pot veni singuri sau în grup. Într-un hostel, toate spațiile sunt comune. Aceasta înseamnă că, de exemplu, poți dormi într-un cămin cu călători italieni, poți să te speli pe dinți în baie lângă un oaspete indian, să te joci Uno în camera de zi cu un spaniol și să gătești cina în aceeași bucătărie cu un student din Polonia. Pentru că nu aveți un loc privat, veți întâlni o mulțime de alți călători. Ei vă pot spune despre țările și culturile lor și vă pot împărtăși experiențele lor.

După cum probabil ați observat deja, conceptul de hostel este diferit de conceptul de hoteluri. Într-un hotel, oaspeții rezervă o cameră completă, care include o baie. În hostel, oaspeții nu trebuie să rezerve o cameră completă, ci pot doar închiria un pat. Aceasta înseamnă că nu au aceeași confidențialitate pe care o au oamenii în hoteluri, deoarece toate spațiile din hostelului sunt comune. Pe de altă parte, acest lucru oferă oaspeților mai multe oportunități de a întâlni alți călători. În plus, în majoritatea hotelurilor nu este permis să vă aduceți propria mâncare. În hosteluri, totuși, oaspeții își pot aduce, pregăti și păstra singuri mâncarea fără nicio problemă. Și nu în ultimul rând, hostelurile sunt de obicei mai ieftine decât hotelurile.

Schirrmann și-a creat inițial conceptul pentru tineri, așa că a numit locul "youth hostel". Unități de cazare similare au luat și acest nume. La început, hostelurile erau într-adevăr folosite doar de tineri. Acest lucru s-a schimbat de-a lungul timpului, pentru că în zilele noastre călătorii de toate vârstele pot sta în "hosteluri pentru tineret". Majoritatea hostelurilor primesc oameni de toate vârstele, culturile și genurile diferite. Unele hosteluri pentru tineret au o politică de vârstă minimă pentru tinerii care călătoresc singuri, dar adesea copiii sunt bineveniți atunci când părinții lor vin cu ei și își rezervă o cameră privată.

De obicei, în hosteluri sunt posibile o mulțime de lucruri, iar membrii personalului sunt de obicei dispuși să te ajute cu tot felul de lucruri. Cele mai multe pensiuni au o relație bună și strânsă cu comunitatea locală și mediul. De exemplu, pensiunea poate avea angajați care au crescut în zonă sau angajați cu multă experiență în călătorii care cunosc bine zona. Acești membri ai personalului pot sfătui oaspeții despre lucruri de făcut și locurile în care pot merge. Astfel, ei pot promova și producătorii locali, instituțiile și afacerile.

Numărul total de hosteluri din România nu este încă foarte mare, dar aici se deschid în fiecare an mai multe pensiuni. Aproape toate sunt situate în orașe, de exemplu în București, Cluj-Napoca, Brașov și Timișoara. Cu toate acestea, atâta timp cât oamenii ies și explorează, în afara orașelor sunt multe lucruri de văzut și de făcut. Așa cum însuși Schirrmann a spus odată: "Este imposibil să stoarceți nelimitata lume într-o sală de clasă aglomerată". (sau în acest caz, câteva orașe) "Deci școala trebuie să iasă în lume." Și folosirea hostelurilor este doar o modalitate de a face asta…