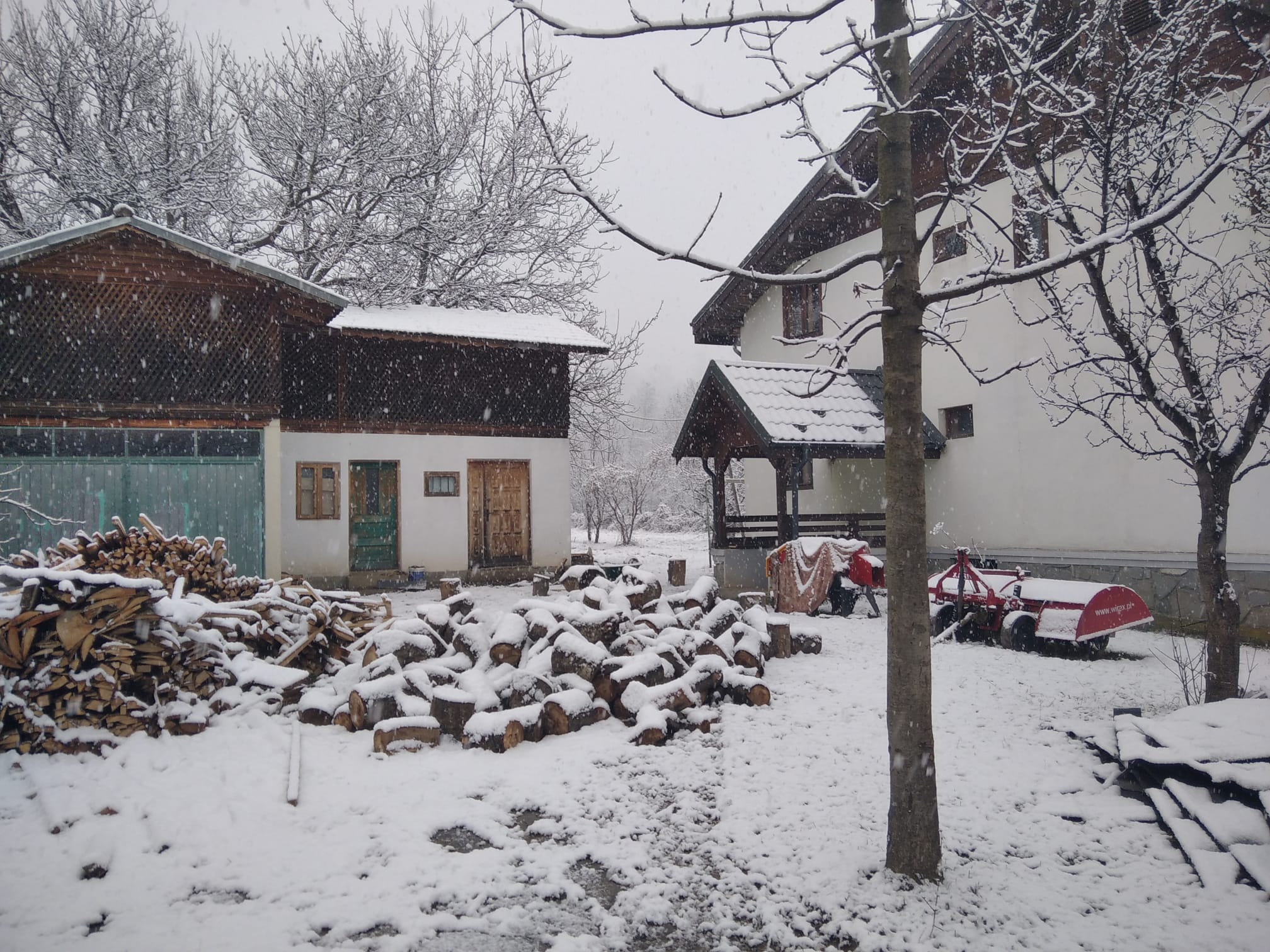 By
Josue Arroyos Reyes
/Josue a scris acest articol în engleză. Mulțumim lui Georgian pentru traducere. /
Suntem acum în mijlocul celei mai ciudate ierni din viața noastră, cel puțin așa a fost pentru mine, nu numai pentru situația pandemică internațională, ci și din cauza experiențelor pe care le-am trăit și a oamenilor pe care i-am cunoscut. În mod ironic, am crezut că anul acesta a fost un moment bun nu pentru călătorii, ci pentru a mă muta într-o altă țară în calitate de membru al programului corpurilor europene de solidaritate. Să fim sinceri: să faci voluntariat în altă țară, să înveți lucruri noi, să cunoști oameni noi, este mult mai bine decât să stai acasă în orașul tău obișnuit, asistând la lecții online. Așadar, voi împărtăși aici o parte din experiența mea ca străin în România rurală.
We are now in the middle of maybe the weirdest winter of our lives at least it has been like that for me, not only for the international pandemy situation but also because of the experiences I´ve lived and the people I´ve met. Ironically I thought that this year was a good moment not for travel but to move to a different country as member of europen solidarity corps. Let´s be honest to volunteer in another country learning new things knowing new people is far way better than stay at home in your usual city assisting to online lessons. So, on this occasion I´m going to tell you part of my expirience as foreingner in rural Romania.
Căci cine nu știe, eu sunt Josu și vin dintr-o parte mai uscată a lumii, nu este ca și cum aș fi "tuareg" care trăiește în deșert, dar să spunem că în patria mea peisajul era verde iarna și galben vara.
For who doesn´t know, I´m Josu and I´m coming from a drier part of the world, it´s not like I´m a "tuareg" who lives in the desert but let´s say that in my homeland the landscape used to be green in winter and yellow in summer.
După ce am primit în sfârșit documentele mele spaniole pentru prima dată, am cumpărat un zbor pentru a veni în România pe 7 ianuarie. Am ajuns deja pe 8 dimineața devreme și, ca să fiu sincer, m-am așteptat să fie puțin mai rece când am ieșit din avion, dar au fost aproximativ 2 ° C. Era într-adevăr frig, dar putea fi și mai rău. Acolo de unde vin această temperatură ar putea fi cea minimă, uneori ajunge la 0 ° C, dar nu este niciodată suficient de rece ca să ningă. Totuși, în acea zi m-am întâlnit cu coordonatorul meu care a venit să mă ia și am început drumul spre Izvoarele. Drumul părea același ca atunci când venisem prima dată vara, același drum, aceleași case și aceleași altare deoparte, de asemenea adânc în noapte. Pur și simplu era mai frig.
After I got finally my Spanish documents for the first time I bought a flight to come to Romania on 7th of January I arrived already on 8th in the early morning and to be honest I expected it to be a little bit colder when I got out from the plane but it was like 2ºC. It was cold indeed but it could be worse. Where I come from that temperature could be the minimum, sometimes we reach 0ºC but it´s never enough to snow. However, that day I met my coordinator who came to pick me up and we started the way to Izvoarele. The way seemed the same than when I came the first time on summer, the same road, the same houses and the same shrines aside, also deep in the night. It just was colder.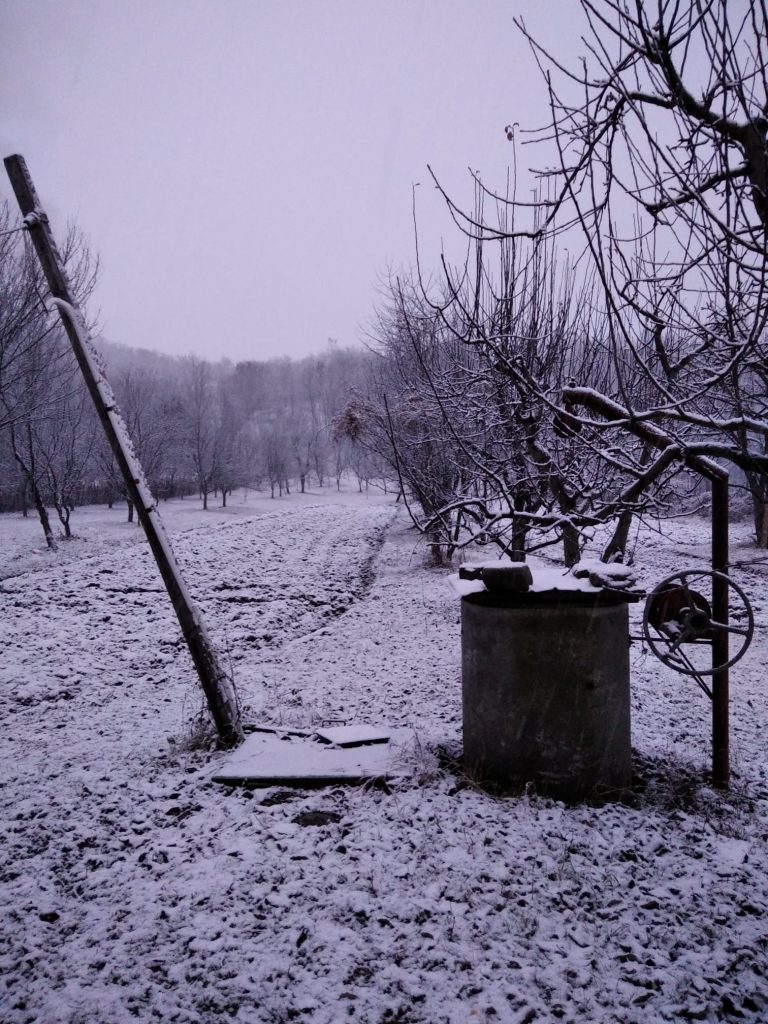 Am ajuns la noua mea casă gazdă în jurul orei 04:30 și, deși eram obosit, nu aveam somn, așa că am decis să mănânc ceva și să mă uit la ceva distractiv în laptop. Încercam doar să mă linistesc și să mă simt confortabil până când brusc m-am uitat pe fereastră. Nu mă așteptam ca lumina ușoară a zorilor să mă lase să văd că ningea de când am intrat în casă și curtea era deja complet albă. Știu că acest lucru trebuie să sune prost și foarte normal pentru o mulțime de oameni, dar dacă vă spun că nu am văzut niciodată că ninge până atunci? Adică am văzut zăpada doar o dată, dar nu ningea cu adevărat și era într-un loc în care nu existau multe elemente în jurul meu, cum ar fi case, copaci, oameni … în afară de asta a fost acum nouă ani așa că…
I arrived to my new host house at around 4:30 AM and even though I was tired I was not really sleepy so I decided to eat something and watch something entertaining in my laptop. I was just trying to chill and make myself comfortable until suddenly, I looked through the window. I didn´t expected the slight light of the dawn to let me see that it had been snowing since I got into the house and the yard was already completely white. I know that this must sound silly and super normal for a lot of people but, what if I tell you that I never saw it snowing until then? I mean, I only saw the snow once but it was not really snowing and it was in a place where there was not a lot of elements around me such as houses, trees, people… besides it was nine years ago so…
Oricum, bineînțeles văzând că am decis să merg la plimbare pentru a cunoaște mai bine noul meu sat începând din curtea mea. Terminând acolo, m-am aventurat pe stradă și am început să merg. La un moment dat mă întorc în lateral și am intrat într-o mică "stradă" sau mai bine pe o potecă, care este traversată la un moment dat de șinele de tren. Imaginea aceea dintr-o clipă mi-a amintit de scena clasică a unui tren care trecea prin filmul peisajul alb al Europei de Est
Anyways, of course seeing that I decided to go for a walk to get to know better my new village starting from my own yard. Finishing there, I ventured out the street and started to walk. At some point I turn to the side and got into a little "street" or better yet a path which is crossed at some point by the traintracks. That image by a moment reminded me of the classic scene of a train going through the white countryside of the eastern europe in the movies.
După câteva minute de coborâre, tocmai m-am lovit de râul Crasna, cel care dă numele străzii mele și acelei frumoase mănăstiri de dincolo de Schiulesti. Doar să menționez că a fi acolo toamna a fost ca și cum ai fi fost într-un basm.
After some minutes going downhill I just bumped into the Crasna River, the one which gives the name to my street and that beautiful monastery beyond Schiulesti. just mention that being there on Autumn was like immerse oneself into a fairytale.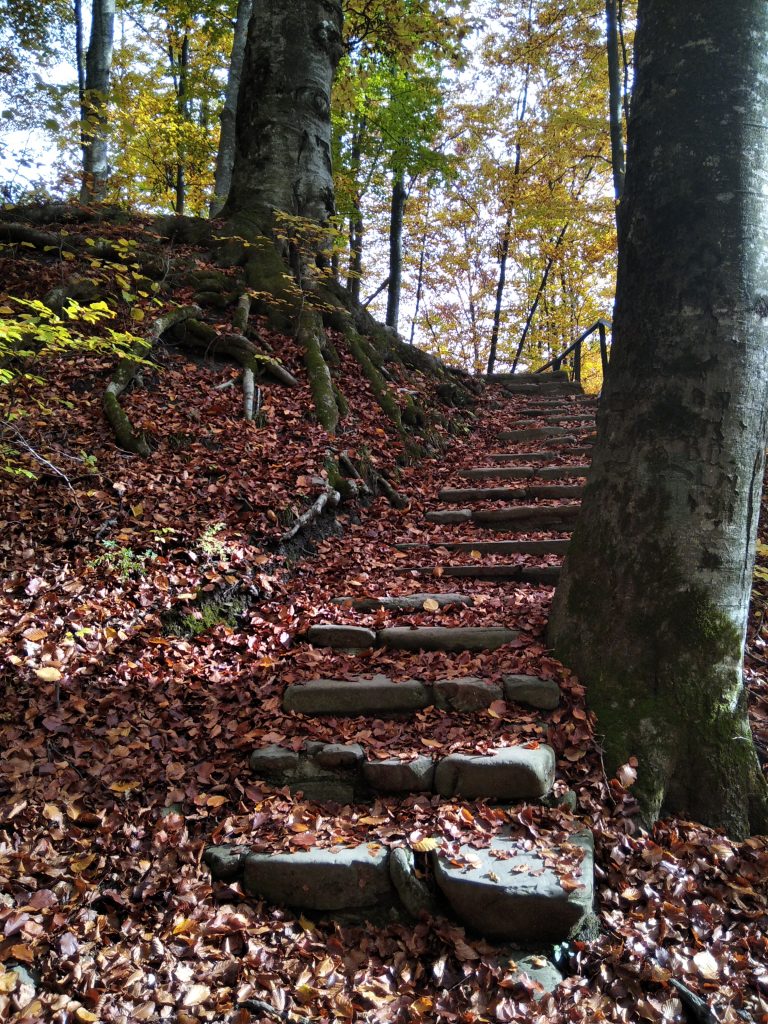 În cele din urmă, pe măsură ce ningea și am început să-mi ud blugii, am decis să mă întorc acasă la casa mea confortabilă pentru a încerca să ma încălzesc. Mi-a plăcut România vara,toamna, dar mi s-a părut frumos peisajul acoperit de zăpadă. Sunt sigur că o să mă bucur de primăvară aici. De asemenea … Da, este foarte frumos să folosești lemnul și să faci foc singur pentru a-ți încălzi casa, dar … Haide, încă douăzeci de grade nu sună așa de rău, nu?
Eventually as it kept snowing, and I started to get my jeans wet I decided to go back home to my cozy house to try to warm it up. I liked Romania on Summer also in Autumn, I found the snow-covered countryside beautiful. I´m sure I´m going to enjoy the spring here. Also… Yeah, it´s very nice to use wood and make fire yourself to get your house warm but… Come on, twenty degrees more doesn´t sound that bad, eh?