By
Danelle Sciberras
Buna! My name is Danelle Sciberras. I am 19 years old. I am from a small island in the Mediterranean sea called Malta. I am from a town called Kalkara but I live in Żabbar.

One of my passions is travelling to different countries, exploring new places, meeting new people, learning about their culture and maybe some words in their language. I also love food as you can see in my picture. I like trying out new things and learning something new along the way. I am always looking for a new adventure. I like reading and watching movies, nature, animals and mountains which are a lot here so that's cool.

I was already volunteering with Curba de Cultura but then Covid-19 hit so I had to go back to Malta. I was really sad because I was enjoying myself here in Romania and I was learning some Romanian. But then 6 months later, I had the opportunity to come back which obviously I took.

I am looking forward to seeing you again! Pa 🙂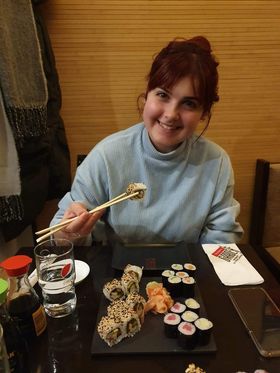 Bună! Numele meu e Danelle Sciberras. Am 19 ani. Vin de pe o mică insulă din Marea Mediterană numită Malta. M-am născut într-un oraș numit Kalkara, dar locuiesc în Żabbar.
Una dintre pasiunile mele este călătoritul în diferite țări, explorarea de noi locuri, întâlnitul de noi oameni, învățatul despre culturile lor și poate a câtorva cuvinte în limba lor. Iubesc de asemenea mâncarea, așa cum puteți observa în poza mea. Îmi place să încerc lucruri noi și să învăț ceva nou pe parcurs. Sunt întotdeauna în căutarea unei noi aventuri. Îmi place să citesc și să vizionez filme, natura, animalele și munți, de care sunt mulți alți ceea ce e super.
Deja voluntariat la Curba de Cultură, dar apoi Covid-19 a lovit așa că a trebuit să mă întorc în Malta. Am fost foarte tristă deoarece mă simțeam bine aici în România. Dar apoi, șase luni mai târziu, am avut oportunitatea de a mă reîntoarce, oportunitate de care bineînțeles că am profitat.
Abia aștept să ne revedem! Pa 🙂