By
Justhine Poncelet
My name is Justhine, I am 18 years old and I am from Tourcoing, in France. I am sociable, listening to people, I love laughing and do funny work. In my free time, I like to knit and watch series or movies, I love and I need sports, I like playing rugby, basketball, dance…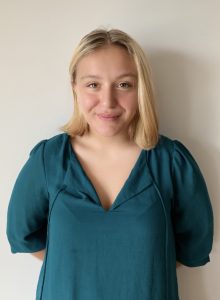 I am a new volunteer in Curba de Cultura, I came to work with young people, to prepare and create activities, to learn languages, and more other things. I am in Romania for an EVS for 7 month.
I have always wanted to go in another country. This year, I didn't really know what I wanted to do in school so I thought it was the good time to do my dream. When I was in school holidays, I worked in a social center with children. When Adice suggested me to work with Curba de Cultura, I said yes right away because it was my two favorites projects of my life together.
—
Numele meu este Justhine, am 18 ani și sunt din Tourcoing, Franța. Sunt sociabilă, ascult oamenii, îmi place să râd și să fac lucruri amuzante. În timpul liber îmi place să tricotez și să vizionez seriale sau filme, îmi place și am nevoie de sport, îmi place să joc rugby, baschet și să dansez…
Sunt voluntar nou în Curba de Cultură, am venit să lucrez cu tineri, să pregătesc și să creez activități, să învăț limbi străine și multe alte lucruri. Sunt în România pentru un EVS de 7 luni.
Întotdeauna mi-am dorit să merg în altă țară. Anul acesta nu prea știam ce vreau să fac la școală, așa că am crezut că este momentul potrivit pentru a-mi îndeplini visul. Când eram în vacanța școlară, lucram într-un centru social cu copiii. Când Adice mi-a sugerat să colaborez cu Curba de Cultură, am spus "da" imediat, pentru că erau împreună două proiecte preferate ale vieții mele.