By
Emilie Gillet
The house : 
If you have a light sleep, it's 5 am and you wake up because the rooster from the farm next door thought it would be a good idea to start the day at that time. Otherwise it's 9 am and it's time to get up. 
First step, the bathroom. Living in a typically traditional house, this one isn't really at the cutting edge of technology. If you are in winter, it'll probably be very cold. It's therefore strongly recommended to buy a small auxiliary heater. It's also possible that you have no water but no panic, usually you've at best 30 minutes to wait and at worst 4 days. This often happens after a lot of rain, so take your precautions!  
Once this step is completed, you should know that toilet paper don't go into the toilet but into the next bin. 
You should also know that in this type of house, there's no centralized heating. You'll therefore have to make a fire in each room if you want your house to be heated. For that you will obviously have to cut wood and dry it otherwise it will not take.
Despite all this, life in a traditional house is a very relaxing thing, life is simple and it's very pleasant to wake up for example with a view of the mountains and a beautiful sunrise.

The transport service : 
In Romania, in rural areas, transport isn't very efficient. Sometimes you only have 2 or 3 buses during the day. It's also true that trains are rather slow. So if you want to get somewhere as soon as possible, the best way is still to hitchhike. As everywhere it's always advisable not to do it alone, but it's always the easiest way to get from point A to point B.
However, if you want to take your time and enjoy your trip, I strongly recommend the train. You'll have the opportunity to enjoy the wonderful landscapes that Romania has to offer. You'll also meet many great people who will be happy to help you on your journey.

The language : 
Being in another country it's normal that you do not speak the same language. Romanian is a Latin language and has a lot of similarities with French, for example, so you can always try to make yourself understood. In rural areas, very few people understand and speak English, so it's strongly recommended to learn a few words that will be useful to you such as: count to 10; say hello; or ask for directions. No matter how many mistakes you make, the person you're talking to will usually be very happy if you make the effort to speak their language. So don't hesitate to get started!
The shopping :
Generally in small villages, you can find many small shops. You can find the essentials there. It's very convenient when you're missing something. The disadvantage is that very few of them take the card. You will therefore constantly need to have change with you just to be sure.
What is also good in Romania are the "Second Hands Shops". There are some everywhere and you can really find great and cheap things. In an average city there are usually at least 4-5 of them and if you're in a small village just look around and you will certainly see at least one. Again, they do not normally take the card or so rarely fill up with change.
The food : 
You can't go to a country without tasting traditional food. There are many very different dishes but the main ingredient will often be meat. For a Romanian person a meal isn't a real meal without meat. Even if you can eat meatless dishes like Mămăligă or Sarmale, which are made of corn and cabbage respectively.
Don't hesitate to visit one of these small open markets to taste Mici and find fresh and local produce. During this short outing you will also see people selling alcohol in water bottles. These are Pălinca and Țuică, traditional alcohols made from fermented fruit (usually plumbs).
In Romania, you also have some special bakeries. Indeed, you can't really get into it but you have to order what you want at a small window. Some are specialized in the sale of sweet products and others in salty products.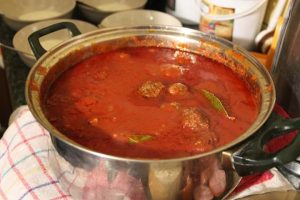 In short, don't be afraid to make new experiences, you'll be pleasantly surprised. Romania is a beautiful and welcoming country!