By
VLF volunteer
Th
ings are moving in Prahova! With the help of local youngsters, a cosmopolitan group of young volunteers is working hard on the ambitious undertaking to organize the first rural youth festival of the county: the Ruralympics.
Lucrurile se mișcă în Prahova! Cu ajutorul tinerilor din zonă, un grup cosmopolit de tineri voluntari lucrează din greu la organizarea unui ambițios și prim festival rural de tineret din județ: Ruralympics.
Coming from 19 different countries, they're taking part in this Romanian project thanks to the European Solidarity Corps, which supports European mobility and encourages volunteering actions. Motivated and willing to put their skills at the service of the region's development, they're working with the non-governmental organization Curba de Cultură. It focusses on improving education levels and on the community engagement for the young people living in rural environm  ent, but also on the personal and professional development of the volunteers. Either in charge of budget, logistic, promotion or coordination and hosting, they have the opportunity to improve their skill and to learn new competences by organizing this big event.
Venind din 19 țări diferite, ei sunt parte din acest proiect mulțumită Corpului European de Solidaritate, programul care sprijină mobilitățile europene și încurajează acțiunile de voluntariat. Movitați și dornici să își pună abilitățile în serviciului dezvoltării regiunii, ei lucrează împreună cu organizația neguvernamentală Curba de Cultură. Focusul lor este îmbunătățirea nivelului educațional în ce privește implicarea comunității pentru a sprijinii tinerii din mediul rural, dar și dezvoltarea personală și profesională a voluntarilor. Fie că e vorba de buget, logistică, promovare, coordonare și găzduire, aceștia au ocazia să îți îmbunătățească abilitățile și să adune noi competențe organizând acest eveniment.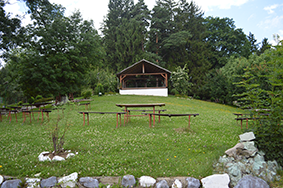 Taking place in the lovely park of Schiulești, among the trees and the hills, it will start the 2nd of august, at 10:00 am, and finish the 4th, at 23:00. Open to everyone, the aim is to promote rural life and its good sides. For this, you will be able to take in typical everyday activities of the region, such as milking a cow or participating in a woodcutting contest with Stihl Timbersports®.
Ruralympics are loc în frumosul parc din Schiulești, printre arbori și dealuri și va începe de la 10.00 dimineața pe 2 august și se va încheia la 23.00 pe 4 august. Este deschis pentru toată lumea, iar scopul festivalului este să promoveze viața la țară și avantajele ei. Pentru acestea participanții vor putea participa la activități de zi cu zi din regiune, precum mulsul vacii ori să ia parte la o competiție de tăiat lemne împreună cu Stihl Timbersports®.
In the program, a lot of fun; mini-games, sport activities, face painting, treasure hunt, dance workshop, open mic, mamaliga Master Chef, opportunity fair and much more!  So if you want to spend good time in a very friendly atmosphere, among wonderful surroundings, and have a glimpse or rural life, this is the place to be!
În program avem multă distracție, mini-jocuri, activități sportive, vânătoare de comori, desene pe față, ateleir de dans, microfon la liber, mămăliga Master Chef, târg de oportunități și încă multe altele! Deci, dacă vrei să te simți bine într-o atmosferă prietenoasă, într-o zonă frumoasă și să guști măcar un pic din viața la țară, acesta e locul unde trebuie să fii!