By
Emilie Gillet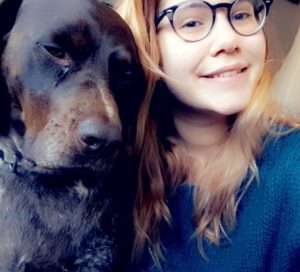 Hi,
My name is Emilie ! I'm 23 years old and I come from Belgium in a village near France.
After high school, I did one year of graphic design and one year to be a preschool teacher. Not knowing what I really want to become I started working. I did barmaid in a tennis club but that's not suited me. When my contract ended, I wanted to do something completely different to change my life. In December, I decided to be a volunteer and to travel. I was very attracted by the beautiful landscape of Romania and by the cultural shift between Belgium and Romania. What makes me here today and I intend to live my ESC thoroughly!
I'm really open minded. I love animals and especially dogs. My passions are painting, drawing, reading and music. My goal in being here is to be less shy and to be more open to others. I want to improve my English as well. I like being in touch with nature, it's something that attracts me a lot since I'm a pretty stressed person. I  love to laugh with people too, I think it's the way to create some links.
I hope that I'll be able to surpass myself and do my best to evolve.
See you around!
Salutare, eu sunt Emilie, am 23 de ani și vin dintr-un sătuc din Belgia de la granița cu Franța.
După liceu, am studiat un an design grafic și apoi un an de învățământ primar. Deoarece nu prea știam ce îmi doresc să fac am început să lucrez. Am fost barmaniță la un club de tenis, dar nu era ce voiam. Când mi s-a terminat contractul, am vrut ceva complet diferit, ceva ce îmi va schimba viața. În decembrie am decis că vreu să fac voluntariat și să călătoresc. Am fost atrasă de peisajele frumoase din România și de diferențele culturale majore între Belgia și România. Toate astea m-au determinat să fiu aici azi și inenționez să trăiesc experiența ESC la maxim!
Sunt deschisă la mine. Îmi plac animalele, cu precădere câinii. Pasiunile mele suntpictura, desenul, cititul și muzica. Țelul meu, fiind aici este să fiu mai puțin timidă și  mai deschisă spre ceilalți. Și îmi doresc să îmi îmbunătățesc nivelul de engleză. Îmi place să fiu în contact cu natura, e ceva ce mă atrage, din moment ce sunt o persoană destul de stresată. De asemenea îmi place să râd cu oamenii și cred că e o metodă bună de a crea legături.
Sper că voi fi capabilă să mă depășesc pe mine însurmi și să evoluez.
Ne vedem!
===
Emilie este în România pentru o perioadă de nouă luni, din martie 2019 până în noiembrie 2019, în cadrul proiectului #Stronger Together 2.0 [2018-1-BE05-ESC11-002534] proiect co-finanțat de Uniunea Europeană prin Programul European Solidarity Corps și implementat în România de către Curba de Cultură.