By
Tea Jukic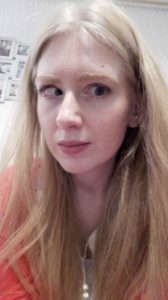 [EN]
Hi! My name is Tea. I am from Croatia where I lived in Slakovci, a small village very similar to the Romanian villages. I am 25 years old and I studied chemistry. Some of the things I like are reading books, spending time in nature, meeting new people and animals, (I am in Romania just three days and I already made friends with two cats and two dogs!!), eating chocolate and drawing. I worked as a babysitter but I never had the opportunity to work with school aged children so I am really looking forward to that experience. I also like learning new languages so I hope by the end of my project I`ll speak at least some Romanian.
[RO]
Bună! Numele meu e Tea. Sunt din Croația, unde am locuit în Slakovci, un sat mic foarte similar cu satele din România. Am 25 de ani și am studiat chimie. O parte din lucrurile care îmi plac sunt cititul cărților, petrecutul timpului în natură, întâlnitul de noi oameni și animale (sunt în România de doar trei zile și deja m-am împrietenit cu două pisici și doi câini!!), mâncatul de ciocolată și desenatul. Am lucrat ca babysitter dar nu am avut niciodată oportunitatea să lucrez cu copii de vârstă școlară, așa că aștept cu nerăbdare această experiență. De asemenea îmi place să învăț noi limbi deci sper că până la sfârșitul proiectului meu voi vorbi măcar niște română.
---
Tea este în România pentru o perioadă de șase luni, din decembrie 2018 până în mai 2019, în cadrul proiectului Volunteer to Grow [2017-1-HR01-KA105-035177] proiect co-finanțat de Uniunea Europeană prin Programul Erasmus+ și implementat în România de către Curba de Cultură.