By
Adrianna Michalska
Imagine a cold winter evening in Romania. Darkness quickly falling over the crunching snow and the unforgiving frost distorting our joints. We just came back home and started to make fires to bring some heat to our ice-cold rooms. I was more successful (there is a reason why they called me the Fire Queen in the first week of my EVS) so Heloise eventually gave up and sat next to me on the floor, leaning against the stove and stealing the precious heat. This is how we started chatting about our ideas.
We both have an interest in the widely understood area of human rights, and like to find opportunities to discuss, express our opinions and listen to others' perspectives on this topic. We realised that when facilitating activities in local high schools we often started conversations related to human rights with students but never had time or right circumstances to continue them. We were curious what would happen if we tried to create those circumstances and bring the topic of human rights to the local context. We envisioned forming a small group, a local movement that starts from discussions and then takes it from there to see what comes up.
What did we have in our minds? Movement workshops, painting benches on the streets, student newspapers, a crowdfunding page to buy a camera, documentary screenings, portable escape rooms, you name it. At that point our collective imagination went rather wild.
We started from spending hours on Facebook and talking to people we knew, trying to convince them working their brains for an hour-long discussion after school is a really excellent idea. Finally we gathered our groups and were ready to start the first meeting. Well, almost. Only thing missing was the name. You can imagine two EVS brains, pumped out of all creativity from organising other activities, trying to come up with a good-sounding name.
Youth Power.
Society of Empowered Youth (because SEY sounds cool).
Youth Empowered Solution (because YES is an even cooler abbreviation).
Junior Leagues….
Yeah, I know. But at least I've tried.
'JOIN THE TALK!' said Heloise in desperation. Little did she know that we will be 'Joining The Talk' for the next four months. We just shortened it to 'JTT' so that we don't sound too sketchy.
So here were were, suddenly having regular JTT meetings twice a week. Now, you may wonder how our discussions looked like. We had the standard coffee sipping and favourite bench in the park occupying. But we also had the slightly less typical zacusca (all volunteers favourite) and jam indulgence on a porch, movement games in the woods by the lake ('we are like forest men or scouts or something' summed up Heloise eloquently) or thunderstorm-stuck conversations in a hidden monastery. We spoke about gender equality, youth activism worldwide, school bullying, racism, project management, youth opportunities, cooking, our dreams, troubles, what annoys us, favourite food, prejudice, generation gaps…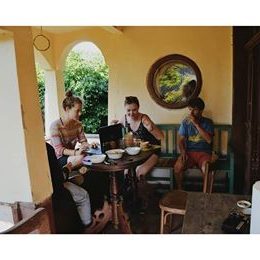 The group went in all kinds of directions, and it is still constantly transforming, shaping, and forming. We had to say goodbye to Heloise and then Tim became my new partner in crime. But we managed to make that extra step from talking to doing. We brought the discussion on racism to one of the local schools, collaborated with One World Romania to organise an afternoon with documentary screening and food sharing to tackle the issue of bullying, and created an Opportunities Fair to inform local youth about national and international opportunities they can be involved in.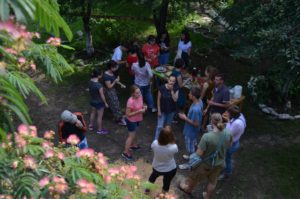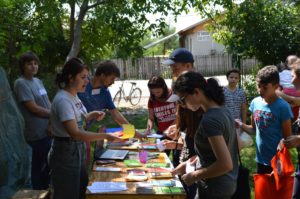 'What you are doing there is very alien' I once heard from a friend when talking about JTT. And I must say I couldn't have heard a better compliment on the work we have done. We still have plenty of ideas and things to do but at this point I am proud of what we have achieved so far. Well, apart from the still lacking name. Any suggestions welcomed!
–
Imaginați-vă o seară rece de iarnă în România. Întunericul cade rapid peste zăpada care scârțâie sub picioare și frigul nestăvilit care ne afectează încheieturile. Abia am ajuns acasă și am început să încingem focurile pentru a încălzi puțin camerele noastre de gheață. Eu am avut mai mult succes (este un motiv pentru care lumea-mi spune Regina Focului încă din prima săptămână de SEV) așa că Heloise s-a dat bătută în final, și s-a așezat lângă mine pe podea, sprijinindu-se de aragaz și furând căldura prețioasă. Cam așa a început discuția despre ideile noastre.
Amândouă avem un interes în zona general înșeleasă a drepturilor omului, și ne plac ocaziile de a discuta, de a ne expune opiniile și de a asculta perspectivele altora legate de acest subiect. Am realizat că atunci când facilităm activități în liceele din localitate, începem de multe ori conversații legate de drepturile omului cu elevii dar niciodată nu am avut timp sau circumstanțele potrivite pentru a le continua. Am fost curioase ce s-ar întâmpla dacă am încerca să creăm aceste circumstanțe și să aducem subiectul drepturilor omului în contextul local. Ne-am imaginat formarea unui grup restrâns, o mișcare locală care pornește de la discuții și evoluează din ele.
Ce aveam noi în minte? Ateliere de mișcare, pictat de bănci pe stradă, ziare ale elevilor, o pagină de strângeri de fonduri pentru a cumpăra o cameră, proiecții de documentare, escape-rooms portabile, numiți-le cum vreți. În acel moment imaginația noastră colectivă a scăpat de sub control.
Am început de la a petrece ore pe Facebook vorbind cu oameni pe care îi știam, încercând să îi convingem că să-ți muncești creierul pentru o oră de discuții după școală este o idee chiar bună. Într-un final am reușit să ne adunăm grupurile și eram pregătiți să începem prima întâlnire. Bine, aproape pregătiți. Singurul lucru care ne lipsea era numele. Vă puteți imagina două creiere de SEV, scurse de creativitate după atâtea organizări de activități, încercând să găsească un nume care să sune bine.
Youth Power.
Society of Empowered Youth (prescurtat SEY, care sună foarte cool)
Youth Empowered Solution ( pentru că YES sună chiar mai cool)
Junior Leagues….
Da, știu. Măcar am încercat.
"JOIN THE TALK" a spus Heloide în disperare. Nici nu știa ea că noi ne vom alătura discuției pentru urnătoarele patru luni. Am prescurtat-o JTT ca să nu sune foarte ciudat.
Deci, aici am ajuns, având dintr-o dată întâlniri JTT de două ori pe săptămână. Acum, poate vă întrebați cum arătau discuțiile noastre. Am avut clasica ceașcă de cafea pe banca favorită. Am avut totuși și mai puțin tipica zacuscă (preferata voluntarilor), răsfățul cu dulceață de pe prispă, jocuri de mișcare în pădurea de lângă lac ("suntem ca niște pădurari sau cercetași sau ceva de genul" ne-a numit Heloise elocvent) sau discuții oprite de furtună într-o mânăstire ascunsă. Am vorbit despre egalitatea dintre sexe, activismul tineretului pe glob, batjocura din școli, rasismul, managementul proiectelor, oportunitățile tinerilor, gătitul, visele noastre, problemele noastre, ce ne enervează, mâncarea favorită, prejudicii, diferența dintre generații…
Grupul a mers în tot felul de direcții și încă evoluează, se transformă, se formează. A trebuit să ne luăm la revedere de la Heloise, apoi Tim a devenit noul meu partener in crime. Am reușit să facem acel pas în plus pentru a trece de la vorbe la fapte. Am adus subiectul rasismului într-o școală din localitate, colaborând cu One World Romania pentru a organiza o după amiază cu o proiecție de documentar și împărțit mâncare pentru a aborda problema "bullying-ului" din școli și am creat un Târg de Oportunități pentru a informa tinerii locali despre oportunitățile naționale și internaționale de care pot profita.
"Ce faceți acolo e cam de pe altă planetă" am auzit o dată de la un prieten care vorbea despre JTT. Și trebuie să spun că nu puteam să aud un compliment mai bun pentru munca pe care o depuneam. Încă mai avem idei și lucruri de făcut, dar în punctul în care ne aflăm acum, sunt mândră de ceea ce am realizat. Bine, mai puțin de numele care încă mai are nevoie de ceva. Orice sugestie este bine venită!